Young Russian director: U.S. actors have more freedom to improvise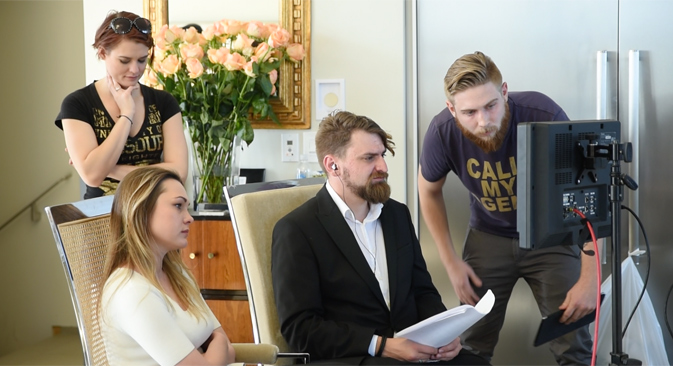 Cyril Zima (left). Source: Press photo
Following the relative success of his first six-minute film "Suka" at film festivals in the U.S. and Asia, young Russian director Cyril Zima went to America with his wife and co-producer/co-writer Maria Rogotskaya to shoot his second short film, "Ocean." RBTH spoke to Zima about the experience of working with an American team.
RBTH: In your film career this is your second short. But you shot it in the States. What brought you there?
Cyril Zima: When we finished the first film, Suka (we didn't translate the title), we sent it out to various film festivals. We were invited to many festivals in Europe, Japan and the U.S.
We already knew America a bit. We love traveling there. But in order to understand the local cinema culture and get to know the audience, which is one of the most active film audiences in the world, we decided to attend the festivals in person. And it was the right decision. We met a lot of interesting people at the American festivals, including Ron Osborn, who wrote the screenplay Meet Joe Black. He helped us understand the American screenwriting thinking better, as well as the approach to work.
Maria Rogotskaya: At one of the screenings we met a Russian Hollywood agent, Viktor Kruglov. He told us that if we ever decided to shoot a film in America, he would supply us with all the equipment and give us help with anything we needed. We were skeptical about this, having made many commercials and knowing how sensitive people are about costly equipment and everything in Russia. We thought he was just being kind.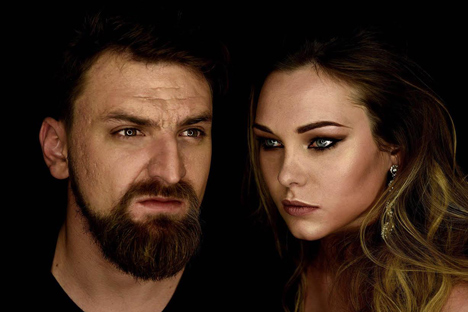 Cyril Zima and Maria Rogotskaya. Source: Press photo

C.Z.: However, when we were thinking of the film Ocean, we called Viktor and said, "Remember you once spoke of equipment?" He said that he'd be happy to help. And he did, giving us all the equipment for free.
Actually, many people went out of their way for us. We met a lot of talented students at the Los Angeles film schools, including at the local department of the New York Film Academy. For example, our director of photography, Yegor Povolotsky, a former student from Russia who is now quite successful in Hollywood.
RBTH: Why did you want to shoot there?
C.Z.: We really wanted to work with American actors, with the English language, with the nature. We wanted to see the difference between Russian and American acting and directing schools, to see their approach to work. And the difference between Russian and American film sets is enormous.
RBTH: How did the shoot go?
C.Z.: The shoot was ideal and very fast. We shot everything in two days. There were amazing coincidences. For example, the protagonist of the film works in a press office of a large corporation. And when we started shooting in the building, which seemed ideal for the film's story, it turned out that it belongs to George Bush Sr.'s speechwriter. It added authenticity to the story.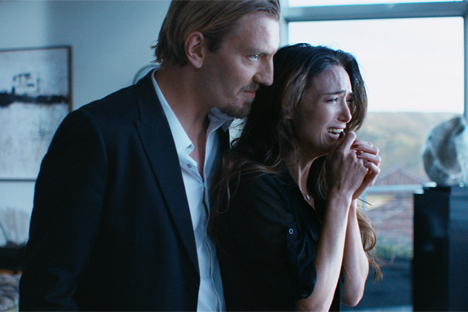 Cyril Zima. The Ocean. Source: Press photo
M.R.: Another time was when we were shooting a scene on the ocean shore. It turned out that it was the exact place where they had shot the film Planet of the Apes. It was the place where the Statue of Liberty juts out of the sand.
RBTH: Was it like working with American actors?
C.Z.: In the beginning it was difficult, especially on the first day of shooting. This is due to the different approach. In Russia the director tells the actor what he should be feeling, how he should react and so on. In America you shouldn't do that immediately. You should first see how the actor feels the moment, how he sees the character. In America actors are given more freedom for improvisation.
RBTH: What is the budget of the 10-minute film?
C.Z.: Ten thousand dollars.
RBTH: Do you intend to shoot a feature-length film?
M.R.: The goal of any short film is to become a feature-length film. Today it's difficult to imagine anyone who immediately starts shooting feature-length films. Something magical must happen.
C.Z.: Currently, we are developing some screenplays for feature length. And talking to a large Hollywood studio.
Zima's second film "Ocean,"an apocalyptic film about the end of the world, is almost finished and is being prepared for festival screening. Zima and his wife and co-screenwriter/co-producer Maria Rogotskaya have enrolled in the Masters program at the New York Film Academy in Los Angeles.
All rights reserved by Rossiyskaya Gazeta.