A screenshot from Londongrad TV series. Source: CTC Media
On Sept. 7, the Russian national TV channel CTC launches a series called "Londongrad", about the adventures of Russians living in the British capital. RBTH spoke to the film's director Dmitry Kiselev about the cast, the ethnic identity of rubbish heaps and London as seen through the eyes of its Russian residents.
RBTH: What story are you telling the Russian viewer? Why "Londongrad"?
Dmitry Kiselev: It is a film about a young man from Russia. He is a gifted mathematician, who gets a place at Oxford and would have easily graduated had it not been for his rebellious and free-spirited nature. He is sent down from university in his final year but decides to stay in the UK and opens an agency in London called Londongrad, the purpose of which is to help fellow Russians when they find themselves in tricky situations, where the police would be of no use. He is a problem solver who relies on his wits, cunning and resourcefulness.
RBTH: There are scenes in the film that were shot in Moscow but are meant to depict London. How did you manage to recreate Britain in Russia?
D.K.: As it later turned out, many of the Moscow sites that we show as London were built by the English at the beginning of the 20th century. London is quite a unique character in itself. I had to study its portrait, from the size of its windows to its predominant color palette. Interestingly, what we found impossible to imitate in Russia was British litter. That is, if you shoot an ordinary rubbish dump in Moscow, it is immediately clear that it is Russian. To create British litter takes a lot of effort. Funny as it may sound, we brought sacks of rubbish from London in order to recreate the character and the detail of the city in Moscow.
RBTH: Where is it cheaper to shoot, Moscow or London?
D.K.: It is expensive everywhere. More importantly, we began shooting two years ago when the pound was 55 rubles. Today it is over 100 rubles. That was the main problem we had to face.
A clip for Londongrad by Russian rapper Oxxxymiron. Source: Youtube / СТС
RBTH: Speaking of your personal impressions of London, how well do you know the city?
D.K.: Before filming, I knew London as a city of top professionals in post-production. I had worked with post houses doing editing, computer graphics, color correction and sound. Now, as I had to get immersed in its atmosphere, I discovered new interesting places. For example, it was interesting to learn that tower blocks in the city's less affluent neighborhoods all have a single common balcony and this architecture later had an impact on the development of drug trafficking because these balconies are ideal for both, distributing drugs and running away from the police. We used it in one of the plot lines in our series.
RBTH: How close to life do you think is the London depicted in your film?
D.K.: I am not a native Londoner, I cannot be responsible for an entirely accurate and realistic reflection of all the nuances of London life. But I worked with a consultant all the time and preferred to film locals. For example, when we were shooting in jail - incidentally the one where Oscar Wilde was once an inmate - we had one actor who had done time in a real prison. He was such a fascinating character, covered in piercing and tattoos, a 100 percent punk. He did not spend long in prison but he had been there - the tattoos were evidence of that.
RBTH: You also had a British crew working on the series. What was its contribution to the project?
D.K.: We had to shoot a car chase through the city and some stunts on a bridge. To shoot that scene we had to have a huge number of permissions. We did not have them, but we turned to local specialists who obtained all the necessary paperwork. They closed off streets, monitored comings and goings lest anyone – God forbid – accidently fell under a stunt car. When we were shooting a person falling from the bridge into the Thames, we had to have people on both banks with notices saying: "Attention. This is not a suicide. Filming in progress. Please do not try and imitate it." That was the condition we had to meet because the city authorities were worried that the stunt could provoke somebody to commit suicide.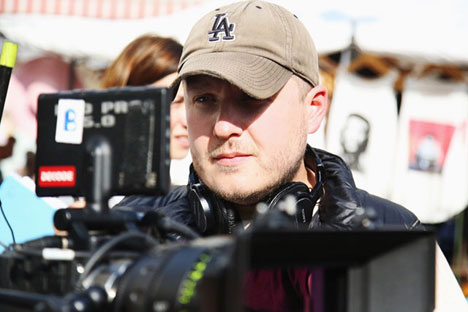 Londongrad's director Dmitry Kiselev. Source: personal archive
Also, we had British actors for many parts in the film. Furthermore, many of them had worked in such well-known series as Extras or Game of Thrones. One of the actors came for audition and said for the chance of a part in Londongrad he had turned down a role in Star Wars. I asked him what the part was. It turned out he had been selected to play a droid.
RBTH: In terms of politics, relations between Russia and Britain at the moment cannot be described as particularly cordial. Did this have an impact on the project?
D.K.: Absolutely. We began shooting before all these sanctions and things were quite friendly. Then problems began. For example, we could not open an account in a single London bank. We were simply refused without any reasons given. In the end, strange as it may seem, almost at the very last moment we opened an account with one of the oldest banks in Scotland. Then, there were instances when people simply refused us permission to film. They just said no.
RBTH: The first season has 16 episodes. Have they all been shot already?
D.K.: Yes, we have shot everything. I was the director of the first four episodes and am the creative producer of the first season (16 episodes). The second season (12 episodes) has also already been shot, but those are even a secret for me. The series is planned as two consecutive seasons. Of course, we hope it will be popular and more series will be shot. We shall know very soon.
RBTH: Is the series intended solely for the Russian audience or will it be available in the UK too?
D.K.: I have the feeling that even if there is no official international release, very soon the series will be available with English subtitles on the Internet and anybody will be able to download and watch it.