5 Soviet film adaptations of O. Henry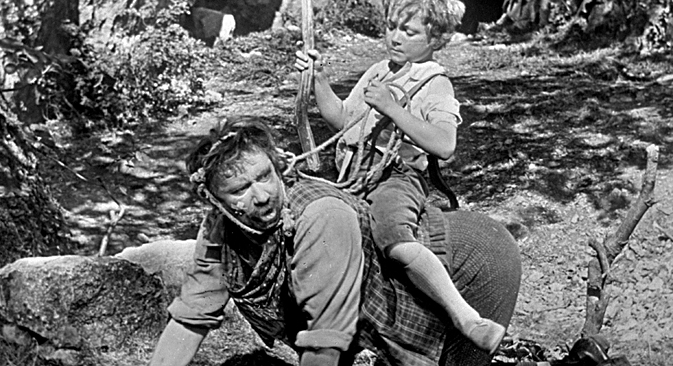 A screenshot from 'Business people' movie. Source: RIA Novosti
The master of the short story's life and art as imagined by Soviet filmmakers.
September 11 is the birthday of American writer O. Henry. RBTH remembers how Soviet films depicted his quirky and playful stories.
1) The Great Teacher (O. Henry in jail)
The history of adapting O. Henry's literature to the screen began in 1933 with The Great Teacher by Lev Kuleshov. The film is based on the writer's biography and short stories. O. Henry was imprisoned for embezzling money from the First National Bank of Austin and began his literary career while in jail.
2) Whirligigs
In 1968 Soviet director Joseph Shapiro shot a black-and-white short film based on O. Henry's short story of the same name. The protagonist, Ransie, has a wife who nags him for drinking and staying out too long hunting, so he decides get a divorce. The judge's fee is five dollars, but Ransie steals the money from the judge himself and pays it back to him.
3) Strictly Business
Perhaps the most famous Soviet film based on O. Henry's work is the comedy Strictly Business, shot by cult director Leonid Gaida in 1962. Three short stories make up the plot: The Roads We Take, Makes the Whole World Kin and The Ransom of Red Chief. The final episode was masterful: some con artists kidnap a rich man's son and hold him for ransom, but in the end they beg the father to take the unbearable tyrant home, even paying him to do so.
4) Kings and Cabbage
"This story has everything except for two things: kings and cabbage." The two-part film Kings and Cabbage is about a nonexistent country called Anchuria, which is so small that even if you did try to look for it on a map, its entire expanse would be covered by just the letter A. This film has music, songs and charismatic Soviet actors.
5) The Trust That Has Burst
This is a three-part film based on the short story collection The Gentle Grafter. Jefferson Peters and Andy Tucker are talented criminals; they devise original cons and cleverly trick trusting people. One of the conmen was played by the actor Nikolai Karanchetsev, who also featured in Kings and Cabbage.
All rights reserved by Rossiyskaya Gazeta.