Russia submits Mikhalkov's 'Sunstroke' for Oscar nomination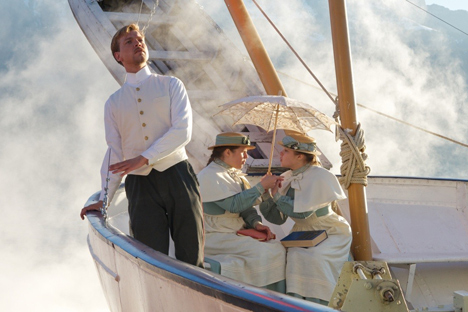 The Sunstroke. Source: Kinopoisk.ru
The award-winning director's new film is based on works by writer Ivan Bunin.
Russia has submitted Nikita Mikhalkov's Solnechny Udar (Sunstroke) for the best foreign-language Oscar.
The film is based on works by Nobel Prize-winning Russian author Ivan Bunin – the short story Sunstroke and the book The Cursed Days. The director first conceived it in the early 1980s, but did not start writing the script until 2010.
The world premiere of Sunstroke was held in Belgrade on Oct. 3, 2014. In Russia, the film was premiered in Crimea on Oct. 4 before a nationwide release on Oct. 9.
"I am very grateful to my colleagues for rating the labor spent on this film so highly," said Mikhalkov.
"As to the chances, I personally do not see them in this situation; I can only feel great satisfaction and joy that my colleagues from the Oscar Academy will have to see my picture. Maybe it will touch someone among them."
First published in Russian in TASS.
All rights reserved by Rossiyskaya Gazeta.