Gediminas Taranda, artistic director of the Imperial Russian Ballet, always travels with his itinerant dance company and is on the road about seven months of the year.
The Imperial Russian Ballet presents classical ballet to international and Russian audiences, and is currently touring Australia with Swan Lake.
Created in 1994, the company built a reputation in Russia in the 1990s for bringing high-quality performances to regional cities and towns.
For some Russians, this was their first opportunity to see a level of performance which until then had mostly only been accessible in cultural centres such as Moscow, St Petersburg and Perm.
Russia's most prestigious ballet companies – the Bolshoi Ballet in Moscow and St Petersburg's Mariinsk Ballet (also known by its Soviet name the Kirov) – rarely travel to regional cities.
"The Mariinsky and the Bolshoi are the icebreakers of ballet in Russia," Taranda said. "Our company is more like a small ship, and we can reach the smaller islands."
Since the company started touring internationally, it has continued the tradition of venturing outside big cities. In this year's Australian tour, it will perform in five capital cities and 19 regional centres, including Albury, Geelong and Shepparton in Victoria and Port Macquarie, Newcastle and Wollongong in New South Wales.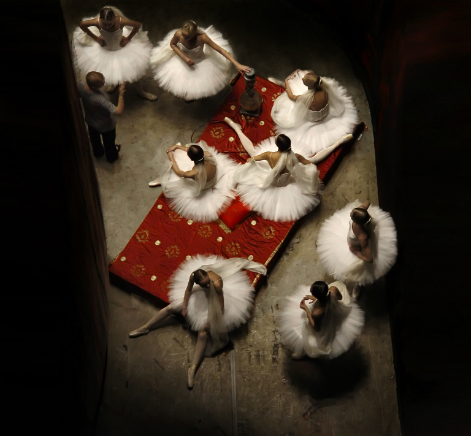 Ballet dancers of the Imperial Russian Ballet behind the scenes. Source: Mark Olich
Taranda, who exudes passion for what he does, isn't as well known outside Russia as he is at home. This is perhaps because at the height of his dancing career, the KGB banned him from leaving the USSR, following perceived misconduct on tour in Mexico in 1984.
Taranda, 54, was born in Kaliningrad to a Lithuanian father and Cossack mother. He studied at Moscow's Academy of Choreography and as soon as he graduated was given the lead in the Bolshoi's production of Don Quixote – an unprecedented honour at the theatre. Even comically falling on stage in this debut performance, following an altercation with his leg-warmers, didn't stop Taranda from becoming one of Russia's most renowned contemporary ballet soloists.
Despite his popularity when he was performing with the Bolshoi, Taranda's relationship with the theatre's long-standing artistic director Yury Grigorovich was tense. It eventually became so strained that Taranda was fired in 1993.
This was the impetus for him to set up his own company, which he did with input from and in collaboration with various figures from the Bolshoi and the Mariinsky, including the celebrated Soviet dancer Maya Plisetskaya, who died in May this year.
Before the 1917 revolution, the Mariinsky Ballet company, which dated back to the 18th century, was called the Russian Imperial Ballet, and Taranda chose to resurrect the name for his troupe.
Since then, his company's international reputation has grown.
When talking about his tour to Australia, he admitted he was a little surprised that Australians were so interested in classical ballet.
"I didn't expect there to be so many ballet schools here," he said.
And as a father and the founder of a ballet school himself, it's not surprising that he is passionate about helping kids develop an appreciation for this classical art form.
"The number of children learning ballet in Australia prompted me to decide to bring The Nutcracker here in 2016," he said. "This is a performance which we're putting a lot of energy into and which I hope Australian kids will really enjoy."
Taranda credits Anna Pavlova with popularising the image of classical ballet here. "When I was researching Australia, I discovered that she had toured here and that her performances had left a profound and lasting impression on the country," he said.
Neil Croker, CEO of the Palais Theatre in Melbourne, where the Imperial Ballet has been performing since 2010, is of the same opinion.
"We fell in love with Pavlova and Ballets Russes in the early 20th century," Croker said. "Standing ovations at previous Imperial Russian Ballet performances tell us that our audiences still enjoy Russian ballet presenting the classics.
"This year we're particularly looking forward to the soloists Lina Seveliova and Nariman Bekzhanov, who have performed beautifully in previous productions."
Swan Lake Venues and dates:
Hobart The theatre royal 17 - 18 Sep;
Launceston The princess theatre 19 - 20 Sep;
Cairns the civic theatre 26 – 27 Sep;
Adelaide Her majesty's theatre 9 - 11 Oct;
Shepparton East bank centre 14 Oct;
Albury entertainment centre 16 Oct;
Melbourne The Palais Theatre 17 Oct;
Geelong Performing arts Centre 18 Oct;
Canberra The Canberra Theatre 21 - 22 Oct;
Sydney The State theatre 23 - 25 Oct;
Wollongong Illawarra performing arts centre 29 - 31 Oct.
Find the full schedule at russianballet.com.au
All rights reserved by Rossiyskaya Gazeta.