Following the recent viennacontemporary art fair at Marx Halle in Vienna, RBTH asked leading Russian gallery owners who participated in the event to share their views on the Russian artists currently making a name for themselves internationally.
From Sept. 24-27, the Marx Halle in Vienna hosted a contemporary art fair, viennacontemporary. The event was masterminded by a Russian developer, RDI Group owner and art collector Dmitry Aksyonov, who for the last four years has, among other things, been working on re-launching one of the oldest European art fairs, Vienna Fair.
The new fair was organized by the same team, headed by art director Christina Steinbrecher-Pfandt, so it was no surprise that the line-up featured over 100 European galleries, six of which were Russian. RBTH asked the owners of these galleries to tell us which contemporary Russian artists in their view are at the forefront of the country's art scene internationally.
Sergei Popov, pop/off/art gallery (Moscow/Berlin)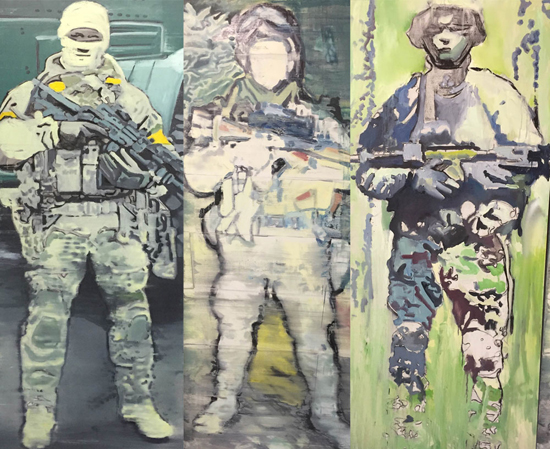 Vika Shumskaya and Vlad Yurashko. Halfway. Source: pop/off/art gallery
International recognition is enjoyed by the Russian art stars who emerged after perestroika – Anatoly Osmolovsky, [Vladimir] Dubossarsky & [Alexander] Vinogradov, the AES+F group, Sergey Bratkov. A particularly popular figure on the Russian art scene now is Olga Chernysheva, who is taking part in the main project at the Venice Biennale. However, it is the living legends Erik Bulatov and Ilya Kabakov who define the modern understanding of contemporary Russian art and enjoy far broader popularity.
Yekaterina Iragui, Galerie Iragui (Moscow)
Nikita Alexeev. From the series "Landscapes in Three Languages." Source: Galerie Iragui
Our main star is Ilya Kabakov, though for many years now he has been living in the U.S. Thanks to him and art scholar and curator Boris Groys, Moscow Conceptualism can be considered the best-known contemporary Russian art trend in the world. And not only the best-known but also still the most widely exhibited. For example, the Narrative Projects gallery in London is currently preparing a large solo exhibition of Nikita Alexeev.
Mikhail Ovcharenko, Regina Gallery (Moscow)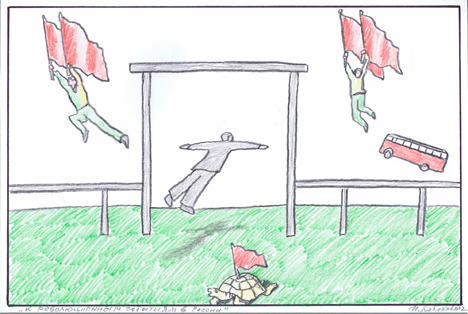 Ilya and Emilia Kabakov. Dedicated to revolutionary events in Russia, 2012. Source: Regina Gallery
Our most famous artists are Ilya Kabakov, Oleg Kulik, Pavel Pepperstein and Pussy Riot. They all represent different generations, each with their own unique history. Recently, foreign art collectors have been showing a steady interest in works by Evgeny Antufiev and Pavel Pepperstein, driven – among other things – by their solo exhibitions in various countries.
Natalya Nusinova, Triumph Gallery (Moscow)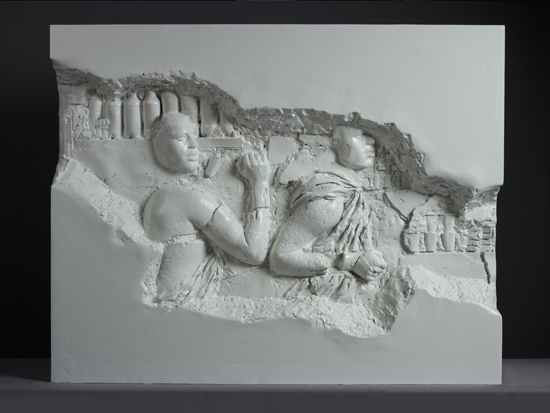 Taisiya Korotkova. Recycle Art Group. Source: Triumph Gallery
In addition to Kabakov, the best-known names are Pussy Riot, the AES+F group, Olga Chernysheva, Irina Korina, the Chto Delat ("What is to be done?") collective. There are a further dozen names whose works are exhibited in museums in Europe and the U.S. At our international fairs, a variety of works are sold: from Andrei Gorbunov to the Recycle Art Group to Alexander Brodsky. There is no particular taste that is characteristic of or sets apart a Western collector from a Russian collector. The main thing is the quality of the art, from painting to sculpture to photo and video.
Anna Luneva, Pechersky Gallery (Moscow)
Kirill Garshin. From the series "Polaroid 3000" (Feast). 2015. Source: Pechersky Gallery
Russian galleries' participation in international fairs is practically the only chance for Russian contemporary art to be represented in the West and included in the world art process. There is a whole range of major contemporary artists, from conceptualists to Valery Koshlyakov, who have a name in Europe and the U.S.
Elvira Tarnogradskaya, Triangle Gallery (Moscow)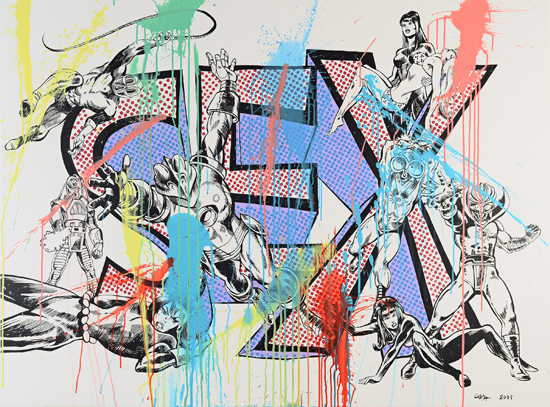 Gosha Ostretsov. Sex. Source: Triangle Gallery
In our view, the three most dynamically developing artists today are Gosha Ostretsov, Lyudmila Konstantinova and Valery Chtaka. Gosha is well-known in the West: His works have been on display at the Russian pavilion at the Venice Biennale and the Saatchi Gallery in London, and at a recent exhibition in Graz [in Austria]. His comic-strip paintings are better understood in Europe, where there is a tradition of collecting that form of art, than in Russia. Konstantinova's works offer an ironic take on Russian avant-garde heritage, while Chtak produces street-art work with texts in different languages.
Top 5 most expensive works by contemporary Russian artists sold at international auctions:
1. Beetle – Ilya Kabakov, 1982. Wood, enamel. 226.5 x 148.5. Phillips, London, February 28, 2008. Sold for: £2.93 million ($4.5 million).
2. Glory to the CPSU – Erik Bulatov,1975. Canvas, oil. 229.5 х 229. Phillips, London, February 28, 2008. Sold for: £1.084 million ($1.65 million).
3. Untitled – Evgeny Chubarov,1994. Canvas, oil. 300 х 200. Phillips, London, June 22, 2007. Sold for: £720,000 ($1.1 million).
4. Meeting between Solzhenitsyn and Boll at Rostropovich's Country House – Vitaly Komar and Alexander Melamid, 1972. Canvas, oil, collage, gold foil. 175 х 120. Phillips, London, April 23, 2010. Sold for: £657,250 ($1 million).
5. Before Sunset – Oleg Vasilyev, 1990. Canvas, oil. 210 x 165. Sotheby's, London, March 12, 2008. Sold for: £468,500 ($720,000).
All rights reserved by Rossiyskaya Gazeta.