Jean-Jacques restaurant: More borsch on the menu in London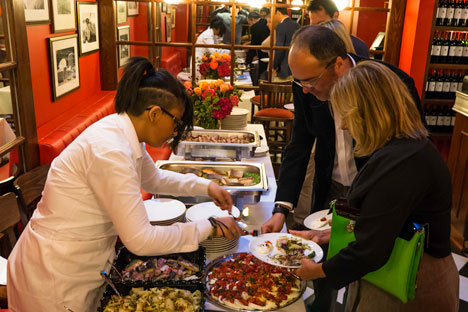 Popular Russian brand to launch in the UK.
It's a weekday afternoon in Soho, but the restaurants on Frith Street have a cheerful buzz. Upstairs in Jean-Jacques, the area's latest addition, lawyer and businessman Dmitry Yampolsky is relaxed and friendly. As co-owner of nearly forty restaurants in Russia, opening a new venue doesn't faze him. The welcoming bistro inhabits a three-storey town house near Oxford Street with a brick-walled roof terrace that is open to the late summer sky.
French or Russian?
The cosy red décor and tiled floors are familiar from the Moscow branches of Jean Jacques and Yampolsky hopes to recreate the success of his Russian chain with dishes tailored to the UK capital. His plan is to create a space in which guests can equally enjoy a casual brunch or a festive dinner. As the name suggests, the restaurant's menu is French-inspired, from omelettes or croque-monsieur for breakfast to tarte au citron and crème brûlée for pudding. Maltese head chef, Jan Pace, has been tweeting his tasty creations: grilled mackerel with fennel salad or mint-chocolate dessert. Pace, whose previous career spanned Mayfair clubs and Australian bistros, did a stint in Gordon Ramsay's Michelin-starred Knightsbridge kitchen.
Jean Jacques' menu will offer a few token Russian dishes because "I have a lot of friends who are expecting this," Yampolsky concedes: "We will have borsch; we will have maybe Olivier salad, and maybe sometimes we will offer something like syrniki [pancakes made from curd cheese]."
Style or substance?
The Jean Jacques chain was so successful in capturing Russia's middle class market that the series of anti-government demonstrations in 2011 (widely seen as dominated by middle class protesters) were nicknamed the "Jean Jacques Revolution". Is this an association he is proud of? "I am proud of the popularity of our places," he says smoothly. "Our places are open to everybody."
London and Moscow
Having grown up and studied law in Moscow, Yampolsky has helped to create a ridiculous number of vastly successful international projects, including a chain of child-friendly café-clubs. He runs the restaurant group Tabletalk with Dmitry Borisov and Igor Galkin. With partner Philipp Bakhtin, he also runs "Kamchatka", a peripatetic, children's arts camp (currently located on the picturesque Estonian island of Saaremaa) with celebrities from the worlds of music, movies and journalism as its counselors. He hopes to set up something similar in London.
A cultural hub
One feature of the Russian restaurants that Yampolsky hopes to transfer to London is the idea of Jean-Jacques as a centre for readings, gatherings and exhibitions, concerts and movie nights. He has just appointed a new cultural adviser and expects to be running events almost every evening by October."If you have the right people," he says, "the culture will grow from this … so we have put a lot of effort into making this place comfortable and interesting for people." It seems to be working.
The new Jean Jacques restaurant is at 45 Frith Street, London, W1D 4SD. Tel. 02074949111
Yampolsky is a team player and stresses the fact that these are collaborative ventures. In recent years he has founded or co-founded a legal firm, an investment business and a real estate company, brokering deals in the hyper-competitive markets of Moscow, London and New York. He takes the most evident pride in his charitable foundation, the Vera Hospice Fund, created in 2006. He has chaired the board for five years and is actively engaged in its work. "It's an important part of my life," he says. www.hospicefund.ru.
All rights reserved by Rossiyskaya Gazeta.