The Red Cross, Gutta-percha ladies and the evolution of drunkenness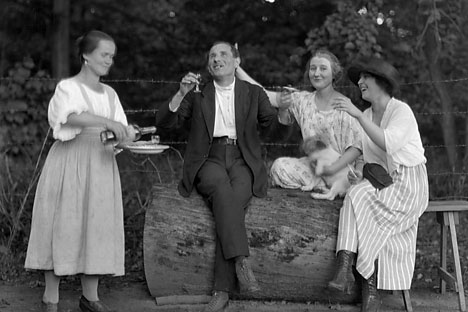 The quantity of recycled alcohol that was sold at 150 St. Petersburg pharmacies over the year is equivalent to 3,200,000 bottles of vodka. Source: Fotosoyuz / Vostock Photo
Sept. 28 - Oct. 4: News curiosities selected from the week's Russian press in 1915.
The evolution of drunkenness
Ever since selling alcoholic drinks was banned, people, trying to find a way out of the situation have turned to pharmacies. But since formalities make it difficult to obtain pure ethyl alcohol, the population is making great efforts to buy drops, especially those that are an infusion of pure alcohol. Drops containing 90 percent alcohol have been particularly popular. In the end customers began demanding eau de cologne.
According to gathered statistics, the quantity of recycled alcohol that was sold at 150 St. Petersburg pharmacies over the year is equivalent to 80,000 barrels of pure alcohol, which is 3,200,000 bottles of vodka for an overall price of 6.5 million rubles.
Moskovsky Listok. September 29, 1915
Cinema
In Moscow the city administration has ordered the removal of drapes from the emergency exits in several cinemas in the event of a fire, while rugs have been removed from the auditoriums.
In exchange, the administration has suggested increasing ventilation and cleaning out the air inside the auditoriums more frequently.
Birzheviye Vedomosti. September 30, 1915
A unit from the American Red Cross
Yesterday a Red Cross unit from America arrived in Moscow. It has been organized by the American government. The unit contains 38 nurses and 9 doctors.
The unit came to Russia on a special mission to give medical aid to German and Austrian prisoners of war. Another such American Red Cross unit arrived in Germany with the intention of aiding Russian military prisoners in Germany.
A large part of the unit that arrived in Moscow is going to Siberia, to one of the military prisons. Another part of the unit will head for the rear of our army.
Russkoye Slovo. October 2, 1915
Navigation
Telegrams sent to Nizhny (Novgorod – RBTH) from the Kama River alarmed the shipping world today. They say that the river is freezing. Meanwhile, bread cargoes bought for the state and for the municipal public administrations in Nizhny are coming from the Kama. This has engendered fears that a significant part of the cargo will winter on the way.
All the ships coming from the Volga downstream are overfilled with bread cargoes. A lot of cargoes have been prepared for departure at the port but the ships are in no condition to take them.
Russkoye Slovo. October 3, 1915
The Nikitin Circus
Yesterday's "Saturday outing" at the Nikitin Circus gathered an unusual number of people. The parterre was filled with loyal followers of these outings, a mass of officers.
Yesterday's debuts were successful. The English Warlington sisters, nicknamed "the Gutta-percha ladies," were splendid on the trampoline. The musical clown brothers, who were performing again, were also very popular.
Moskovsky Listok. October 4, 1915
All rights reserved by Rossiyskaya Gazeta.