Pumpkin Soup — a tasty lunch the Soviets passed by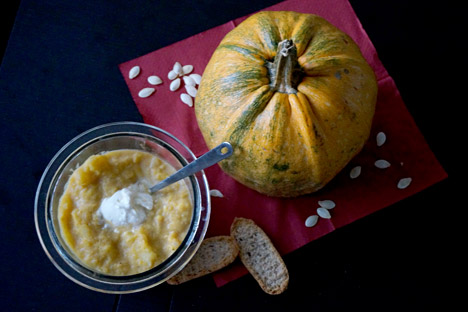 Pumpkin soup. Source: Anna Kharzeeva
Anna Kharzeeva
Although the recipe for pumpkin soup is included in the Book, it wasn't popular in the Soviet era. Pumpkin seeds, however, were.
This piece is part of the Soviet Diet Cookbook, a blog about a modern Russian girl cooking Soviet food. To read more of the series, click here.
I love cream of pumpkin soup. I first tried it in a café in Moscow when it became popular some six or seven years ago. The revelation that I actually like pumpkin came to me around then, when a friend shared her rediscovering pumpkin experience with me. I started cooking it, and was amazed at just how versatile and delicious it is.
The reason I hadn't liked it before was because I associated it mostly with porridge, which is how it's usually cooked in the Soviet style.
"Pumpkin soup isn't a Russian thing. In Russia, pumpkin was usually steamed in the oven, sometimes with apples, and always served sweet. Millet porridge with pumpkin is a traditional Russian meal," says Granny.
Although it's included in the Book, it seems that the recipe for creamed pumpkin soup didn't make it to the masses, which is a shame.
But one part of pumpkin that is very popular is its seeds. Granny says there used to be women on every corner selling sunflower and pumpkin seeds by the glass.
She shared with me this memory from 1952: "After university I was sent to a village beside a bracket factory to teach math at a local school – students after university were allocated jobs in different parts of the country. All the teachers were fresh out of university from Moscow and Zagorsk [a town near Moscow now called Sergiev Posad]. As a class leader, I had to meet the family of every one of my students and work with them. The village itself was empty though, and all the students came from villages nearby. When we arrived, we walked around new empty buildings, where we could choose any apartment we liked. We came into the room of the female construction workers. It was sparkling clean, but on the table there was a mountain of sunflower seeds — they would crack and eat them and throw the hulls onto the shining clean floor."
Snacking on seeds was a critical part of the hours-long chats of the Soviet era — although usually they took place beside the building entrances, which made it easier to discard the hulls. This tradition has stood the test of time, and chatting while eating seeds remains a big part of Russian life. After making my pumpkin soup, I dried the pumpkin seeds in the oven and have them to snack on now — I must have gotten the habit from Granny, who's always been a big fan of pumpkin seeds.
Granny's friend Galina Vassilyevna says that in the village they would always cut pumpkin up into small pieces, roast it with some sugar and it would be a snack for kids in between meals — healthy and tasty indeed!
Thanks to technological progress making blenders easily available, we can finally give creamed pumpkin soup the recognition it deserves. Pumpkin: It's not all porridge and seeds anymore!
Creamed Pumpkin Soup
The recipe from the Soviet Cook Book, page 119
Ingredients
800 grams pumpkin; 150 grams croutons or 2 Tbsp flour; 300 grams potatoes; 4-5 cups milk; 3 Tbsp butter or oil; 2 Tsp sugar
There are two ways to prepare this soup:
1. Peel and wash the potato and pumpkin. Cut into this slices. Put in a soup pot. Add 3-4 cups water, salt, sugar and 1 tablespoon oil or butter and bring to a boil. Then simmer over low heat 25-30 minutes. In a saucepan, melt the remaining 2 tablespoons of oil or butter. Add croutons until they are soft and combined with the butter. Add to the pumpkin mix. Dilute with the hot milk and stir until thick.
2. Peel and wash the potato and pumpkin. Cut into this slices. Put in a soup pot. Add 2 cups of water and bring to a boil. In a separate saucepan, add 2 tablespoons oil or butter, melt and add the 2 tablespoons flour, 4 cups of hot milk and 2 cups of water. Boil and stir until mixture is smooth. Add to the pumpkin and cook 15-20 minutes. Then rub the soup through a sieve, add 1-2 cups hot milk, butter and mix well. Serve croutons separately.
All rights reserved by Rossiyskaya Gazeta.