'Girl with Peaches' comes to life at the Tretyakov Gallery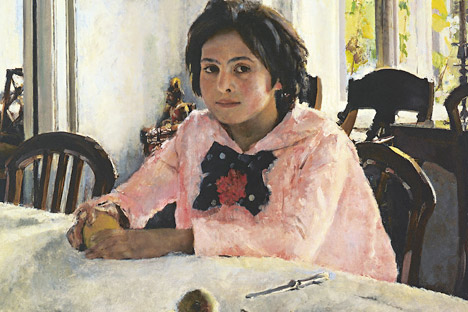 Portrait of Vera Mamontova. 1887. Oil on canvas. The Tretyakov Gallery, Moscow. Source: Wikipedia.org
Valentin Serov
Exhibition celebrating 150th anniversary of Russian painter Valentin Serov to open in Moscow.
Valentin Serov, one of the most important Russian portrait artists of the 19th century, is to be honored with a special exhibition in Moscow to mark the 150th anniversary of the birth of the painter, born in 1865.
Anyone wishing to admire Serov's masterpieces is welcome to view them at the Tretyakov Gallery on Krymsky Val from Oct. 7, 2015 to Jan. 17, 2016.
The exhibition will feature famous portraits, landscapes and theatrical works by the painter, including a grand curtain for the ballet Scheherazade to music by Rimsky-Korsakov for Sergei Diaghilev's Russian Seasons.
In the official video teaser, the Tretyakov Gallery animated the famous painting Girl with Peaches, a portrait of Vera, the daughter of merchant and patron of the arts Savva Mamontov.
All rights reserved by Rossiyskaya Gazeta.