Between language, the state and the self: Erik Bulatov in London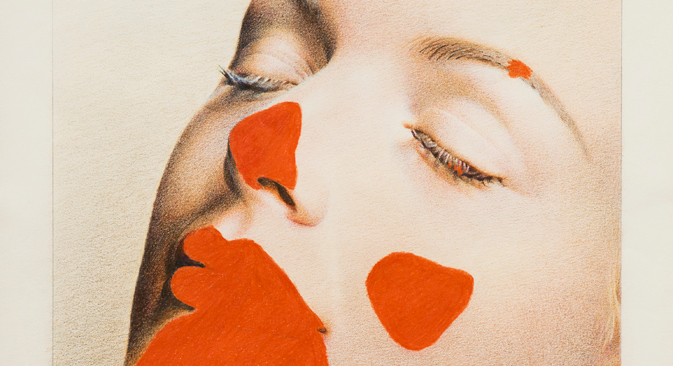 Erik Bulatov, Rouge a Levres, 1994, pencil on paper, 35 x 32 cm. Source: Michael Brzezinski
A new exhibit at 3 Grafton Street in London showcases the works of Russian artist Erik Bulatov, one of the founders of the Moscow conceptualist school.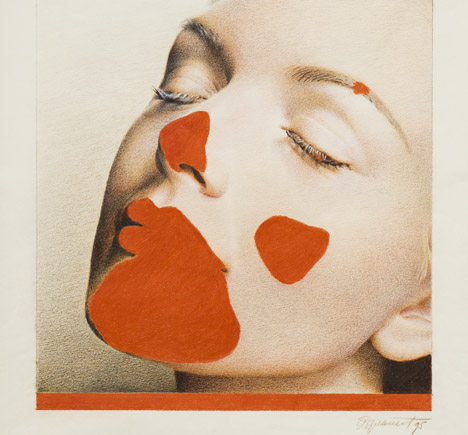 Erik Bulatov, Rouge a Levres, 1994. Source: Michael Brzezinski
UPD: The Exhibition has been extended to Dec. 4
Bulatov is well known for juxtaposing imposing Soviet symbols with lush images of nature in order to highlight discrepancies between reality and the false utopia conveyed in the works of socialist realism. Bulatov's paintings capture the invasion of social space through political language and propaganda with slogans like "Glory to the CPSU [Communist Party of the Soviet Union]" obstructing blue skies like prison bars.
Bulatov says that through his pieces he acts with a social responsibility to alert others to the discordance of "frighteningly aggressive ideology" imposing itself on reality. To do so through visual art is imperative according to Bulatov. After all, the picture "is the only reality I trust and believe."
Although the political imagery in his paintings is exclusively from the Soviet period, he considers his work universal in its appeal. Regardless of one's nationality, the viewer can relate to the conflict between the state and the self, the personal and the public, the internal and the external.
Erik Bulatov, Autoportrait, 2011. Source: Courtesy of the artist
Yet Bulatov is not a political artist—at least he does not consider himself one. Despite being associated with "sots"art, a nonconformist response to state-approved art in the Soviet Union, Bulatov sees himself as addressing social problems independent of any one political system. He believes that even those living in free countries today struggle to delineate the borders separating personal spaces from corporate spaces, as they are dominated by advertising and the glorification of material wealth. As he explains, the slogans that occupy the space of his paintings are but "characters, interacting with one another and impacting the viewer on a visceral level," regardless of their knowledge of Soviet history.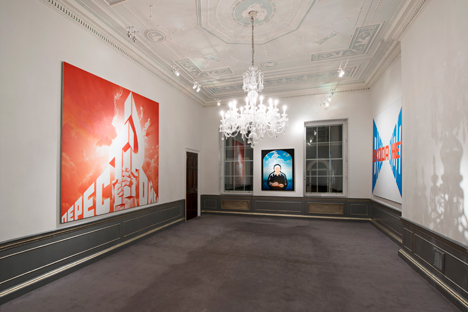 Installation image of BOT, an exhibition by Erik Bulatov at 3 Grafton St. Source: Michael Brzezinsky
Although Bulatov has witnessed much social, political and cultural change since graduating from the Surikov Art Institute in Moscow in 1958, his philosophy has not changed. However, since moving from Russia in 1991, Bulatov's popularity abroad has grown immensely: in addition to the Tretyakov Gallery in Moscow and the Hermitage in Saint Petersburg, Russia's two most famous collections of art, Bulatov's work is featured in the Guggenheim in New York.
Bulatov's show in London, entitled "BOT," runs from October 6 – December 4. It is his first in the United Kingdom since 1989 and displays more than 30 recent paintings, works on paper and preparatory sketches. The exhibit affirms Bulatov's career-long contemplation of "the abnormality and unnaturalness" of social space, and is not to be missed by those interested in Russia, contemporary art, or the perennial struggle of human beings to retain independence from their society and the state.