Economizing on electricity, British Flag Day and drinking eau de cologne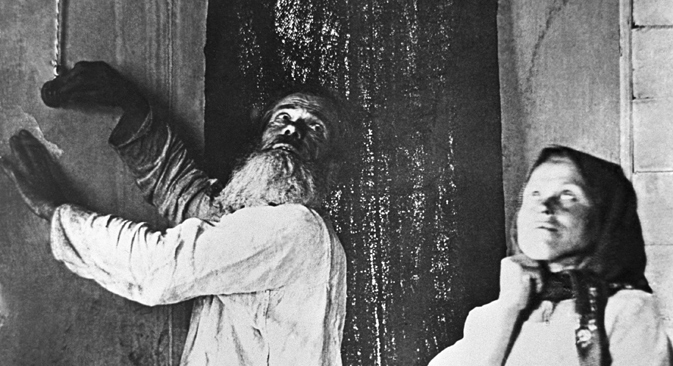 RBTH turns the clock back a century and shines a light on the now-forgotten stories being reported on the inside pages of Russian newspapers in 1915 and the events and processes occupying the minds of the Russians of the age. Travel back in time with us week by week for a sense of what life was like in the twilight days of the Russian Empire.

People have been concerned with economizing on electricity since it first appeared. Source: TASS
Testing eau de cologne

The Moscow gubernatorial medical administration has set up a special committee to test eau de cologne before it goes on sale. The aim of the committee is to fight the "potable" eau de cologne that has appeared on the market (this was used during periods of prohibition as alcohol – RBTH). The alcoholic strength of the eau de cologne to go on sale has been established by the committee at 80 degrees with a mandatory three percent of essential oils.
Moskovsky Listok, October 6, 1915
The 'sixth' kopek
The Moscow administration wants to increase the fee of a tram ride by one kopek, attributing the increase to tram expenses. The Moscow tram, in comparison to others, is very cheap, say the administrators. At a time when prices for coachmen and automobiles have increased by 3-4 times, the tram price has remained the same. As a result of the huge waves of people riding trams, many passengers just avoid paying. This, along with privileged passengers who ride free of charge, costs the city at least 500,000 rubles a year.
Moskovsky Listok, October 7, 1915
Saving electricity
The Ministry of Trade and Industry has held a meeting on the adoption of measures for decreasing electricity consumption.
The measures that were discussed included closing all stores at 7 o'clock in the evening, closing theaters and concert halls, miniature theaters, restaurants and clubs at 11 o'clock in the evening, cinemas at 10 o'clock in the evening, while miniature theaters must open no earlier than 8 o'clock and cinemas no earlier than 4 o'clock. There was talk of a complete ban on illuminated advertising and on the outside illumination of factories, industrial and trade enterprises, shops, restaurants and so on.
The city administration made an estimate of the usefulness of the reduction of outside illumination.
In a year the savings would equal 40 tanks of oil.
Russkoye Slovo, October 9, 1915
'British Flag Day'

Yesterday the initiators of the "British Flag Day" in Moscow held a meeting. The representative of the Moscow Society of Universities announced that the society is planning to organize 10 lectures dedicated to bringing Russia and England closer together.
The association chose October 26 as the date of "British Flag Day."
Russkoye Slovo, October 10, 1915
All rights reserved by Rossiyskaya Gazeta.