This piece is part of the Soviet Diet Cookbook, a blog about a modern Russian girl cooking Soviet food. To read more of the series, click here.
I'm a little scared to approach kulebyaka. It appears in classic Russian literature, is often made for celebrations of traditional Russian food, and seems very complicated. To be honest, I'm not even sure I've ever had any.
Kulebyaka is very similar to a Russian pie (pirog), with the difference that it has different fillings layered one on top of another, with pastry in between, and has a lot more filling than a pirog. The main association I have with it is of the rich pre-revolutionary times, which were filled with over-the-top feasts — available only to a small part of the population and described in Gogol's books.
In the first Russian cookbook, "A Gift to Young Housewives," which was published in 1861 and was the go-to cookbook for Russian cooks before the revolution and the Book of Healthy and Tasty Food, author Elena Molokhovets includes a recipe for kulebyaka, but only the one made with fish. The Soviet book, on the other hand, has a general recipe for kulebyaka, which allows the use any of its numerous filling recipes. Granny and I chose creamed mushrooms, rice with boiled eggs and beef with onions to fill our kulebyaka. We went all lazy with the dough and bought ready-made phyllo pastry, though. Preparing all the fillings was slightly tedious, but the result was worth it, and I feel very proud to have a kulebyaka in my kitchen! The flavors are simple but good, it's very filling, and would work well as a special "Russian dinner" meal. I'd make a sauce to go with though, as it's a little dry.
Granny confirmed my thoughts about kulebyaka not being a Soviet dish: "I've never made it. It's a merchants' meal, they used to love it and they'd eat the fish type. Nobody I know used to make it either. The kulebyaka we made today is the first one I've ever had!"
Tedious in preparation and requiring a lot of potentially pricey ingredients — these are the main reasons Granny and her Galina Vasilyeva listed when explaining why kulebyaka never quite made it to a Soviet table. It seems like the recipe is more for decoration than actual use.
Searching for information about kulebyaka online, I stumbled upon a book by V. Lavrova "Cooking with Elena Molokhovets' Recipes," in which she remembers that when she was a kid, a friend came over with a beautiful book and suggested a game:
"We would spend hours looking at 'The Book of Healthy and Tasty Food,' richly decorated…with photos of incredible flowers. The idea of the game was that we would 'eat' some of the tastiest pictures, or played shop."
I'm starting to think that the Book was a whole world in itself, with its own idiosyncrasies, fairy tales, and flowers — set right next to perfectly useful every day recipes and kitchen instructions. It really was everything a Soviet citizen might want: a game, a friend, a mother to those who didn't have one to teach them cooking, a real help in the kitchen.
Wondering through the paths of the world that is the Book, it helps to take a child-like approach. Pictures of unavailable products? Recipes for unimaginable dishes? If you can't cook with it, find other ways to enjoy it. If this is the game, I'm in!
Kulebyaka from yeast dough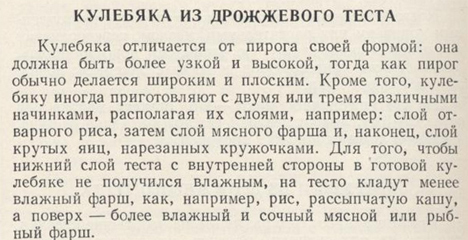 The recipe from the Soviet Cook Book, page 270
Kulebyaka is different from pie in its shape.
It should be taller than a pie and not as flat. Additionally, Kulebyaka can be prepared in layers with two or three different filling.
Ingredients
1 kg flour; 1 ¾ cups milk; 50 grams yeast; 100-125 grams butter; 4-5 egg yolks; 2 Tbsp sugar; 1 tsp salt
Put a drier filling, like rice, on the bottom so the bottom crust doesn't get wet and soggy.
For example, put a layer of boiled rice, then a layer of browned meat, then a layer of sliced egg.
Once the dough is mixed together, roll out a strip the length of your pan or sheet that has a thickness of 1 cm and 20 cm in width. Brush the dough with egg yolk. Put the dough on a towel dusted with flour. Spread in the filling to the edge of the dough, on the narrow side. Then, pick up the edges on the wide side and pinch them together. Then, carefully pick up the kulebyaka and place seam-side down on a greased baking sheet.
After that, put the kulebyaka in a warm place, let it sit a little, then brush the top with egg. Puncture the dough top in two or three places with a knife to let the steam escape during baking. Then, bake in a hot oven 35-45 minutes. If the crust starts to brown before the fillings are cooked, cover the top with a damp piece of paper. The kulebyaka is done when a knife inserted comes out clean. Remove the kulebyaka from the oven and cover with a towel to keep the crust soft while it is cooling. Serve with meat or chicken broth.
Rice and egg filling

The recipe from the Soviet Cook Book, page 276
Rinse the rice in warm water then boil in 10-12 cups of salted water.
Ingredients
1 ¼ cup rice; 3-4 eggs; 2-3 Tbsp butter
After the rice is cooked, drain through a sieve.
Put the rice in a bowl and mix with chopped boiled eggs, butter, salt and dill.
Creamed mushroom filling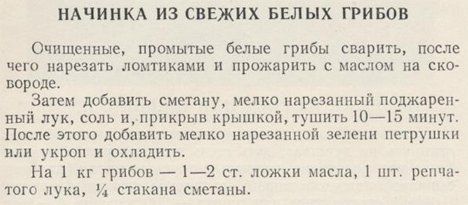 The recipe from the Soviet Cook Book, page 277
Wash and slice the mushrooms. Fry with butter in a skillet.
Ingredients
1 kg mushrooms; 1-2 tablespoons oil or butter; 1 sliced onion; ¼ cup sour cream
Separately, fry the onions in butter. Add the onions to the mushrooms along with the sour cream and salt.
Cover and let simmer 10-15 minutes.
After this, add chopped parsley or dill and refrigerate.
Beef and onion filling
The recipe from the Soviet Cook Book, page 275
Mince the raw meat, fry it in a pan with butter and then mince again.
Ingredients
800 grams beef; 2-3 Tbsp oil; 3 boiled eggs; 1-2 sliced onions
Separately, fry finely chopped onion and mix it into the meat along with chopped eggs, salt, pepper, chopped parsley or dill.
The meat filling can also be made from boiled beef.
To do this, cut the boiled beef into small pieces. Separately, fry the onion, mix in the meat and fry for another 3-4 minutes.
Then add the chopped eggs, salt, pepper, dill, 1-2 tablespoons oil, and 1-2 tablespoons of beef broth if the meat seems dry.
All rights reserved by Rossiyskaya Gazeta.