Russia's wedding playlist: 7 must-have hits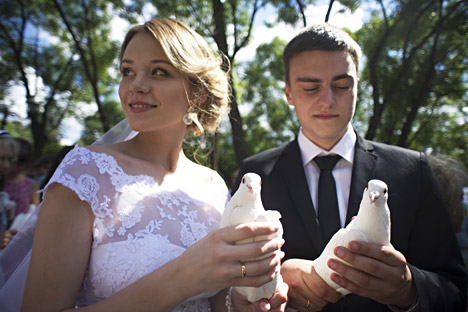 A newly wedded couple holds white doves in their hands at the unveiling ceremony of a monument dedicated to Saint Peter and Saint Fevronia, Orthodox patrons of fidelity, family and love. Source: Sergei Bobylev/TASS
Sergei Bobylev/TASS
From Tchaikovsky to Mozart and Roy Orbison to the Beatles – RBTH presents a sampling of Russia's favorite wedding tunes.
Every Moscow civil registry office has a list of several dozen standard songs, says Arina Stepanova, a wedding band musician specializing in civil marriage ceremonies. But which tunes do Russian couples prefer these days?
The classics
Most people choose classical music to accompany the official part of the ceremony – like Tchaikovsky's famous waltz from "Sleeping Beauty."
Tchaikovsky - Sleeping Beauty. Source: YouTube/Hered ia por Media Calle
Antonio Vivaldi's "Four Seasons" is quite popular as well. Particular seasons are chosen depending on the date of the wedding. Unsurprisingly, "Autumn" is getting played the most at the moment.
Antonio Vivaldi - Four Seasons. Source: YouTube / Неа Неа
"Chattanooga Choo Choo" by Harry Warren, featured in the 1941 film Sun Valley Serenade, is something of a must at Russian weddings.
Tex Beneke-Chattanooga Choo Choo. Source: YouTube / thankuGlennMillerII's channel
The civil registry offices of the Russian capital love Roy Orbison's famous "Pretty Woman," which inspired the title of the eponymous film.
Pretty Woman. Source: YouTube / 05Nosibro
Rockin' it up
"For those who do not like the classics and prefer something less ubiquitous, we always have hits by the Beatles," says Stepanova. "'All You Need Is Love' gets picked especially often. Bikers love that one."
All You Need Is Love - The Beatles. Source: YouTube / SlayerInBlood
Jeff Buckley's "Hallelujah" (written by Leonard Cohen) is another popular choice.
Jeff Buckley - Hallelujah. Source: YouTube / jeffbuckleyVEVO
The timeless
While most Moscow's civil registry offices try to offer at least some variety in their playlists, Felix Mendelssohn's world-famous "Wedding March" written for Shakespeare's play "A Midsummer Night's Dream" remains the most popular piece of wedding music ever.
Mendelssohn's Wedding March. Source: YouTube / Hui Bernard
Musicians usually have time to play four or five songs before the official ceremony ends. In most cases, the bride and groom select various songs and the musicians try to combine them within a single, seamless performance.
All rights reserved by Rossiyskaya Gazeta.