Missing surprise from Fabergé egg found in British Royal Collection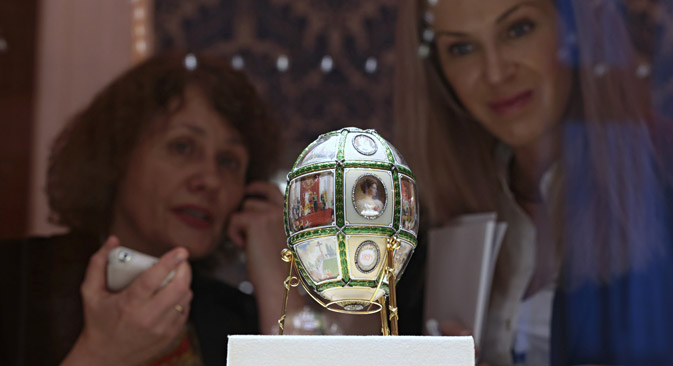 Visitors at the opening of Faberge Museum that is housed within the renovated Shuvalov Palace in St. Petersburg. Source: Igor Russak / RIA Novosti
Igor Russak/RIA Novosti
Mechanized elephant was part of egg given to Empress Maria Fyodorovna by Alexander III in 1892.
Scientists preparing a new catalogue for the British Royal Collection have accidentally come across the surprise originally contained in the eighth egg from the Fabergé Imperial Easter Series, which for a long time was considered lost.
The surprise of the egg is a miniature mechanized elephant.
Caroline de Guitaut, Senior Curator of the Royal Collection, the art collection of the British Royal Family, was the first to make the announcement during a scientific conference at the Fabergé Museum in St. Petersburg on Oct. 13.
Source: Faberge Museum
The eighth egg from the Imperial Diamond Net Series was commissioned by Alexander III as a gifted to his spouse Empress Maria Fyodorovna for Easter 1892.
The egg's shell was cut from a semi-transparent apple-green rock with encrusted diamonds in the body. Initially the egg had a silver or golden base with cherubs, considered to symbolize the imperial family's three sons: Nicholas, Mikhail and Georgy.
It is also known that inside the egg there was a surprise in the form of a tiny elephant with a winding mechanism. Its description remained in the Fabergé account books and was translated into English.
Source: Faberge Museum
After the revolution the egg was confiscated and several years later sold abroad, where it turned up in several private collections, ending up in the McFerrin family collection in the U.S. However, the surprise was lost.
Since British scientists could not prove that the find was precisely the elephant in question, the restorers decided to dissemble the figure.
"A fragment of the elephant's turret was lost," said Guitaut. "It seems that it had just fallen off due to the aged metal. Yet as a result, it was possible to look into the foundation of the figure. When we removed the top part of the turret, my heart nearly stopped beating: It contained the Fabergé hallmark! That is how we found the proof of the discovery's authenticity."
Meanwhile, it is still a mystery how the British Royal Collection obtained the figure. One version says that it was acquired by King George V in 1935.
Easter eggs made by Fabergé are a rarity on the auction market and can fetch as much as $18.5 million. That is the sum Russian collector Alexander Ivanov paid for the Rothschild Egg at Christie's in 2007.
First published in Russian in Rossiyskaya Gazeta.
All rights reserved by Rossiyskaya Gazeta.