Mercedes-Benz Fashion Week Russia opens in Moscow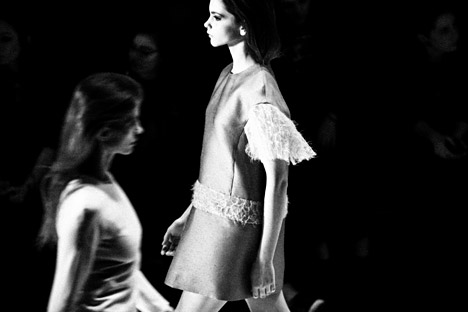 Mercedes Benz Fashion Week Russia. Source: Press photo
Press Photo
This year's event features collections by over 70 designers.
From Oct. 21 to Oct. 25, Moscow will be hosting the main event in the Russian fashion calendar, Mercedes-Benz Fashion Week Russia Spring/Summer 2016.
Fashion critics, buyers and bloggers will gather at the event's main venue, the Manezh exhibition center, to view collections by over 70 designers from Russia, Georgia, Ukraine, Turkey, China and other countries.
The newest foreign arrival is the Turkish brand Tarik Ediz, which will present an evening wear collection.
As is now traditional, the new season will be launched with a show by Russia's oldest fashion house, Slava Zaitsev.
Designers popular in Russia such as Alena Akhmadulina, Viva Vox, Yasya Minochkina, Pirosmani by Jenya Malygina, Masterpeace, and Julia Dalakian will headline this year's Mercedes-Benz Fashion Week Russia, while beginners will be presenting their debut collections as part of numerous group shows and competitions.
To mark the 66th anniversary of the establishment of diplomatic relations between China and Russia, Mercedes-Benz China Fashion Week has dispatched its star brand, NE TIGER, to Moscow.
The brand will act as a cultural ambassador, while its artistic director Zhang Zhifeng will present a collection inspired by the 5,000-year-long history of various ethnic groups living in China.
All rights reserved by Rossiyskaya Gazeta.