Star Wars: Russia can't wait for the saga's latest chapter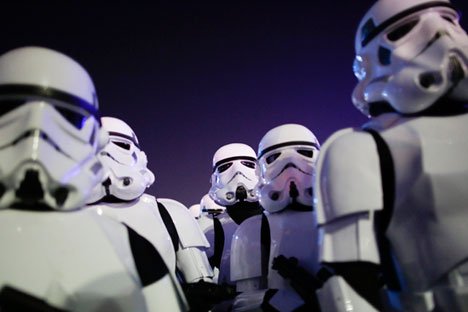 People dressed as Stormtroopers parade during a campaign of the Star Wars "The Force Awakens" film at the Rock in Rio music festival in Rio de Janeiro, Brazil, Sept. 19, 2015. Source: AP
AP
The first full-length trailer for Star Wars: The Force Awakens was well-received by Russian fans.
Nostalgic cheer ruled Russian social media on Oct. 19 as the new full-length trailer for Start Wars: Episode VII debuted online. The Russian version of the trailer was launched simultaneously with the rest of the world.
Russia's biggest search engine Yandex launched a special project with Disney to promote the seventh installment in the world-famous saga. On October 20 the logo at Yandex's home page was changed to display the classic Star Wars font. When clicked the logo leads to a special page showing the new official trailer of Episode VII. Before the trailer begins Russian viewers are greeted by producer J. J. Abrams who addresses Russian fans and utters the famous quote "May the Force be with you" in Russian.
Star Wars: The Force Awakens Trailer (Official). Source: YouTube
The verdict from social media users was swift.
"The new Star Wars trailer. The whole year 2015 is focused on one day, December 18, the date of the premiere. I hope that the movie is no worse than the trailer – because the trailer is awesome!" Facebook user Sergei Yakupov commented on his page.
"Can I please just go to sleep and wake up on December 17 at the cinema? I really can't wait for the new Star Wars movie," said user @zhuravleva on Twitter.
"Yes, I'm 23. Yes, I have a wife and a son. But still, I've been hooked since 1999... And today, I returned to my childhood years thanks to the new trailer for Episode VII," said Anton Nazentsev on the Russian social network vk.com.
"As this is an important day for the universe 'far far away,' I would like to let everyone know in advance that anyone who says that Star Wars is no longer the same, are a bit weird and will be unfollowed mercilessly. There will never be anything as cool as the New Hope," said Andrei Koval on Facebook.
In other news, MasterCard launched a special contest in Russia with the main prizes including tickets for opening night and a trip to the film's shooting locations. To promote the campaign, the company published a viral video showing none other than Darth Vader visiting the Moscow Conservatory to listen to John William's classic score from the saga, while watching scenes from the movies projected on the wall.
Darth Vader in the Moscow Conservatory. Source: YouTube
The video appeared on YouTube on October 12 and has already received over two million views.
All rights reserved by Rossiyskaya Gazeta.