Russians take to the streets over American film classic, `Back to the Future'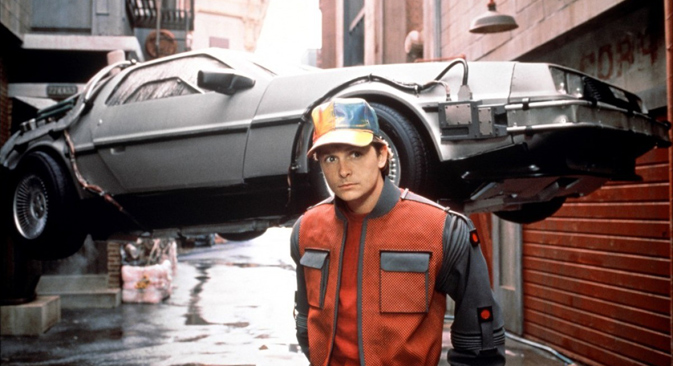 The future is here! Source: Kinopoisk.ru
The future is here. On October 21, the first film in Robert Zemeckis' famous trilogy about time travel marks its 30th anniversary, and fans in Russia are planning to celebrate this day in style.
The heroes of the popular film, "Back to the Future II," leave their home in October 1985 and arrive in October 21, 2015 in order to help their future children out of troubles. A number of crazy time travel adventures ensue as the heroes take on the bad guys who threaten their family.
Russian fans are planning to celebrate this day with flash mobs, dressing up in character and riding a DeLorean car. The more than 200 participants of the flash mob, "Hi, Marty. The future is us!" will gather in the Tver town square in front of the clock. They will meet Marty McFly, who, according to the film, will arrive in a time machine from 1985 exactly at 7:28pm. According to organizers, Marty will distribute forfeit cards with predictions of the future.
The flash mob's main purpose is to show that we are all responsible for our own future, and important decisions should not be postponed "until tomorrow." To prove this point, a box will be installed on the site to collect funds for the medical treatment of Madlena Romanovich, a girl with cerebral palsy.
Meanwhile, fans in Moscow are preparing for a hot night at the movie theatre.
"We will watch the trilogy, and then spend all night discussing the real possibility of time travel," said Diana Petrenko, a fan of the movie. "I constantly watched this movie as a child, and I even have a rule: if you feel bad – watch Back to the Future. This is a film that I will show my children."
The future as it was perceived in the 1980s looks different today in reality. For instance, the hoverboards that every self-respecting teenager rides in the film have not yet gone into mass production.
"I really miss not having the hoverboard,'' said Ms Petrenko. "Also, the movie showed how the grandmother takes a pill, puts it in the microwave, and suddenly there is a pizza. That would be cool to have in reality."
A few major companies, such as Lexus, already have a hoverboard prototype. Such boards, however, can fly only in special parks because they use superconductors and permanent magnets cooled by liquid nitrogen. Recently, Russian inventors also attempted to create the hoverboard by using a superconducting tape produced by the Russian company, SuperOx.
Russian inventor testing a hoverboard. Source: YouTube
In addition, there are Russian owners of the famous DeLorean car on which Marty McFly traveled through time. One of them, businessman Oleg Karpov, lives in Nizhny Novgorod. He found his "time machine" on eBay, and replaced the upholstery with more durable material and added a car radio.
Авто Love Story: Delorean DMC12. Source: YouTube
"I thought it would be cool to ride in what Marty McFly did, and my dreams came true," Karpov said. "Previously, the car had been sitting in a hangar, and it smelled of hay and birds. Afterwards, we even found a nest – with eggs in it."
Karpov said he enjoys riding the car because it makes other people smile.
All rights reserved by Rossiyskaya Gazeta.