'Masha and the Bear' creators in world's top 10 production companies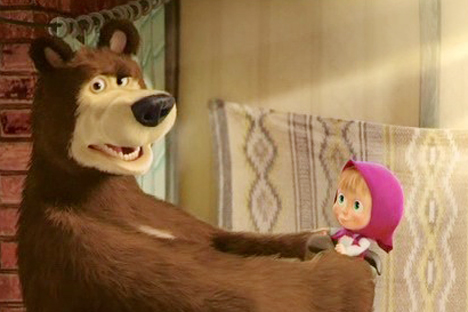 In winning major award, Russian cartoon shows it has global reach.
Canada's Kidscreen magazine named Russia's Animaccord Animation Studios as one of the top 50 leaders in the world of animation (Kidscreen Hot50) and the top 10 production companies of the year. The company that created the Russian animated television series "Masha and the Bear" took sixth place. Animaccord is the only company from Russia in the rankings.
The top-ranked companies in each category will be inducted into the Kidscreen Hot50 Hall of Fame during one of the children's entertainment industry's largest events, the Kidscreen Summit. The next edition will be held in Miami from February 8-11, 2016.
"The series has become an international brand, it is watched and loved throughout the world," said animation critic Maria Tereshchenko. "It is obvious that in compiling the rankings, the magazine and its readers paid attention not to the volume of capitalization, but the impact of the project – and it turned out to be comparable with major international companies."
Masha and the Bear's YouTube channel ranked as one of the most popular pieces of online content at 20th place at the end of 2014. It beat the DisneyCarToys and Maroon 5 channels in month-to-month growth among total viewers (280 million).
At present, the total number of views for the channel has exceeded 4.9 billion. In 2015, the American edition of Animation Magazine included the series in its list of the Top 25 TV Shows Destined to be Classics.
All rights reserved by Rossiyskaya Gazeta.