Salt mountains, free wine and the first female lawyers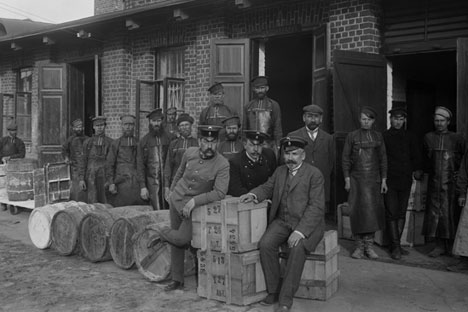 Nizhny Novgorod. State Wine Warehouse.
Fotosouz/Vostock photo
RBTH turns the clock back a century and shines a light on the now-forgotten stories being reported on the inside pages of Russian newspapers in 1915 and the events and processes occupying the minds of the Russians of the age. Travel back in time with us week by week for a sense of what life was like in the twilight days of the Russian Empire.
In the society of St. Petersburg female lawyers
Recently an increased demand for female lawyers has been noted. As a result the society of St. Petersburg female lawyers is planning to open a labor office to commence communications between female lawyers and those seeking to hire them. Currently in St. Petersburg, there are over 200 women that have graduated from law faculties.
Stock Exchange News. November 2
Mineral wealth
An expedition has returned from Turkestan where it was collecting information on mountainous areas located near the tracks of the Central-Asian Railroad. Members of the expedition have reported that it discovered significant deposits of Glauber's salt and sulfur. The salt reserves are reportedly enormous. Along with Glauber's salt, there are also layers of common salt. Sulfur has been found in over 70 places.
Time evening newspaper. November 4
Census
The statistics department council has received some partial results from the recent census. A comparison of this data with the data of 1915 shows that the population has increased significantly in St. Petersburg especially in the suburbs. For example, in one district ​​the number of inhabitants has increased by 50 percent. On average throughout the districts the number of residents has increased by 30 percent.
According to the census takers, the city's poorest residents were willing to meet with the census takers and more than accommodating in answering their questions.
Speech. November 5
Exhibition of Modern Decorative Arts
The Exhibition of Contemporary Art in Southern Russia opened last night. Beautiful rugs, pillows, scarves and screens were on display. Looking at these bright objects on the wall has the power to transfer the atmosphere of the sunny south to the onlooker. The exhibition is lively and brimming with talent. Present at the intimate opening evening ceremonies were many representatives of Moscow's literary and artistic circles. The atmosphere was noisy and lively.
Time evening paper. November 6
Free distribution of wine
Many owners of vodka distilleries and wine warehouses distribute free wine and vodka products to their employees, who often resell these items to other people. The question was raised about passing a law banning the free distribution of alcoholic beverages.
Moscow Sheet. November 8
More

inspiring

stories in your box!
All rights reserved by Rossiyskaya Gazeta.