The opera Boris Godunov is arguably the Bolshoi's most "populous" performance in terms of clothes.
Damir Yusupov/bolshoiteatr.com
Each costume or prop for all the operas and ballets performed at the Bolshoi Theater, from Boris Godunov's coat through Princess Turandot's dress to Carmen's fan, is a work of art in and of itself. But, as one can find out by visiting the Bolshoi's prop workshops, they also serve as keys to the mysteries and superstitions surrounding Russia's prime theater.
How to 'juice up' a costume and why there is a 'no pictures' rule
"Sometimes, a costume's parts do not reflect light in the right way and are thus barely visible to those sitting in the last few rows of the pit. So we have to 'juice it up' – that is, revise the initial, minimal details of the costume and add folds and shadows using special paint. This is a part of our operating procedure, so to speak," says Natalya Aldoshina, head of the women's clothes department at the Bolshoi.
Each member of the theater staff knows taking pictures of costumes before the opening night is a no-no, since they are protected by copyright.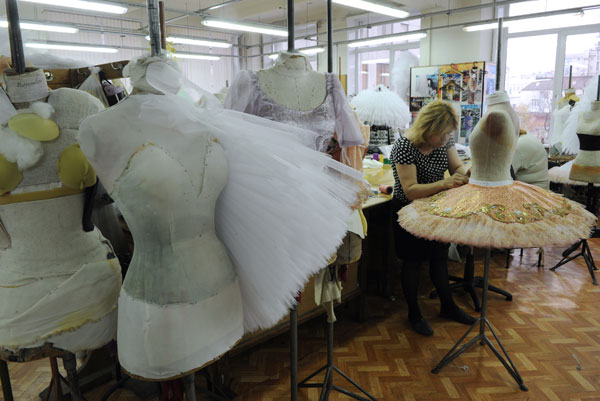 Bolshoi Theater's art and manufacturing workshop. Preparing the costumes for the staging of Pyotr Tchaikovsky's ballet "The Sleeping Beauty". Source: RIA Novosti/Vladimir Vyatkin
Furthermore, costume designers believe it to be bad luck to send the excess fabric left after the costumes are finished to the warehouse before the opening night. And another superstition: When delivering the finished costumes, tailors always throw away all the pins that hold the clothes together – it is believed that this way they will not be sent back.
The tutu: An architectural wonder in its own right
Tutus – the multi-layered short rigid skirts integral for a ballet performer's costume – are another story.
Tutus were originally made of muslin and tarlatan, and they had to be starched prior to a performance. The late Maya Plisetskaya, one of Russia's greatest ballerinas, once said her first tutu weighed several kilograms, and was "rough, extrusive, and smelling like kerosene." Furthermore, the hooks of the bodice were heavy and resembled fishing sinkers.
Later, designers began using nylon for tutus, adding a thin steel wire rim to make a firm hoop that supported the layers and held them together. The first tutu of this type was brought to Russia from the UK in 1957 by none other than Maya Plisetskaya. The design became standard in Russia for years to come.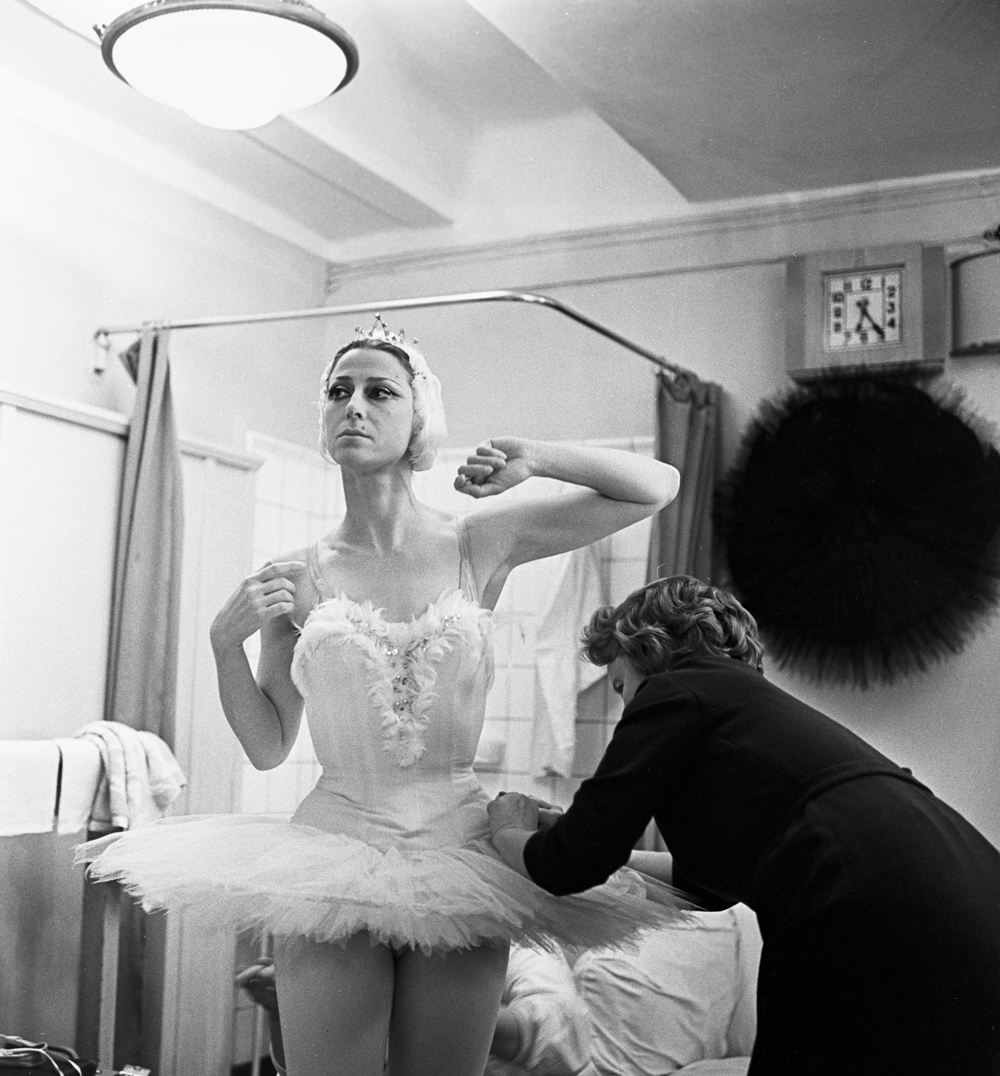 Maya Plisetskaya before a performance, 1965. Source: RIA Novosti
This changed in 2007, the year tutu makers refer to as a "revolution." A Bolshoi designer working on a revival of Le Corsaire by Marius Petipa decided to use costume sketches from the late 19th century, and tutus were made longer and more "bell-shaped." And for a later staging of George Balanchine's Jewels, designers actually invented an entirely new technology to support tutus. In this way, tutu-making became a separate branch of design, not unlike architecture.
New performances meant new costumes, and each dress cutter and tailor at the Bolshoi's workshops mastered the fine art of tutu-making. Nowadays, the creation of a single multi-layered tutu takes about a day. Each tutu is a unique item made specifically for one ballerina.
"I create the layers, making a fold on each of them, and then I assemble them together around the basis – that is, the panties," says Tatyana Romanenko, a Bolshoi tailor. "It takes 15 to 28 meters of fabric to make one tutu, even more if we're talking about longer designs, like in Le Corsaire."
Tailors say creating a ballet costume is hard work, as it has to fit perfectly lest it influence the dancer's performance.
The burden of Boris Godunov's coat
The opera Boris Godunov is arguably the Bolshoi's most "populous" performance in terms of clothes: A total of 900 costumes worth about $1.1 million were created for it.
One of them is a sleeveless fur coat fit for a tsar. There is a label attached, saying "Boris Godunov. Choir performer Dmitry Nekrasov." The thing feels like it weighs about eight kilograms.
"Fyodor Fyodorovsky, who took part in the 1948 performance, had to wear a coat that was easily 20 kilos," says one of the tailors. "This lightweight model is courtesy of the so-called 'germinated fabric' invented by art director Pavel Kaplevich. He used a special device to spangle different kinds of fabrics with gold and silver threads, obtaining this vintage look. It looks just like brocade, but it is much lighter. We also use synthetic fur to make costumes less heavy," he says.
This is particularly important considering most costumes for the latest staging of Musorgsky's Boris Godunov are supposed to be adorned with numerous jewels. For instance, the character Marina Mnisek's three costumes each have 1,000 jewels on them, and each of the four Boris Godunov coats is decorated with 5,000 precious stones.
Personal mannequins
The Bolshoi's workshop is packed full of mannequins. Those that have 'breasts' and other curvy overlays sport the costumes of opera singers. Others bear the airy garments belonging to the ballet dancers.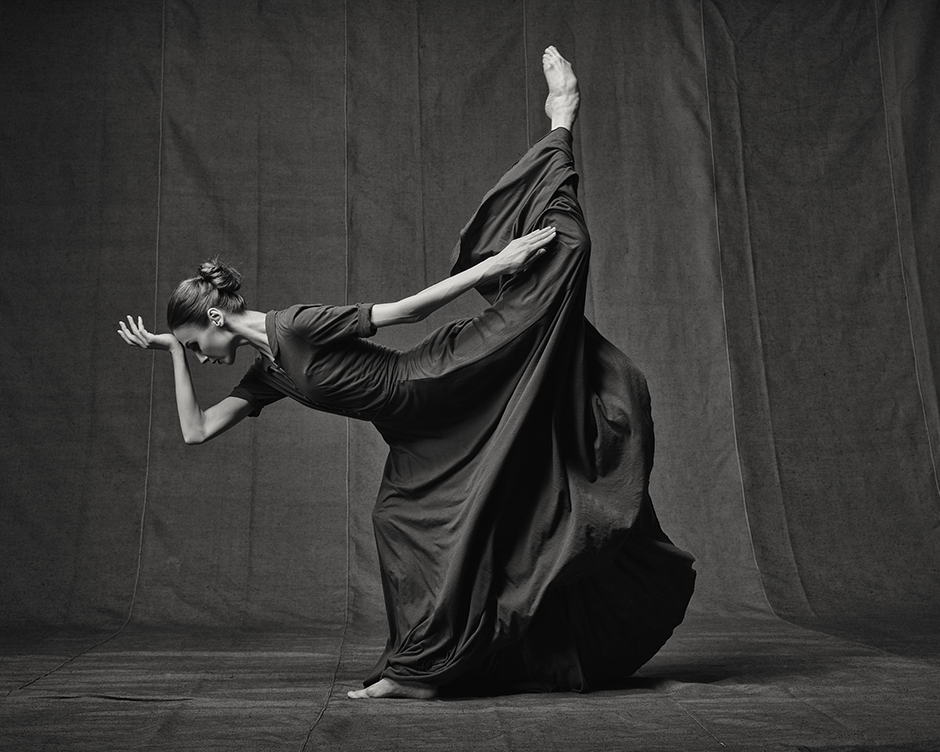 Svetlana Zakharova. Source: Vladimir Fridkes, Courtesy of MMAM
Curiously, a lot of artists have their personal mannequin designed to perfectly imitate their build. One such dummy – a particularly delicate and gentle model – belongs to dancer Svetlana Zakharova. It currently sports the costume of Princess Mary from the stage play A Hero of Our Time – Zakharova's real prima ballerina costume is currently being repaired.
This is an abridged version of an article first published in Moskovsky Komsomolets
All rights reserved by Rossiyskaya Gazeta.