The Kremlin necropolis is the final resting place of such illustrious Soviets as Josef Stalin, Leonid Brezhnev, Georgy Zhukov and Yury Gagarin, but John Reed and Bill Haywood are buried there as well.
To get to Lenin's Tomb, still one of Moscow's biggest tourists draws, visitors must wind their way past the graves of numerous figures from Soviet history. They include such political heavyweights as Josef Stalin, Leonid Brezhnev and Yury Andropov. Marshal Georgy Zhukov, who lead the Soviet Union to victory in World War II, and cosmonauts Yury Gagarin and Vladimir Komarov are also buried there.
In addition to these luminaries from Russia's Communist past, there are more than a dozen European and American communist figures buried in the Kremlin Wall. Unlike their illustrious neighbors, they are a motley crew of intellectuals, revolutionaries and at least one fugitive from justice.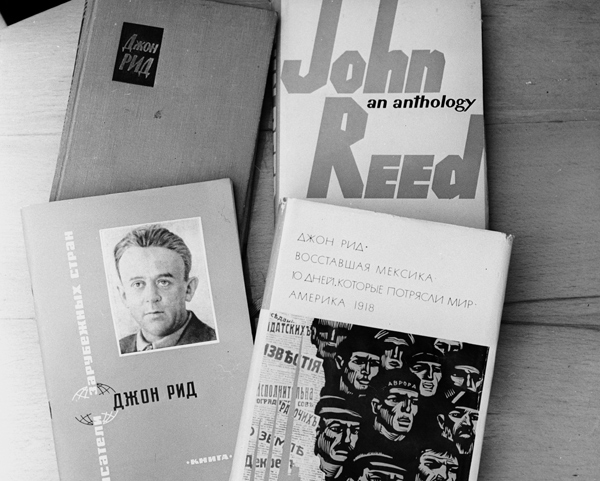 The works of journalist John Reed in English and Russian. Source: M. Filimov / RIA Novosti
The most famous of them is John Reed, author of "Ten Days that Shook the World," the best-known account of the Bolshevik revolution. A journalist who fled to Russia in 1917, Reed died of typhus in Moscow in 1920. The story of Reed, a stylish but controversial icon, and his wife Luisa Bryant was the subject of the 1981 Warren Beatty film "Reds."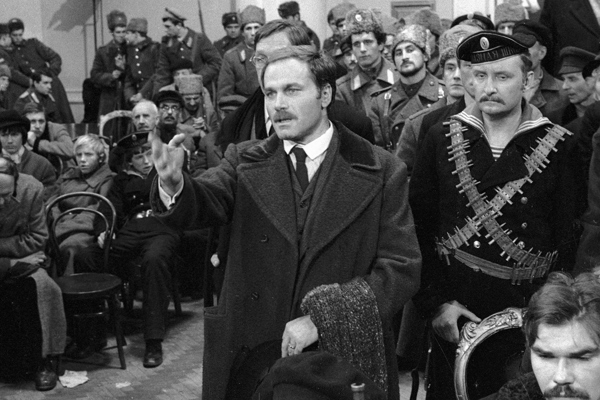 Italian actor Franco Nero plays John Reed in the film "Red Bells". Source: Galina Kmit / RIA Novosti
Not far from Reed are the ashes of his political rival, Charles Emil Ruthenberg. A native of Ohio, Ruthenberg was a popular leader of the left wing of the American Socialist party and the American labor movement who took part in radical protests against the government and spent numerous stints in jail for inciting riots. He died in 1927 in Chicago, but his remains were brought to Moscow and buried in the Kremlin wall by his comrades.
While Reed and Ruthenberg are respected figures by many Americans on the radical left, another who shares their burial place might not be so welcomed, even posthumously. He is William Dudley Haywood. A giant man known as Big Bill, Haywood was once a leader of Industrial Workers of the World and took part in several violent conflicts with federal authorities.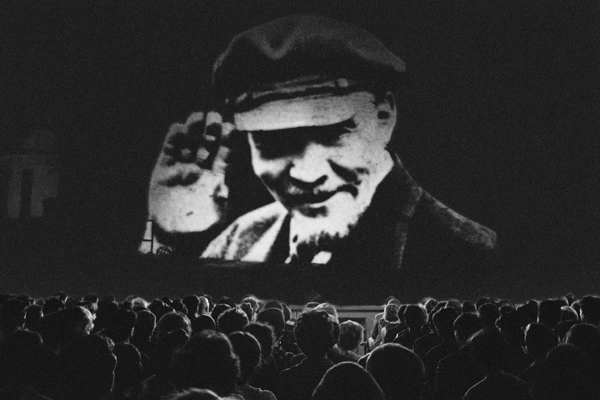 The film "Ten Days That Struck the World" showing at the Theater on Taganka in Moscow, 1965. Source: Anatoly Granin / RIA Novosti
In 1918, he was accused of spying against the United States and was put on trial. While on bail, he escaped to Soviet Russia and became an advisor to the Bolshevik government. But Big Bill did not find a place in his beloved Soviet Union. Missing his native country, he began to drink heavily and died in 1928. According to his wishes, following his death, Haywood's ashes were divided. Half were buried in the Kremlin wall and half at the site of the Haymarket Martyr's Monument in Chicago. The site commemorates a bombing that took place during a labor movement demonstration in 1886. The incident is considering the origin of May Day and one of the most significant events in the American labor movement.
Rest in peace?
In 1994, Reed's nephew, John Reed II, asked President Boris Yeltsin to help move the remains of his uncle to his hometown of Portland, Ore. but got no response. American Sovietologist Theodore Karasik, who is also a native of Portland, said that it's unclear what Reed would have wanted. "As usual, there are always two or more sides to a story," Karasik told RBTH. "John Reed, although an Oregonian by birth, belongs in the Kremlin necropolis. His biography, especially from a historical point of view, rests in Russia." But he noted that Oregon has a history of accepting Russian emigres. "From Old Believers to Soviet exiles to current Russian transplants, Oregon is a duplicate of various layers of Russian society. So perhaps Reed's remains belong in the Beaver State."
For the moment, there is no movement to remove anyone from the Kremlin, not even Lenin himself. Although President Boris Yeltsin suggested burying the Bolshevik leader in the 1990s, President Vladimir Putin has made it clear that he is not interested in doing so, despite calls from some government officials.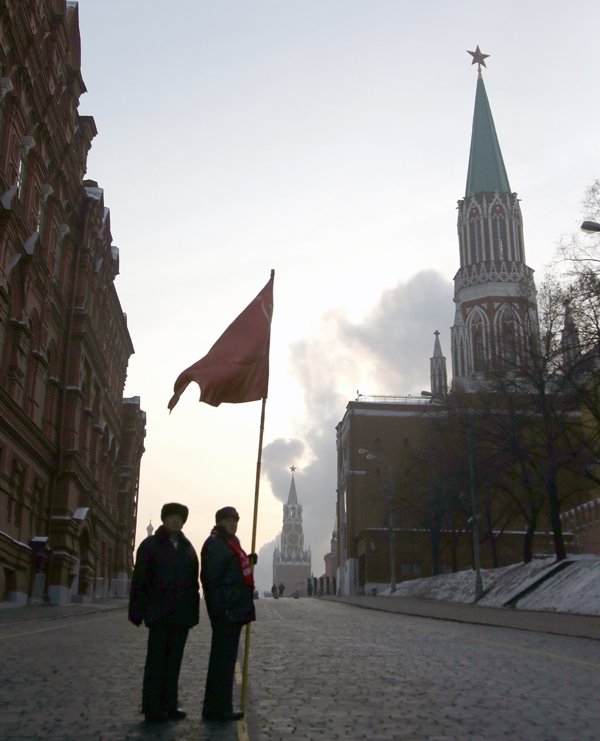 Soviet flag waves near the entrance to Red Square, where tourists line up to visit the Kremlin necropolis. Source: Valery Melnikov / RIA Novosti
A former senior member of the now-defunct Canadian Communist party, who did not want to give his name because of his current position, said: "Nobody seems interested in changing the Kremlin landscape right now. They are part of the Kremlin, its history, its mystique. Why move them?"
It's still possible to pay a visit to these revolutionaries and lay flowers at their graves, although few do so. Historian Stanislav Kuvaldin said that the main problem is that despite its location, the Kremlin necropolis is not actually very well known. "It exists outside the Moscow city culture map," he said. "There are no books about this cemetery and there is a lack of language to tell about the cemetery where the likes of John Reed, Yury Gagarin, Leonid Brezhnev and Maxim Gorky are buried," said Kuvaldin.
Kuvaldin said that the cemetery would become less controversial if it were part of the city's "cultural code" and a tourist attraction. "With that, maybe those rumors about its liquidation will stop," he said.
It's still possible to pay a visit to these revolutionaries and lay flowers at their graves, though few do so. Charles Ruthenberg died in 1927 in Chicago, but his remains were brought to Moscow and buried in the wall.
Workers of the World Unite!
Americans are not the only revolutionary expats inside the Kremlin wall. Britons, Hungarians, Germans and Australians are also interred there. One of the most famous among them is German Communist party ideologist Clara Zetkin, best known for her role in creating March 8, International Women's Day.
Another is Sen Katayama, one of the founding members of the Japanese Communist Party. Katayama's writings are still popular in Japan, but a Moscow-based diplomat said he had never heard of any attempts to repatriate Katayama's remains.
Subscribe and get RBTH best stories every Wednesday
All rights reserved by Rossiyskaya Gazeta.