Factory symphonies, forbidden cinema and a shortage of corpses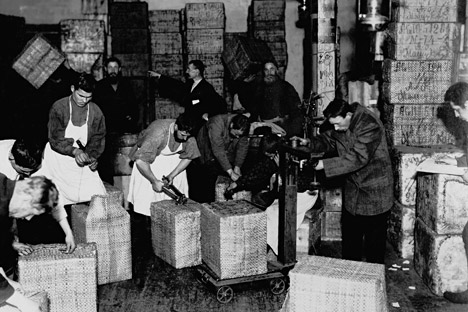 At the factory in Chelyabinsk, the Urals, 1900s.
Fotosoyuz/Vostock-Photo
RBTH turns the clock back a century and shines a light on the now-forgotten stories being reported on the inside pages of Russian newspapers in 1915 and the events and processes occupying the minds of the Russians of the age. Travel back in time with us week by week for a sense of what life was like in the twilight days of the Russian Empire.
The problems of low mortality
An unexpected hindrance to the correct course of lessons has been identified in the medical faculty, as well as on women's medical courses. Due to the fall of crime and the reduction in numbers of unexpected deaths, thanks to the cessation of drunkenness, anatomical theaters have stopped receiving corpses.
Simultaneously, psychiatry and neuropathology professors are saying that it is impossible to show students the various types of illnesses that result from alcoholism.
Moreover, there is a complete lack of material to show sick people suffering from delirium tremens.
Kavkazskaya Kopeika, November 23, 1915
Morning music
If you happen to be walking in the city early in the morning long before sunrise, you may have been startled to hear a strange morning music. It is the music of the whistles and horns coming from the factories, plants and workshops in Penza.
We have bad watchmakers and the watches bought at stores cannot be trusted. So a large number of industrial enterprises are starting work to the signals they have established. The workers are used to this and as they are getting ready for work at home, they prick up their ears and await the whistles from their factories.
Chernozyem, November 24, 2015
Students forbidden from visiting cinemas
A couple of days ago local middle school directors met to discuss the issue of students visiting cinema houses.
They decided to prohibit middle school students from visiting cinema houses.
Chernozyem, November 26, 1915
Population census
Today late at night the authorities compiled the Moscow population census. In comparison to the last census of 1912, the population has increased by 341,800 people and is now 1,940,500. (Moscow's population in 2015 is more than 12 million – RBTH)
Birzheviye Vedomosti, November 27, 1915
Dance soirees
Twice a week: on Thursdays and Sundays, at the Club of Trade-Industrial Workers, dance soirees are organized by a music and dance teacher. Thanks to the skillful diligence of the organizer and the fine program, which includes contests and prizes, these evenings attract many young people and are very vivacious. Everyone dances to the music of an amateur student orchestra.
Moskovsky Listok, November 28, 1915
All rights reserved by Rossiyskaya Gazeta.