The canned miracles of communism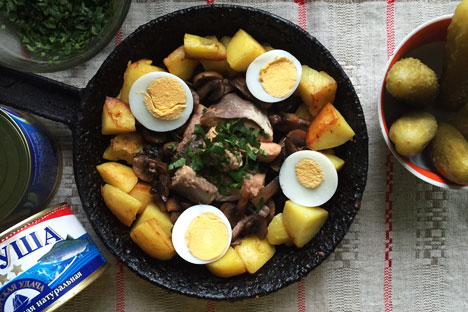 Canned fish in sour cream with potatoes and mushrooms.
Anna Kharzeeva
Canned food was supposed to let women spend less time in the kitchen, and in that respect it was successful. But that's not to say it was tasty.
This piece is part of the Soviet Diet Cookbook, a blog about a modern Russian girl cooking Soviet food. To read more of the series, click here.
Nothing says communism like a bunch of colleagues with a ruler gathered over a package of canned ham from Yugoslavia. As Granny tells it, they're not measuring ham for entertainment – they're aiming to get equal parts of it for each member of the group. They bought the canned ham all together, as it's only sold in 3 kilo cans, which are way too big for just one person.
Ham won't be the only canned product they'll have at home. They will also have canned tomatoes and cucumbers – measured out by weight with the scales they have at the office instead of the ruler. There will also be canned tushenka – stewed meat, sprats, other types of fish, and some fruit and vegetables.
"Why did you love canned food so much?" I asked, to which Granny reasoned: "I wouldn't describe that as love. It was just available."
Even in my childhood konservy – or canned foods – had a heavy presence in our diet. One of my favorite parts of a New Year celebration was the obligatory sprats sandwich – salty and oily, with the head and tail still on, it was one of my favorite things to eat. When I was older and went camping, there would always be tushenka and canned condensed milk – again, to me, both tasted pretty amazing.
For the Soviet dinner this week I chose to make a fish dish with potatoes and mushrooms and sour cream sauce. It's pretty easy, as all you have to do to the fish is get it out of the can and add some fried potatoes and mushrooms, sauce and cheese. We followed the recipe to the letter except for adding fish sauce into the sour cream, and the potatoes and mushrooms turned out delicious. The fish still tasted like canned fish… If I was camping, or if that was all there was, I'd eat it without hesitation, but as it wasn't, I left it mostly untouched.
Valentina Mikhaylovna, a friend of Granny's for 77 years, who was one of those people dividing Yugoslavian ham, graduated from the food university (her "third choice university") and was sent to work at a food warehouse that supplied a few local shops with goods. Each shop was only allowed a limited amount of fish (fresh or canned). Valentina saw that there were mountains left over of canned crab and cod – shops didn't want it, she was told, as they weren't real fish, nor were they cheap like some other canned fish.
A few years later, food supplies were even thinner on the ground and she regretted not having picked up a few of those cans -- Especially since canned cod salad (fish, egg, spring onion) was all the rage, and Granny also made it for every special occasion.
Granny still makes canned hunchback salmon soup, which she doesn't eat it herself (should I be concerned?), but she doesn't seem to miss all those cans from the Soviet times. As for camping trips, she says there was a can called "tourist's breakfast" – it was a type of golubtsy, the classic Russian dish of ground meat wrapped in cabbage leaves. "To describe that as tasty…would be impossible," she delicately put it.
These days no one seems to be fighting over a piece of canned anything, certainly not the meat or fish in tomato sauce, but I still find
Canned fish in sour cream with potatoes and mushrooms, pg. 141
Take a can of fish preserved in its own juices.
1 (350 g) canned fish; 800 g of potatoes; 2/3 cup sour cream; 1 tsp flour; 1 tbsp grated cheese; 2 eggs, hard boiled 200 g of fresh mushrooms; 3 tablespoons oil
Remove the fish from the can, cut into pieces and put into a baking dish. Around the fish, place sliced potatoes that have been fried in oil.
You can also add sliced boiled eggs and fried mushrooms to the fish slices.
Top the meal with a sour cream sauce. To make the sauce, heat sour cream and the juice from the fish can. When it starts to boil, add flour mixed with a teaspoon of oil. Let boil 1-2 minutes and stir. Add salt. Cover the fish with the sauce, sprinkle with grated cheese, drizzle with oil and place in the oven for 10-15 minutes.
To server, sprinkle the fish with chopped parsley and add cucumbers.
All rights reserved by Rossiyskaya Gazeta.