Moscow on fire, snow in Crimea, gifts for soldiers and calico roosters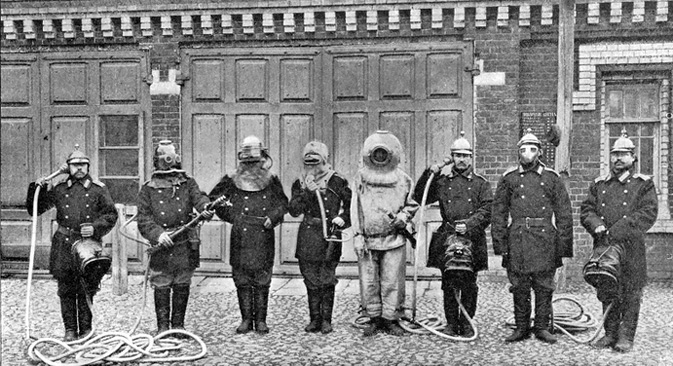 Firefighters, Moscow, 1900s.
Open sources
RBTH turns the clock back a century and shines a light on the now-forgotten stories being reported on the inside pages of Russian newspapers in 1915 and the events and processes occupying the minds of the Russians of the age. Travel back in time with us week by week for a sense of what life was like in the twilight days of the Russian Empire.
Russian poultry contest
The Russian Pedigree Poultry Contest took place yesterday. The purpose of the contest is to contribute to the revival of the Russian breed. The contest was held in the categories of young roosters and hens, old speckled roosters and hens as well as red roosters and hens. The contest featured poultry from the provinces of Tambov, Vyazma, Nizhny Novgorod and others.
Moskovsky Listok, November 30, 1915
Christmas gifts for soldiers
A transport bearing linen and Christmas gifts for soldiers, accompanied by a military officer, is to depart on December 5 directly for the headquarters of His Majesty the Emperor.
All residents are invited to join and bring tightly packed loads with lists of enclosed items, or individual items to be put in boxes.
This time, in addition to cold and warm underwear and usual gifts such as tobacco, paper, pencils, knives and shoe materials, people are also sending ham, pork fat and side, smoked sausages, cakes, sweets, nuts, seeds, crackers and slices of dried white bread.
Zhizn Altaya, December 1, 1915
Frosts in the Crimean subtropics
Frosts have struck Feodosia. There are sleighs in the city streets that have not been seen for three winters. There is a most severe storm at sea. This morning, snow covered the roofs and trees in Yalta. Laurels and cypress trees under a white shroud present an original picture!
Russkoye Slovo, December 2, 1915
Day after day
Some stores have a custom to hold a "sale of leftovers" at the beginning of each month. However, it cannot be said that the leftovers are sold at a discount.
"Excuse me, I bought this same wool from you much cheaper!" some shopper insists.
"It is quite possible ... That's why we sell it for more money – because little is left."
Salesmen are sincere now, but this sincerity should be brought to its logical end, and the posters in shop windows should say: "Sale of leftovers at higher prices."
Chernozyom, December 3, 1915
On the wing
An ignorant resident had a very disturbing day yesterday. He walked through the streets and muttered: "My God, my God! Why are there so many fires in Moscow!"
Indeed, fire trucks were racing through the streets, with flags waving.
But those who took a closer glance realized immediately that these firemen were not rushing to a fire.
Yesterday and today, the Moscow firefighters are performing their civic duty. This time, they are not extinguishing the "fire of charity," but igniting it. Moscow is hosting the "Firefighters to Soldiers" charity fundraising campaign.
Moskovsky Listok, December 6, 1915
All rights reserved by Rossiyskaya Gazeta.