Russian film star to hold charity concert in London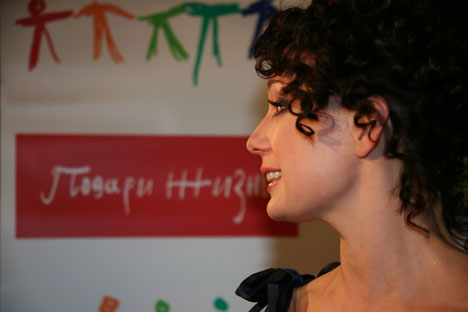 Chulpan Khamatova is Russian prominent actress and a co-founder of 'Podari Zhizn' (Gift of Life) charity organization. Source: RIA Novisti.
Chulpan Khamatova will raise money for the Gift of Life Foundation.
Famous Russian actress Chulpan Khamatova is to appear on stage in London to raise money for the children's charity.
The actress - famed for film and television performances including playing Lara in a Russian TV adaptation of 'Dr Zhivago' - set up her Gift of Life Foundation to help Russian children with cancer.
Her play "Wings of Everyday life" premiered in Riga, Latvia, September 26 and will now be performed for one night only, January 12, 2016, at St Paul's Church, Covent Garden.
The play combines poems by Marina Tsvetaeva and Latvian writer Aspasia, in whose works Ms Khamatova discovered sound and semantic similarities. Music for the performance, by violinist Gidon Kremer and his orchestra Kremerata Baltica, brings together classical compositions by Tchaikovsky with scores by modern Ukrainian composer Valentyn Sylvestrov, Latvian-Russian composer Oskar Strock - nicknamed "the king of tango" - and Latvian composer Georgs Pelecis.
The Gift of Life Foundation is the British partner of Russian charity "Podari zhizn". It was founded in 2011 to provide the Russian foundation with an opportunity to appeal to philanthropists worldwide, both to foreigners and to Russians living in the UK and other countries. The foundation has raised more than £2 million to help children with cancer, including the purchase of vitally important medicines that are not available in Russia and in finding suitable bone marrow donors.


First published in Russian by RIA Novosti.
All rights reserved by Rossiyskaya Gazeta.