Catholic Christmas, a ripped body stocking and firewood for happiness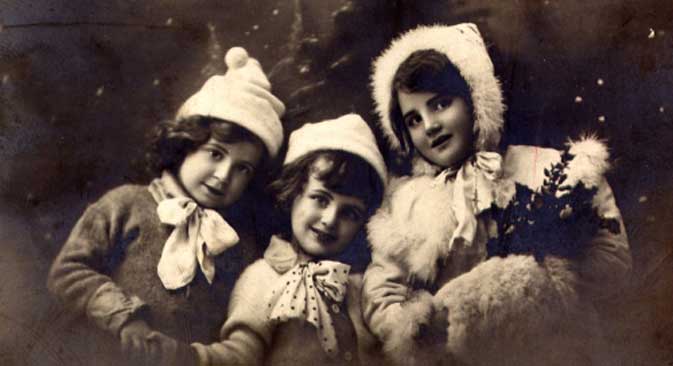 A Christmas postcard, 1910s.
Open sources
RBTH turns the clock back a century and shines a light on the now-forgotten stories being reported on the inside pages of Russian newspapers in 1915 and the events and processes occupying the minds of the Russians of the age. Travel back in time with us week by week for a sense of what life was like in the twilight days of the Russian Empire.
On the 25th anniversary of the first performance of The Queen of Spades
Today is the 25th anniversary of the first performance of The Queen of Spades in Petrograd. Currently, it is perhaps the most beloved Russian opera. It has been staged in Paris, Berlin and in La Scala in Milan, a venue that rarely hosts foreign operas.
The tenor singing the leading role shared his impressions with us: "I remember how Emperor Alexander III came to the dress rehearsal. He sat not in the royal box but in the first row. When I was brought the body stocking, I pulled it so hard that it burst. I had to send someone for a new one. Due to my nervousness the emperor had to wait another 40 minutes for the rehearsal to begin.
Vechernyaya Gazeta Vremya, October 7, 1915
For happiness. At a charity lottery
The foyer at the Olymp cinema was packed with people. Everyone was there: military men, students, workers. Even a few priests came to try their luck and bought a couple of tickets for the Allegri lottery.
At the foyer entrance were the prizes: samovars, harmonicas, tea sets, lamps, trays, clocks, plates and many other objects. Someone had already won a fathom of birch firewood.
People take 5-6, even 10 tickets. Here is a gentleman who is taking 6 tickets for the fifth time.
The cinema door does not close for even a minute. People come and go. "For happiness!" they shout.
Moskovsky Listok, December 8, 1915
Christmas with the foreigners
Today the foreigners living in Moscow are celebrating Christmas Eve [until 1918 Russia still used the Julian calendar, meaning that it was around two weeks ahead of most of Europe, which already used the Gregorian calendar – RBTH], celebrating it according to the new style, as they do at home.
The many Polish refugees found in Moscow, adhering to their tradition, will also celebrate according to the new style today. They have gathered in separate circles and are going to the restaurants in groups to celebrate Christmas Eve.
Vechernyaya Gazeta Vremya, December 11, 1915
Age of Pericles
Petrograd is becoming more and more beautiful. On two squares two wooden towns are being built. One temple is much smaller but cozier, while the other is more impressive, but is colder.
People who are not that sensitive to art stop in front of these constructions and ask a ridiculous question, one that has no relation to art: "When will they start selling firewood on these wooden courts?"
These characters see art in a utilitarian light. They do not understand that the value of art lies precisely in the fact that there is no necessity in it. Aren't these philistines touched and cheered up by the mere aspect of these new constructions?
The city administration has the full right to be proud of their new structures. And the sale of firewood has no relation to art whatsoever.
The time is changeable. Today it is freezing but in April it will be hot.
Birzheviye Vedomosti, December 12, 1915
Day after day
In the event of frost red flags are now hung at some crossroads. This is done to inform students that they do not need to go to school on that day.
It is not difficult to notice that in most cases the flags are just dirty rags attached to sticks similar to those that demonstrators once used on the streets. Homeowners do not give away their good holiday flags.
However, students are rather indifferent to all this. After their studies they walk around the Moscow streets in their cold coats. Neither to demonstrate nor to be stylish.
Chernozyem, December 13, 1915
All rights reserved by Rossiyskaya Gazeta.