Tracing Russia's influence on music and art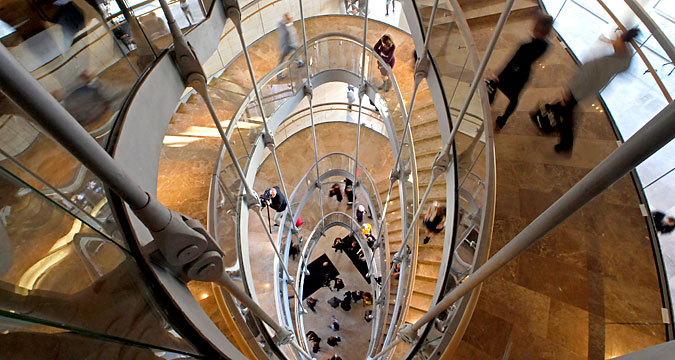 The cross-cultural exhibition will remain open for one year in Mariinsky Theater II.
Reuters
Library of Congress showcases Russian impact on 20th century American arts and culture.
The theater raised the curtain on the exhibit, titled "Russian Influences on Music and Dance in America," Dec. 14 during the St. Petersburg International Cultural Forum in collaboration with the U.S. Library of Congress and D.C. based Carmel Institute of Russian Culture and History at American University.
The audiovisual exhibition includes 13 separate segments exploring three themes: Russian Dance in America, Russian Music Translated into American Popular Culture and Russian Music in America. Visitors can watch parts of Diaghilev and Balanchine ballets or Walt Disney's animated jazz fantasy "Bumble Boogie," based on the 19th-century composer Nikolai Rimsky-Korsakov's "The Flight of the Bumblebee.".
The exhibit uses clips from films, television programs, videos and recordings from the incomparable collections in the Library of Congress's Packard Campus for Audio Visual Conservation.
It began with Billington and Rostropovich
The creation of the exhibit can be posthumously credited to Mstislav Rostropovich (1927-2007), a famous Russian cellist and conductor and fighter for human rights who lived in America from 1974 until the Soviet Union collapsed. He was the music director of the National Symphony Orchestra in Washington D.C. from 1977-1994.
In 1997, Dr. James Billington – the Librarian of Congress from 1987 to 2015 – interviewed Rostropovich for "The Face of Russia" TV mini-series. Some of this footage is included in the exhibit: Rostropovich conducting the National Symphony Orchestra at Wolf Trap (1985) performing Dmitri Shostakovich's Symphony No. 5.
Billington, who served as the 13th Librarian of Congress for 28 years, was a professor of Russian history at Harvard and enthusiastic about Russian culture, a trait he carried into his tenure at the Library of Congress. He knew that Rostropovich had wanted to make an exhibition that explored the interconnectedness of Russian and American music and dance, but it had not come to fruition.
While working jointly on a separate event for Library of Congress in 2012, Maestro Valery Gergiev, Artistic Director of the Mariinsky Theater, Susan Carmel Lehrman, Founder and Advisory Committee Chair of the Carmel Institute of Russian Culture and History and Dr. James Billington, engaged in an in-depth discussion of Rostropovich's idea. The result is this exhibit.
Finding a new, artistic home in the U.S.
Forbidden to freely practice their art and music in Imperial Russia after the 1917 Revolution, many chose to bring their culture and talents to a place where they were not only accepted, but celebrated: America.
The Music Division in the Library of Congress includes the personal papers of many émigrés from the Russian Empire, including Sergei Rachmaninoff, pianist Artur Rubinstein and the great musicologist Nicolas Slonimsky, whose "Thesaurus of Scales and Melodic Practices" influenced groundbreaking American jazz and rock composers such as John Coltrane and Frank Zappa.
The Library's music collections include manuscripts and papers from popular songwriters such as Irving Berlin (born in 1888 in the Siberian city of Tyumen), whose collection at the Library totals 750,000 items, and Vernon Duke (original name Vladimir Dukelsky), composer of classic American tunes such as "Autumn in New York," "I Can't Get Started" and "April in Paris."
"I am honored to play a role in showcasing this remarkable exhibit to the visitors of this Cultural Forum in St. Petersburg," Susan Carmel Lehrman told RBTH. "I believe this exhibit will serve as an important reminder to its audiences of the deep cultural bonds that the United States and Russia have shared and continue to enjoy in every area of the performing arts."
3 exhibits not to miss at the Mariinsky theater
1 Apollon Musagète ballet – music by Igor Stravinsky, choreography by George Balanchine, was commissioned by the Library of Congress in the 1920s. Excerpts of the work, performed in 1966 by the New York City Ballet, are intermixed with clips of Stravinsky conducting a recording of the score, Balanchine discussing the score with Stravinsky and Balanchine rehearsing the ballet with dancers. The clips are shown along with a holograph of Stravinsky's manuscript score from the Library of Congress Music Division collections.
2 "Bumble Boogie" (1948) – the jazz version of Nikolai Rimsky-Korsakov's "The Flight of the Bumblebee," as animated by Walt Disney studios for the film "Melody Time." This orchestral interlude is a part of the fairytale opera "The Tale of Tsar Saltan" (1900), where a prince is instructed by a swan to turn himself into a bee in order to search for his father.
3 "Tschaikowsky (and Other Russians)" is a song by Kurt Weill and Ira Gershwin, from the musical "Lady in the Dark" (1941), as performed by Danny Kaye in a 1981 recreation. The lyrics feature the names of 49 Russian composers, strung together into a show-stopping, tongue-twisting song.
All rights reserved by Rossiyskaya Gazeta.