Man-free: Russian feminine art detonates in London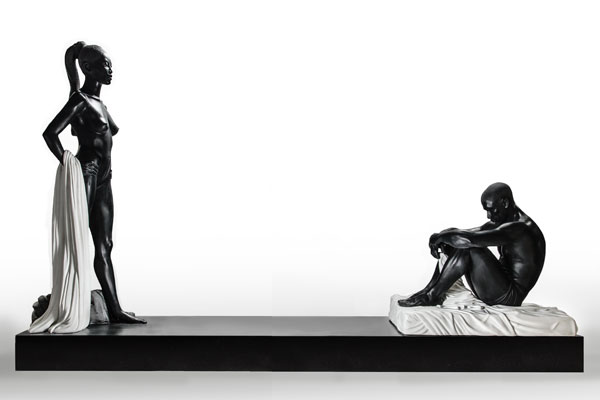 Controversial exhibition of works by Aidan Salakhova opens at Saatchi Gallery.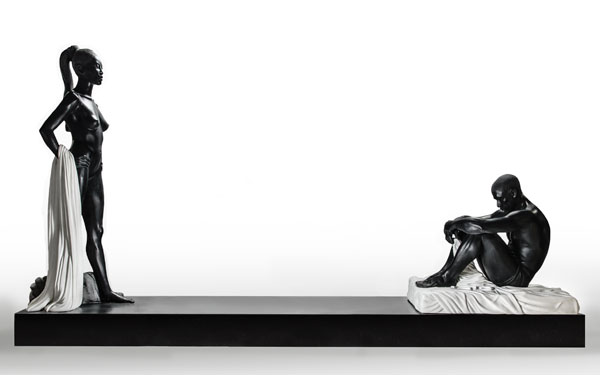 Duality by Aidan Salakhova. Source: Courtesy of the Saatchi Gallery
On Jan. 13 London's Saatchi Gallery opened its doors for its first women-only show. Spread over two floors, the exhibition entitled Champagne Life celebrates the gallery's 30-year anniversary, with the top floor devoted to the Tsukanov Foundation's presentation of Aidan Salakhova's recent work. In her first solo show in London, Aidan's Revelations showcases the work of the past five years across painting, drawing, video and sculpture.
The exhibition presents the ultimate female artist's manifesto – as does Aidan's life itself. She is an artist whose daily private and public life is inseparable from her artistic endeavors: Born in Azerbaijan and raised in Moscow, Aidan's active social life is a declaration of freedom and disregard of archaic social norms and taboos. Following a work hard/play hard motto, Aidan is just as often seen creating work and teaching students in the studio in Moscow, or carving marble in Carrara, Italy, as she can be spotted at Moscow's fashion shows, private parties, and night clubs.
Focused on Aidan's fascination with the veil, female body and sexuality, it surprises the viewer in a number of ways - not least in the video of women in burqas performing an erotic dance with half-naked male partners.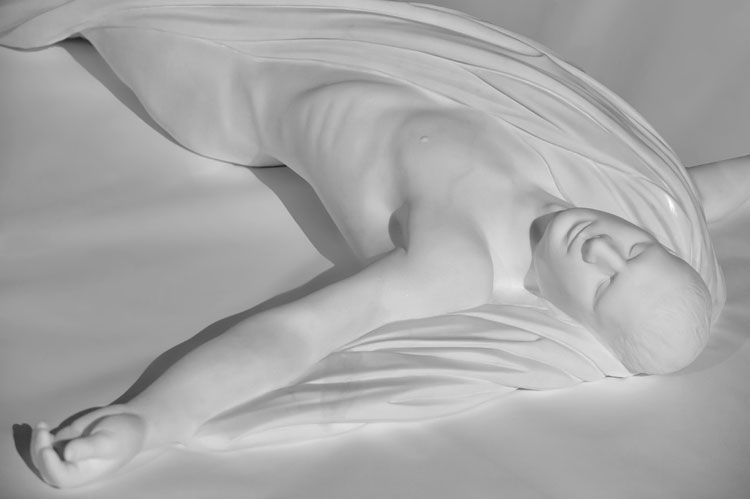 Love by Aidan Salakhova. Source: Courtesy of the Saatchi Gallery
Men vs. women
From exquisite marble sculptures of veiled figures, to female and male nudes; from meticulous drawings referencing female genitalia to the sculptural renderings of similar subjects (and body parts), Aidan's work presents a playful exploration of the male vs. female gaze. It ponders the possibilities of looking and seeing, seducing and dominating, while often referencing religious symbols such as the veil in both the Islamic and Christian traditions, making it difficult to distinguish between the niqab in the Muslim world or the Turin shroud in the Christian; the black veil as a female dress or that of a monk's outfit.

Images courtesy of the Saatchi Gallery
The veil, she says, brings one a sense of total freedom by reversing the roles of the gazer and the gazed; it also puts you in a peculiar space where one cannot escape her inner self and is forced to have an honest internal dialogue. Far from being an attempt at political commentary, let alone condemnation, Aidan's veil is a celebration of a woman's self-exploration, femininity and sexuality, which forces us to reconsider familiar symbols and their usual readings.
Aidan couldn't care less what critics say about her work: "I hate texts", she told RBTH at a press morning at the Saatchi Gallery – to which she turned up two hours late. "I am a visual artist. If I was interested in texts, I would've become a story-teller."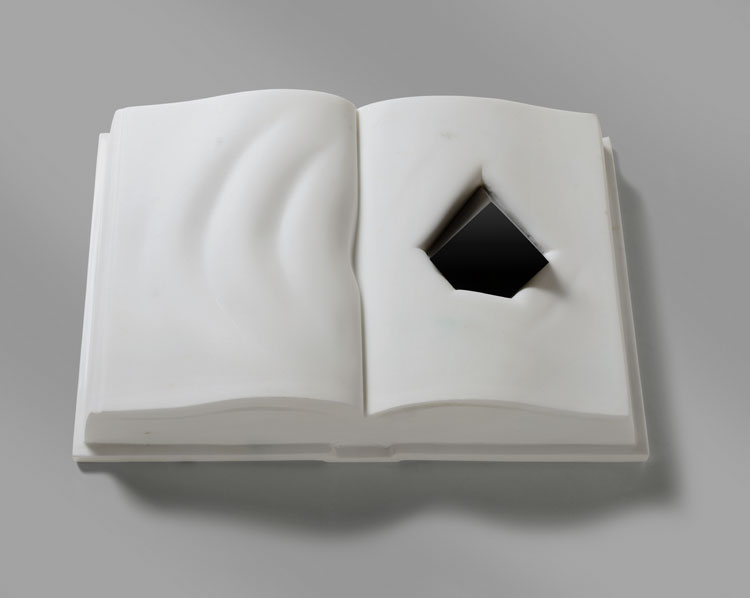 Without words by Aidan Salakhova. Source: Courtesy of the Saatchi Gallery
Aidan has never been afraid of going against the grain and is preoccupied with the visual and sensorial impact of her work. Her focus is on what one feels when entering the gallery space. "What concerns me is the emotional impulse that emerges as one experiences the exhibition, and the energy that channels between the works."
Revealations of Aidan
Revelations spread across four rooms presents a selection of Aidan's work of the last few years, much of which she spent in Carrara, an Italian town most famous for its precious white and grey marble. At the 2011 Venice Biennale, Aidan met Francesca Nicoli, the head of Nicoli Sculptures Studios, which have been active in Carrara since 1835. Aidan spent three years in the studios, laboring alongside Italian masters. The resulting sculptures are highly polished, visually enticing and extremely popular with collectors. The captions on the walls proudly list the names of the owners even for the most recent work in the show.
Collector Igor Tsukanov, whose foundation backed the show, said: "Art is the only positive news we can bring from Russia these days."
Revelations are on show at the Saatchi Gallery London till February 28 www.saatchigallery.com
All rights reserved by Rossiyskaya Gazeta.