Denis Matsuev to perform his 10th solo recital at Carnegie Hall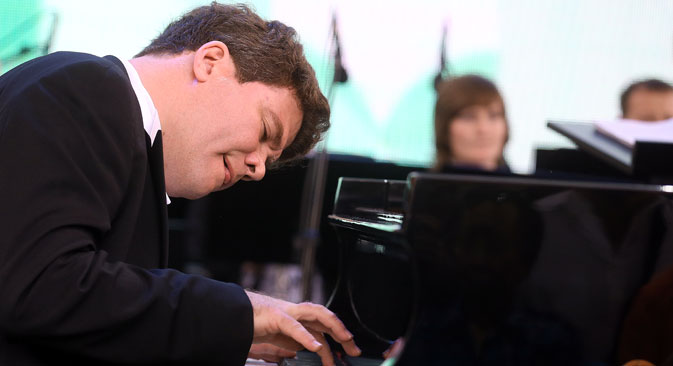 Russian pianist Denis Matsuev.
Sergey Fadeichev / TASS
Russian virtuoso is no stranger to the Big Apple.
Today, on January 27, Russian virtuoso pianist Denis Matsuev will give his 10th solo recital at Carnegie Hall in New York in the United States according to the TASS Russian news agency.
"My American tours have been some of my favorite performances over the past 15 years, especially on such a significant stage as Carnegie Hall," Matsuev says. "Today's performance is special. This is my 10th solo recital at this venue."
According to Matsuev, every performance at this theater is a special honor for him. "It opened in 1891 with a concert of the New York Symphony Orchestra conducted by Pyotr Tchaikovsky. Rachmaninoff and Stravinsky also performed here," he recalls. "Carnegie Hall has its own special aura."
Every time Matsuev plays Carnegie Hall, he draws up a new program for the audience, never repeating himself. At today's concert the musician will perform Tchaikovsky's The Seasons, Robert Schumann's Kreisleriana and three fragments from Stravinsky's Petrushka ballet. "This is one of my favorite programs," Matsuev says.
The pianist says that he has a "warm long-term relationship" with the U.S. "I love American audiences, New York City especially and look forward to our meetings with enthusiasm and impatience," Matsuev adds.
A Carnegie Hall spokesperson stated that it is always a great honor for American audiences to welcome Matsuev. "He is a virtuoso in the grandest Russian tradition of pianism," the Carnegie Hall website reads.
In 2016 Matsuev will also play:
January 30, at Koerner Hall, Toronto, Canada,
January 31, at Maison symphonique, Montreal, Canada,
February 19, at Tivoli Vredenburg, Utrecht, Netherlands,
March 23, at Wheaton College, Wheaton, USA,
April 9, at Auditorium, Haifa, Israel,
April 13, at Jerusalem Theater, Jerusalem, Israel,
April 14, at Charles Bronfman Auditorium, Tel-Aviv, Israel,
October 26, at Carnegie Hall, New York, USA.
All rights reserved by Rossiyskaya Gazeta.