Leonardo DiCaprio could star as Putin in new movie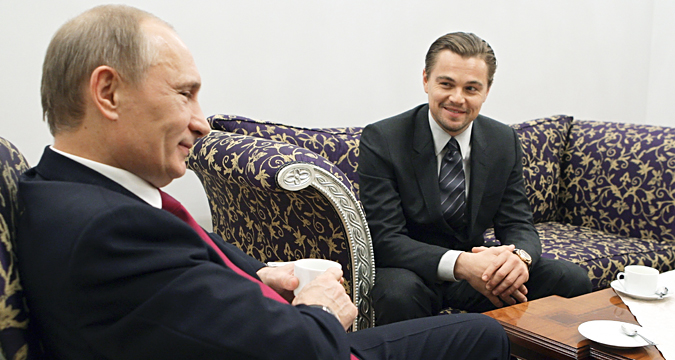 Russia's Prime Minister Vladimir Putin listens to actor Leonardo DiCaprio during their meeting, dedicated to International Tiger Forum, in St. Petersburg, November 23, 2010.
Reuters
The film, which will reportedly feature several other top Hollywood actors, is scheduled to hit the big screen in 2017.
American actor Leonardo DiCaprio has provisionally agreed to play the role of Russian leader Vladimir Putin in a new movie called simply Putin, according to Russian TV channel Dozhd, citing sources close to the U.S. film company Knightsbridge Entertainment, which will produce the film.
Filming on Putin will begin in the spring of 2016, with the film due to hit the big screen a year later, according to Valery Saaryan, a representative of Knightsbridge Entertainment. The picture will be shot in Russia, the U.S. and Europe.
However, it is not yet certain that DiCaprio will play the role of the Russian leader. According to Saaryan, there are four star actors involved in casting for the role of Vladimir Putin in the Putin project.
Work on the story began in 2015, and the script is almost complete. The film's cast allegedly includes a number of top Hollywood stars, but no names have been announced yet.
Saaryan did not name the director of the movie. The producer of the film is Mark Damon (Monster, The United States of Leland and 2 Guns).
According to Dozhd, the Russian president knows about the upcoming film.
In January, in an interview with the German newspaper Welt am Sonntag, DiCaprio admitted that he would like to play Putin, as well as leader of the world proletariat Vladimir Lenin and Siberian mystic Grigori Rasputin.
All rights reserved by Rossiyskaya Gazeta.