A scientist from Novosibirsk has an unusual hobby – he produces microscopic masterpieces. His latest creation, a book that is so small it cannot be seen with the naked eye, has made the Guinness Book of World Records. Vladimir Aniskin spoke to RBTH about his obsession.
A physicist from the Siberian city of Novosibirsk (2,000 miles east of Moscow) has created a microscopic book that is so small it has entered the Guinness Book of World Records as the tiniest "brochure."
It is not only that the book produced by Vladimir Aniskin cannot be read without a microscope – it is impossible to see it with the naked eye.
The book is 88 times smaller than its nearest rival, a micro-masterpiece created by Japanese masters, and while Japan has only one copy of its micro-book, Aniskin immediately produced two "volumes" and intends to make 10 copies of each. "Circulation is what counts for a real book," he said.
Miniature technologies
According to Aniskin, the search for the right technology is the most difficult part and can take years.
"Finding the true relationship between the size of the letters and the pages, the imprinting method, the binding – this is a long process. It requires lots of trial and error," he said.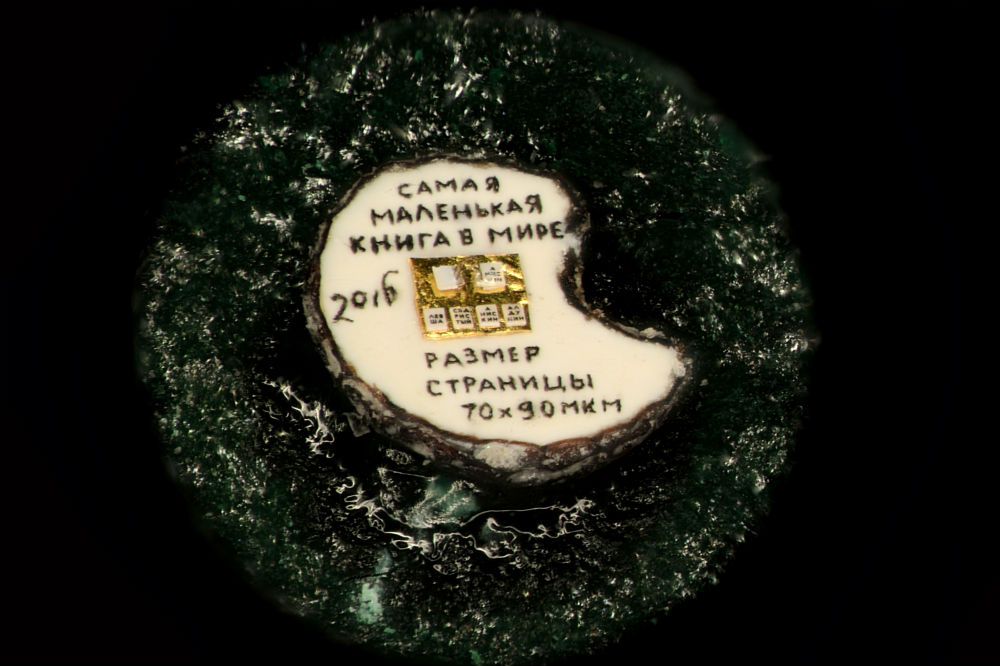 Microbook. Source: Vladimir AniskinThe pages in Aniskin's book have two parts: a thin layer of paint pasted with Mylar, onto which he sprayed metallic letters with a height of 15 micrometers using a lithographic stencil.
Through the two lateral holes he placed springs in the form of the letter U, which allow the pages to be turned.
"Threading the pages onto the springs was the hardest: I only have two hands, while there are three details; they must be handled simultaneously but the springs can't be grabbed even with tweezers," he explained.
Aniskin's "volumes" contain six pages each. Each volume rests on a golden plate, which in turn lies on a slice of poppy seed, thanks to which it is possible to imagine the scale of the jewelry work.
It took several months to make the micro-book, which he explains was due to not being in the right state of mind,
"It's not even that I was distracted. I just wasn't in the right mood to perform complex miniature work. Tranquility, emotional calm is half of the job," he said. "If something is worrying you or making you anxious, I don't recommend taking up micro-miniature work. Nothing will come out of it."
For this reason he also does not take orders, having made the decision not to transform a hobby into work with deadlines.
A hobby out of science
Aniskin is a scientist who studies the microflows of liquids and gases and heat at the Institute of Theoretical and Applied Mechanics at the Siberian Branch of the Russian Academy of Sciences.
He discovered his passion thanks to science. In 1998, while preparing his dissertation in his final year at Novosibirsk University, he accidently came across a book in the library that contained stories about famous micro-miniaturists and their work. Aniskin was amazed, and has been practicing his hobby ever since.
Today his most exceptional works are exhibited in St. Petersburg at the Museum of Micro-miniatures, where the collection of tiny masterpieces includes copies of Russian medals, characters from his favorite cartoon films on poppy seeds, and spaceships.
The pride of his early years of work is a chessboard with instructions and pieces: The board is made from walnut shell and is two millimeters high.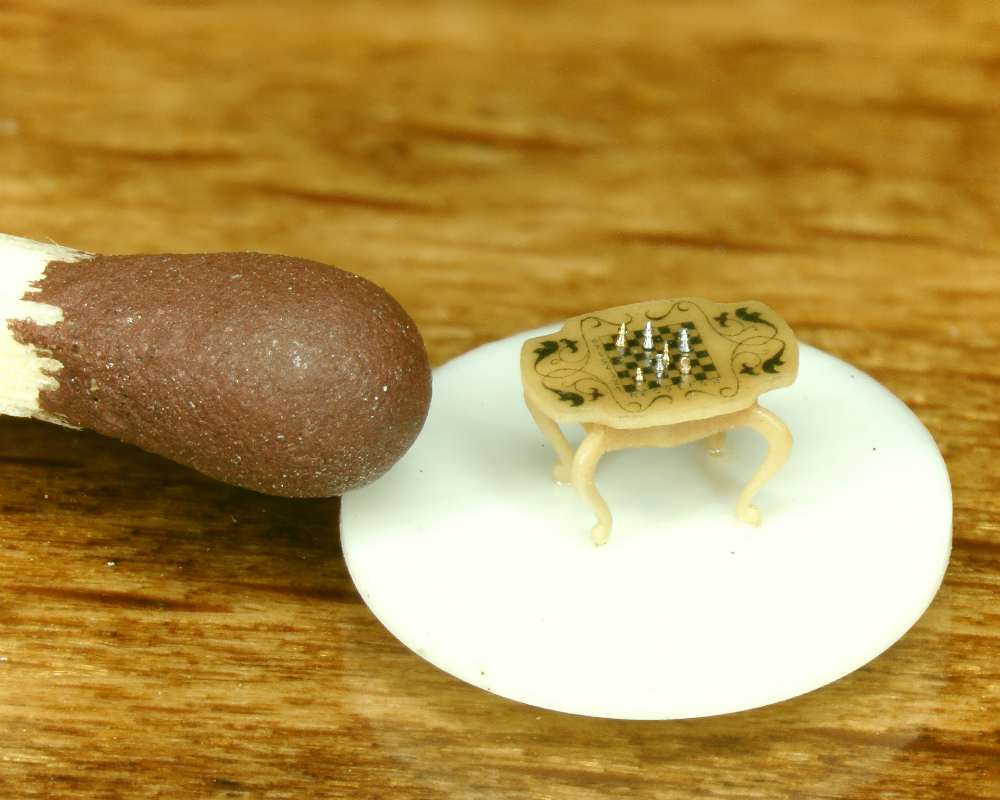 Micro chess table. Source: Vladimir Aniskin
Another complicated piece features a rose inside a hair. Aniskin got the idea from his Ukrainian colleague Nikolai Syadristov, who gave his permission for the Siberian artist to copy his work. Aniskin took up the challenge, spent three years developing the technology and finally was able to place a micro-rose inside a horsehair.
His collection now features similar projects, including one in which he was able to place an entire camel caravan inside a hair.
But even these micro-miniature masterpieces are nothing compared to the new book in terms of technological complexity.
The two "volumes" contain different texts: One is the Russian alphabet, the other contains the surnames of three masters who were able to – literally – shoe a flea.
Aniskin was able to realize the plot from Nikolai Leskov's classic tale about master Lefty in 2002 – a feat accomplished by only two other people.
There are no more than 10 such masters in the world today. Most of them live in Russia, but there are also miniature artists in the UK, Kazakhstan, Armenia and Taiwan.
Now Aniskin plans to create a moving micro-miniature. He already has ideas about the principle of movement, but for now he is keeping them to himself.
But he doesn't plan to stop there. His dream is to create the smallest object in the world – meaning that records still lie ahead.
All rights reserved by Rossiyskaya Gazeta.