Russian movie industry to hit the headlines at Cannes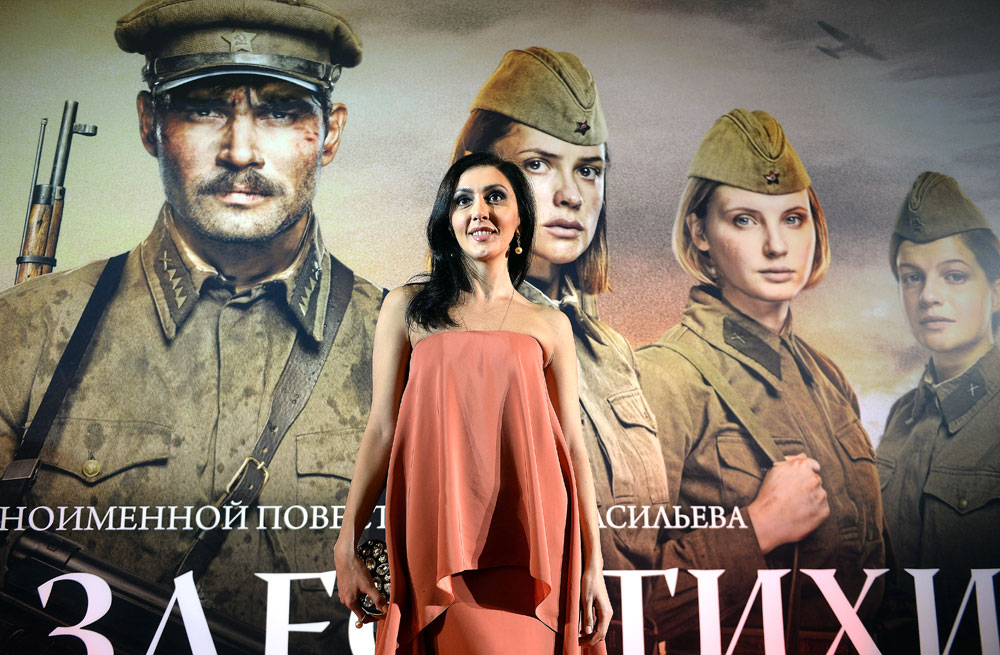 Roskino general Director Yekaterina Mtsituridze at the first run of Renat Davletyarov's movie "The Dawns Here Are Quiet" in the concert hall of the State Kremlin Palace
Vladimir Astapkovich / RIA Novosti
Following the Berlin Film Festival in February, Yekaterina Mtsituridze, CEO of Roskino, the Russian film promotion company, spoke to Izvestiya and explained how Russia is aiming to conquer the global film industry, starting with the Cannes Film Festival from May 11-22.
What were your impressions of the 2016 Berlin Film Festival?
Yekaterina Mtsituridze: Our international partners understand the financial situation and challenges that we are facing right now. They are meeting us halfway with better terms and purchase allowances. The European film market turned out to be more beneficial than we expected. A few companies at the "Roskino-Russian cinema worldwide" stand signed several contracts worth millions of euros in total.
I'm talking about Riki Group, Art Pictures Studio, Wizard Film, Mirsand Limited and Central Partnership. The latter's Flight Crew, a Russian disaster film, which had its first IMAX screening in Berlin, already promises to be one of the year's most profitable projects. The only project that Russia held back from screening in Berlin is Viking. One of the three major Hollywood studios offered the Viking producers, Konstantin Ernst and Anatoly Maximov, a global distribution deal. The negotiations are underway, and the sales are expected to start in Cannes.
However, Russia is still unable to provide enough quality films to meet global needs. Seven to eight projects per year won't make a tangible breakthrough.
What is the market value?
Y.M.: At Cannes, Roskino's overall budget amounts to 300,000 euros [$335,000], which is four times less than the UK's, [which is] worth 1 million pounds. It feels right that the Russian pavilion has been a regular member at the Cannes showcase for the last eight years, and in Los Angeles we have had one of the most comfortable stands for five years. Russia holds regular conferences in Berlin and Venice, [and] brings [its] domestic films to Toronto and Hong Kong.
Roskino's annual budget covers nine big events at leading markets, where thanks to our producers and filmmakers, Russia's film industry looks more than worthy. Besides, our budget makes up only one-fifth of that of some festivals in Russia, and they make no difference to the world whatsoever.
What if Roskino doesn't get a higher grant?
Y.M.: We will have to cut film markets and Russian pavilions.
What film markets might be off the list this year? Is the Cannes Film Festival at stake?
Y.M.: Roskino has already signed a deal with Cannes, and Russia is going to headline the festival. We have been waiting for the chance for five years, and now we are begging for concessions. This is undignified for an industry that goes out of its way to look world-class.
What about film distributors and their capacity to sell Russian movies worldwide?
Y.M.: A French company distributed Leviathan [2014] around the world on the most favorable terms. In the United States, Sony Pictures Classics distributed the movie, with a box-office gross of over $1 million. Russian companies with a focus on international markets lack these resources. In the film industry, networking and personal charm are still crucial. The Russian mainstream is more or less in demand, but we do lack independent film distributors, like The Math Factory, Wild Bunch, and Films Boutique.
Tryapichny Soyuz ('Rag Union') by Mikhail Mestetsky was the only Russian film to be selected for a Berlinale Festival section in 2016. Is it possible for Russian movies to make it at other festivals?
Y.M.: I'd like to point out that the Berlinale offered the most cheerful welcome to Mestetsky and his "gang." It's quite unusual for a movie to affect the audience so much. I do hope that other festivals will find something interesting, too. In Berlin we talked to Thierry Fremaux, the director of the Cannes Film Festival, and Alberto Barbera, the head of the Venice Film Festival. They seemed very cooperative. As far as I know, the upcoming Russian projects include movies by Valery Todorovsky, Andrei Konchalovsky and Pavel Lungin. But we are expecting some surprises too.
Full version in Russian
All rights reserved by Rossiyskaya Gazeta.