Harper Ortlieb from Mount Hood, Oregon, prepares for a performance at the Bolshoi Ballet Academy in Moscow.
AP/East News
Moscow's Bolshoi Theater is hoping that by inviting young choreographers to join its new workshop, it will gain fresh ideas and inspiration for its productions.
Sergei Filin, the former artistic director of Moscow's Bolshoi Theater, is to head a new workshop of young choreographers.
The theater plans to grow its own talents, as well as invite stars of world ballet such as Wayne McGregor and Paul Lightfoot.
Bolshoi director Vladimir Urin announced on March 1 that the theater was creating a workshop that would be run by Filin. He also said that great western contemporary choreographers would be invited to teach, but did not name any names.
Filin said that he was happy about the new project, but was not willing to give any details.
"Let's return to this subject some time later when there will be interesting projects," he said.
How to nurture creativity
For a long time now the Bolshoi has felt a serious lack of creative ideas and new authors – a problem that choreographer Alexei Ratmansky, who headed the theater between 2004 and 2009, tried to solve.
In his first year of work he organized a workshop of new choreography, inviting not only Bolshoi performers but also anyone who wished to choreograph ballets. There is no citizenship in the world of ballet – performers belong only to the various ballet schools.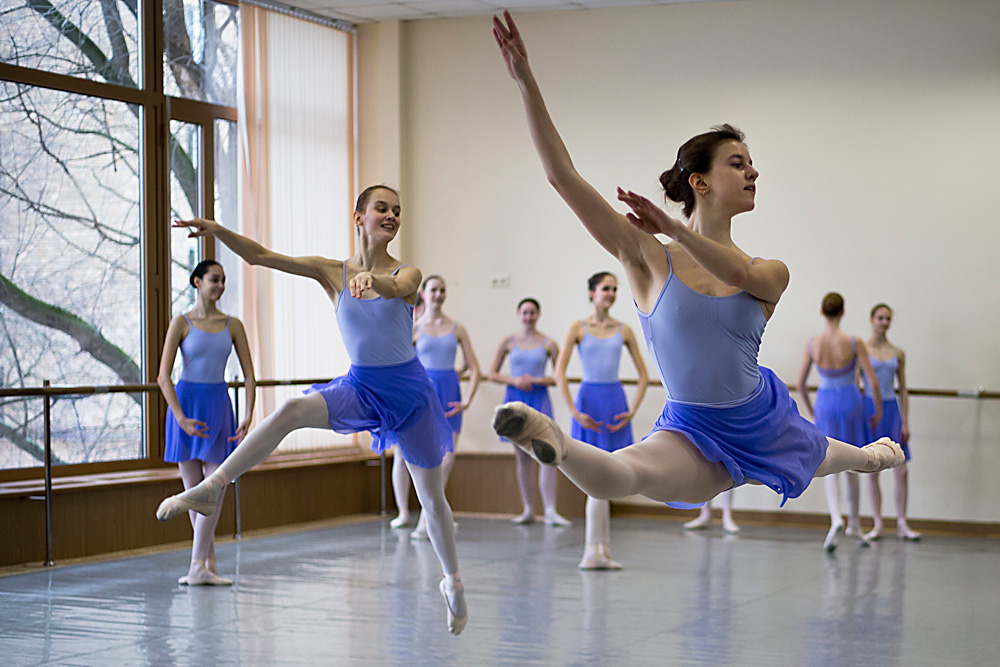 Students perform in a ballet class at the Bolshoi Ballet Academy in Moscow, March 3, 2016. The prestigious academy has 84 foreigners among its 721 students. Source: AP/East News
The work of the young choreographers was performed by stars such as Andrei Merkuriev, Ekaterina Krysanova and Vladislav Lantratov, while prima ballerina Marianna Ryzhkina participated both as dancer and as choreographer.
Among the young authors, critics noticed Ivan Urban, a dancer from the Hamburg Ballet, and Viacheslav Samodurov (who had been principal dancer at St. Petersburg's Mariinsky Theater and the Royal Ballet in London). His premiere Ondine is scheduled at the Bolshoi for June 24.
The Bolshoi workshop later closed with a change of management. But with Urin's appointment as director the idea was reborn, although it could not be realized due to a lack of space. With only two stages, there was no place for the theater to produce new choreographers.
Impossible to learn
The Mariinsky Theater in St. Petersburg organized its workshops only four seasons ago, during the International Ballet Festival, and immediately gained a substantial addition to its repertoire.
For example, Anton Pimonov's Choreographic Game 3x3 was shown at the Mariinsky, on tour in Baden-Baden and in New York.
Choreographic Game 3x3. Source: Natasha Razina/State Academic Mariinsky Theater
But the workshops brought most success to choreographer Vladimir Varnav, who received an offer from Jean-Christophe Maillot to choreograph a performance for the Monte Carlo ballet troupe.
Maillot and Benjamin Millepied (L.A. Dance Project), who at the time was dance director at the Paris Opera Ballet, had been sitting in the audience when the workshop participants' projects were being performed.
According to Yury Fateyev, acting ballet director at the Mariinsky Theater, it is "impossible to learn how to choreograph, but a stage can be provided and an audience invited so that the choreographer can show his work."
"And the reputation of theaters such as the Bolshoi and the Mariinsky helps attract attention to debutantes, it influences young choreographers," he said.
Among the foreign choreographers with whom the Bolshoi collaborates, Vladimir Urin named Jean-Christophe Maillot, Wayne McGregor, Yuri Possokhov, Paul Lightfoot, Sol León and Christopher Wheeldon.
If the masters find an opportunity to watch and comment on the work of their younger colleagues, the workshop will have already reached its objectives.
Ballerina Marianna Ryzhkina, who also actively works in various theaters as a choreographer, explains that her vision of dance changed after working with Mats Ek in his choreography of the ballet TheApartment at the Bolshoi.
"To see with your own eyes a distinct authorial approach that is different from the usual is a great fortune, both for the dancer and the choreographer," she said.
All rights reserved by Rossiyskaya Gazeta.