7 Russian open-air music festivals to visit in summer 2016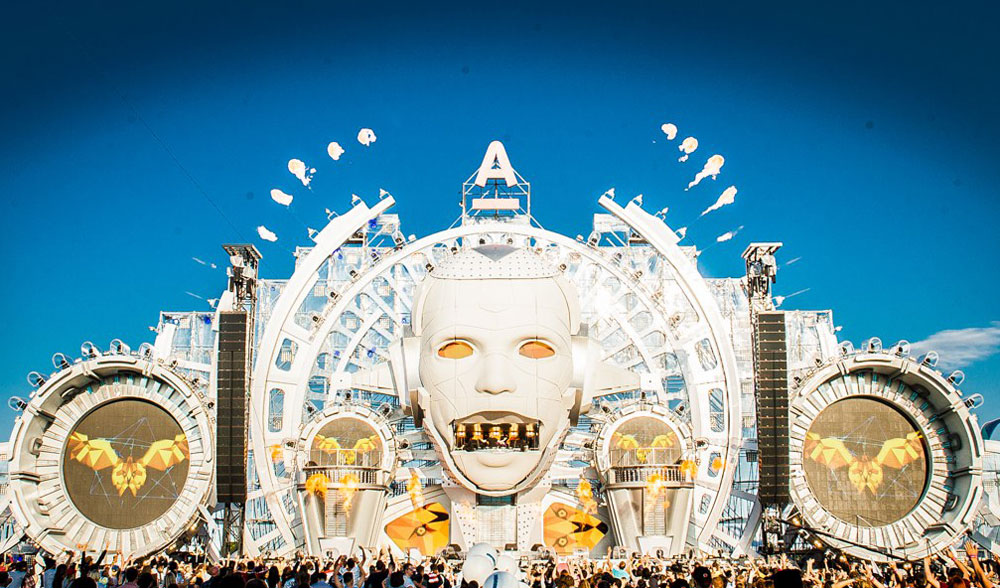 RHCP, Lana Del Rey, PJ Harvey, Editors, Armin Van Buuren, Steve Angello & Mako and others are on their way to Russia to perform at festivals this summer, which range from jazz gatherings on country estates to an electronica extravaganza by the Volga.
1. ANABUK
Ruslan Shamukov/TASS
May 28-29
Green Theater, Gorky Park, Moscow
ANABUK fest will begin the season of open airs in Russia. This two-day marathon at the outdoor amphitheater in Moscow's most famous park will gather world and Russian stars, including German band Guano Apes, Canadian rockers Billy Talent and legendary Frenchman Manu Chao, who plays alternative Latin music influenced by rock and many other genres.
2. Usadba Jazz
Yevgenia Novojenina/RIA Novosti
June 4, 2016
Arkhangelskoye Estate, Moscow Region (20 miles west of Moscow)
July 30, 2016
Yelagin Island, St. Petersburg
The biggest open-air jazz festival in Russia, over the past 12 years, Usadba Jazz has gathered more than 500 world stars, including such legends as Marcus Miller and Yusef Lateef.
This year the Moscow headliners are Maceo Parker (a funk god and James Brown's right-hand man) and a French accordionist Richard Galliano. Besides music, the audience can expect Cuban street performances, design markets, exhibitions and a food court from local restaurateurs.
3. Ahmad Tea Music Festival
Press photo
June 18
MUSEON Park of Arts
The sixth Ahmad Tea Music Festival will be taking place Moscow in the park area of The Tretyakov gallery in the best traditions of British open airs.
The fest will be headlined by legendary UK indie rocker PJ Harvey, who is returning to action after a long break to present her new album. She will be joined by two British bands – The Maccabees and Django Django – who will also present new material.
4. Maxidrom
Sergey Karpov/TASS
June 19
Otkrytiye Arena, Moscow
The Maxidrom rock festival returns after a three-year break. For more than 10 years musicians and bands such as Linkin Park, The Prodigy, The Cardigans, Placebo, Lenny Kravitz and others have performed on the stage of the so-called "Russian Woodstock." This year music lovers will be able to see Rammstein. Editors, IAMX and Crazy Town.
5. Park Live
Press photo
July 9-10
Otkrytiye Arena, Moscow
The first Park Live festival took place in 2013 in one of Moscow's most popular recreational sites – the architectural ensemble VDNKh. After a while, the area became too crowded, and since 2015 the Otkrytiye Arena has hosted the fest, which has previously featured headliners such as Muse, The Killers, Paramore, Limp Bizkit and others. This year the audience will be excited to see the Red Hot Chili Peppers, Lana Del Ray, John Newman, The Kills and others.
6. Alfa Future People
Press photo
July 22-24, 2016
An airfield on the banks of the Volga River, Nizhny Novgorod (260 miles east of Moscow).
Last year, more than 40,000 people attended the Alfa Future People of Electronic Music and Technology Festival. This year the fans can expect 100 of the world's best DJs, the biggest stage in Russia and a unique light show. The list of participating musicians includes Greek-Belgian electronic DJ duo Dimitri Vegas & Like Mike and trance legend Armin Van Buuren. In addition to this powerful line-up, the festival offers a high-tech exhibition, outdoor yoga classes, camping areas and more than 30 restaurants.
7. Sensation
Press photo
June 18
Olympic Sports Complex, Moscow
This will be the ninth time Sensation – which has been described as the world's leading dance event – will be held in Russia. This year it will be presented in the format of a theatrical performance titled "Welcome to the Pleasuredome." Viewers will see a giant carousel-like stage, Moulin Rouge characters and visuals, a burlesque show and an old-fashioned circus atmosphere. The world's best DJs, dancers, acrobats, stunning special effects and a mandatory "white dress code" will turn the arena into a real amusement park. Steve Angello & Mako, Martin Garrix, Yves V & Promise Land and other DJs will perform.
All rights reserved by Rossiyskaya Gazeta.