A digest of contemporary Russian art on display in London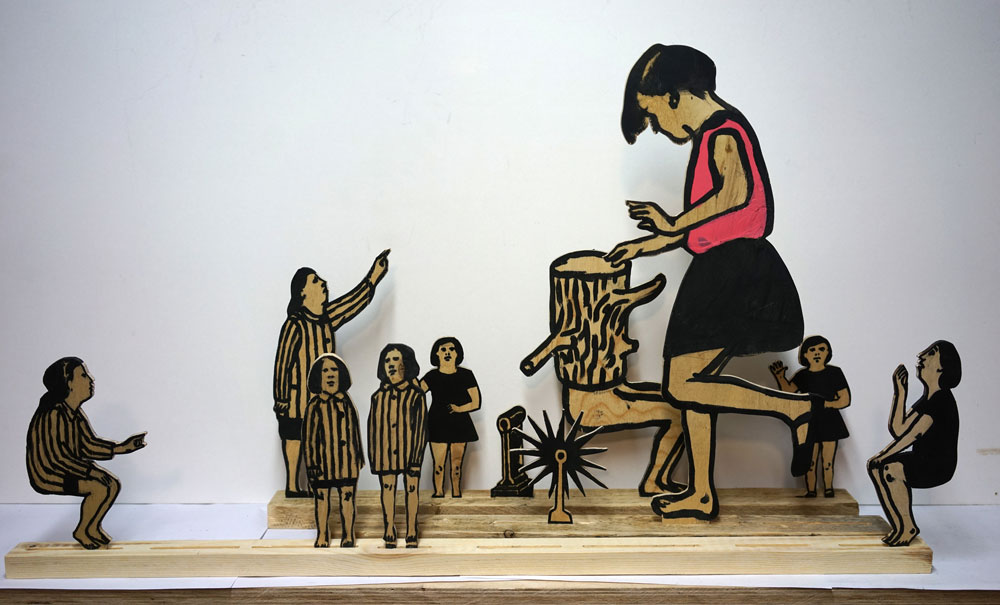 Shishkin-Hokusai. The Miracle Of Grouth. 2016. Courtesy of the artist
A project called "Russian Contemporary Drawing. No Limits" in London's Pushkin House will represent Russia's most famous modern artists.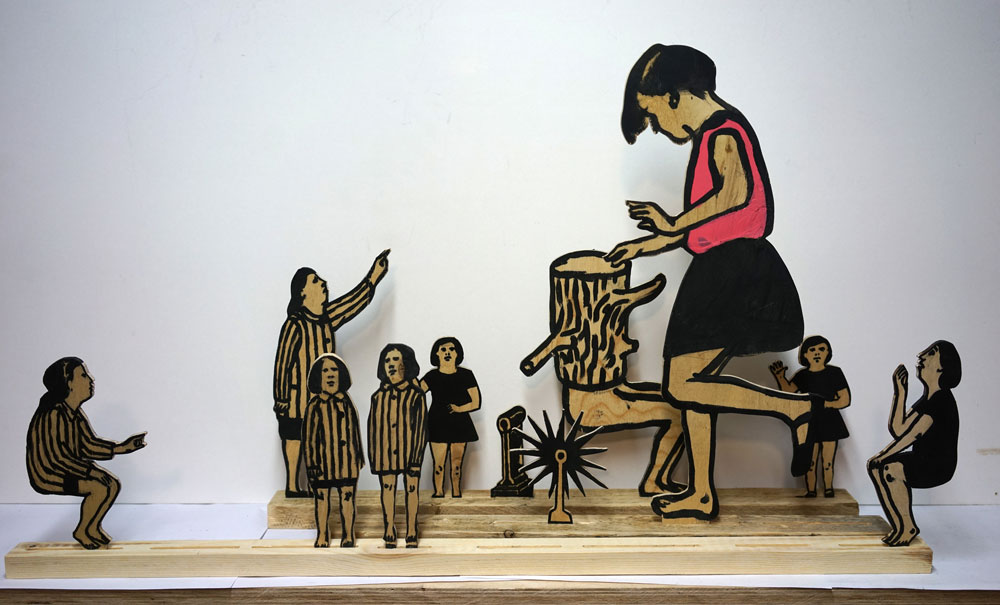 Shishkin-Hokusai. The Miracle Of Grouth. 2016. Courtesy of the artist
The new exhibition, which opened in Pushkin House on May 4, brought together the work of 23 famous Russian artists, both well-established and mid-career professionals. Its curators say that the project aims to show Londoners the different sides of Russian contemporary art, but it may also help in building better mutual understanding during the current tense political situation.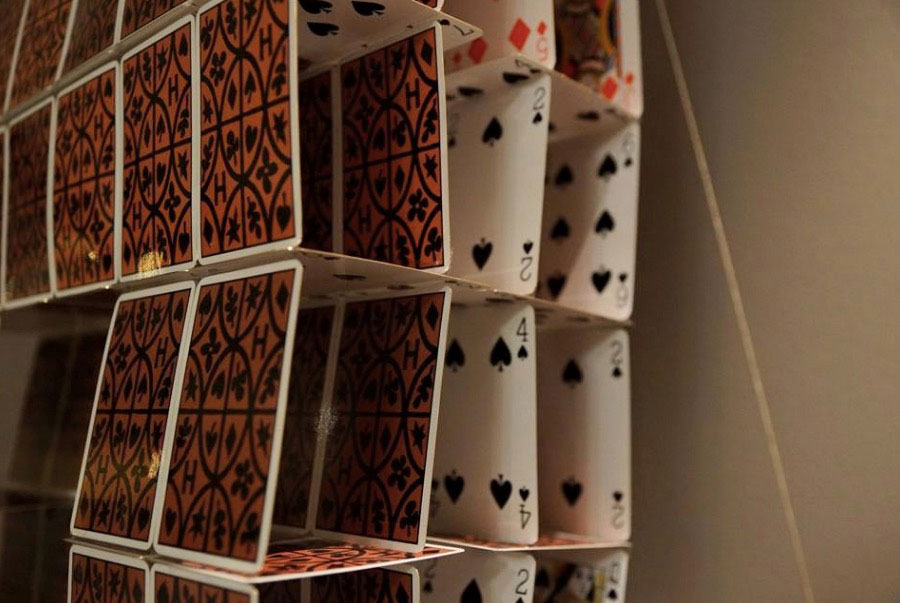 Yuri Avvakumov. Card's House Hermes. 2007. Coutresy of the artist
A house of cards in the corner is one of the first objects that visitors see. Light and fragile, but perfectly stable and balanced, the work by the artist and architect Yury Avvakumov comes from the 1980s. He was the one who brought the idea of paper architecture to Russia. These are projects that are not for actual building, but for making into art objects. In the 1980s, paper architecture was a student's way of protesting against stagnation in architecture, but since then it has become its own genre.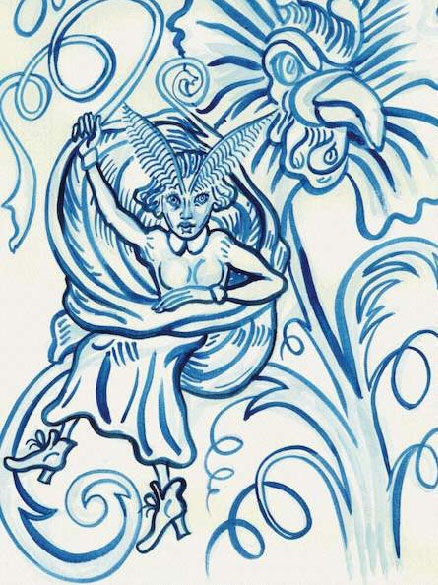 Georgy Litichevsky. Moth. 2016. Coutresy of the artist
Another work featuring drawings in blue and white may look like a traditional Russian ornament at first glance. The so-called, "psychedelic Gzhel" (Gzhel is a Russian style of ceramics) features the work of the established artist Georgy Litichevsky. He combines traditional elements of Russian ornaments, while adding new features to create a different meaning.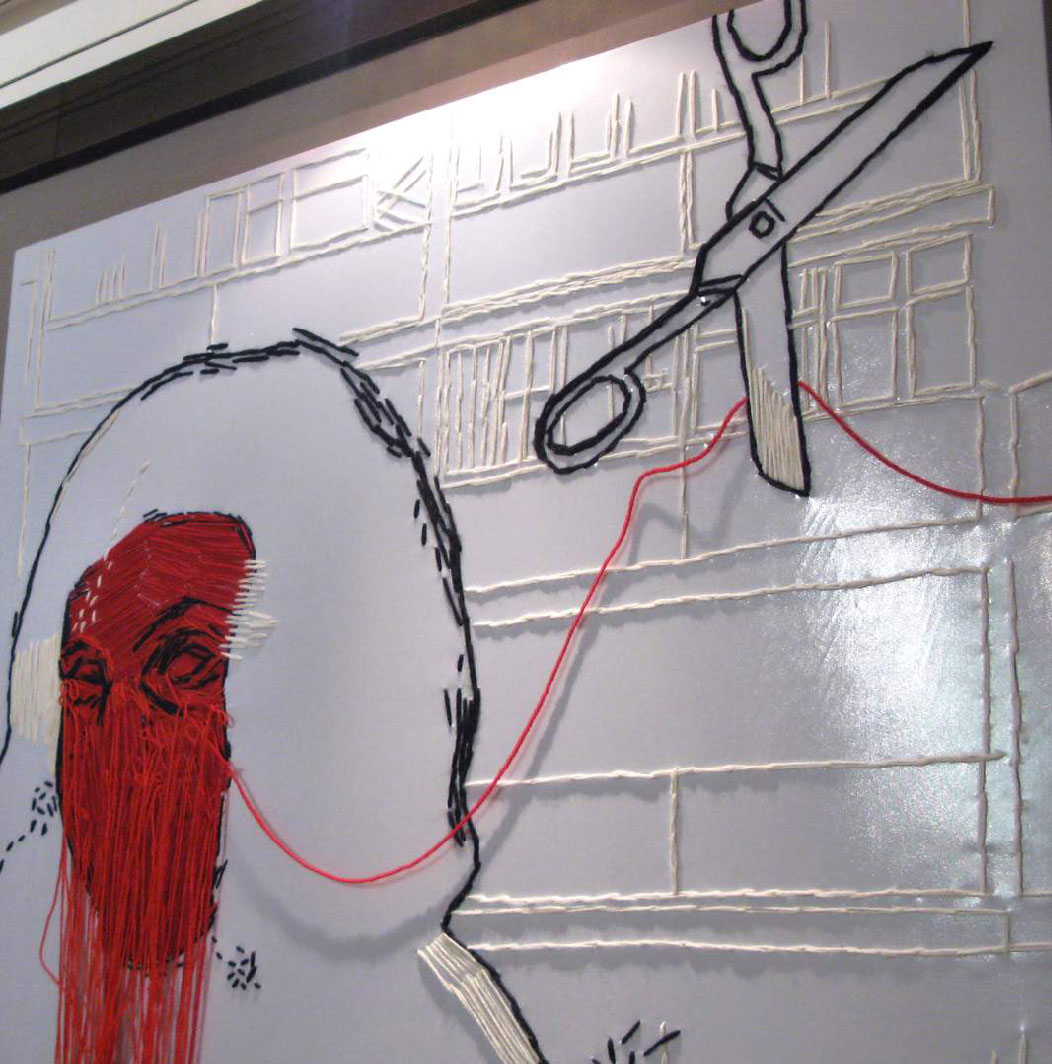 Tanya Ahmetgalieva. Effect of invasion. Courtesy of the artist
The young Russian artist Tanya Akhmetgalieva tells the story of an autistic person that is losing their sense of self because of isolation. Titled the "Effect of Invasion," the work is an embroidery. Akhmetgalieva is one of the few young Russian artists that try to combine textile and embroidery with drawing.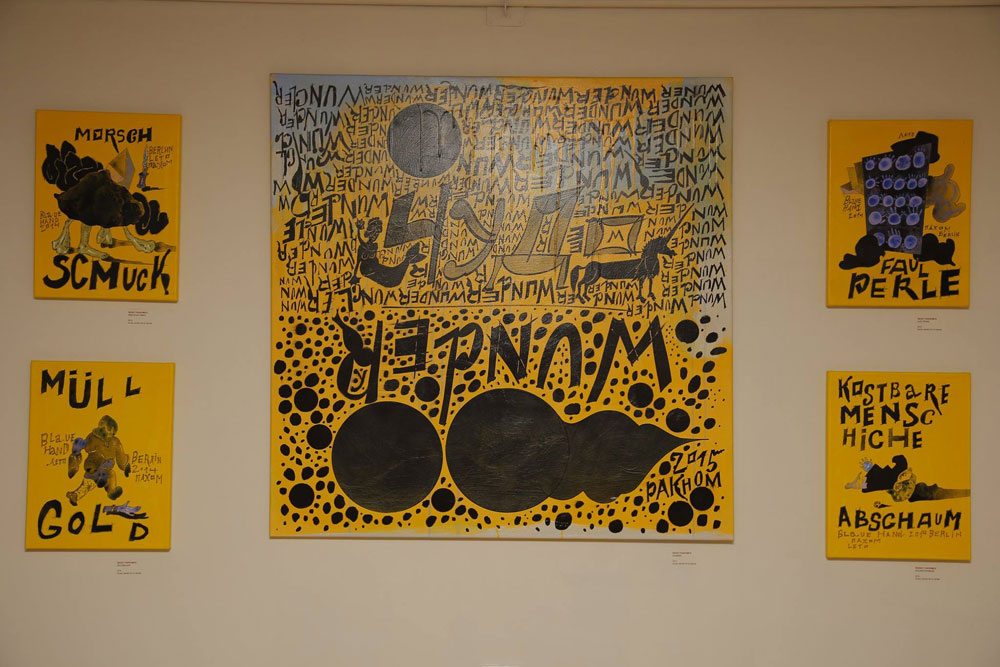 Sergey Pakhomov. Wunder. Courtesy of the artist
The exhibition shows different aspects of modern Russian art. For example, take a look inside a black cube to find an engraving made on the ivory of an old piano key. Or have a gander at comics made by an artist who was inspired by Alfred Hitchcock or drawings by Sergey Pakhomov, a well-known underground artist in Russia, who calls his work "a mixture of idiotism and the absurd."
"I am excited but the boldness of Russian contemporary art, its humor and playfulness on one end of the spectrum and its gentleness and delicacy on the other end," says Clementine Cecil, the executive director of Pushkin House. "This is a very ambitious exhibition and a very important project for us. There is the [difficult] political situation, but parallel to that we have culture. These amazing artists are doing their amazing work no matter what happens elsewhere."
The project has been shown in Berlin and will stay in London until August 3, 2016. The exhibition will then travel around Europe according to Lisa Savina, the exhibit's main curator.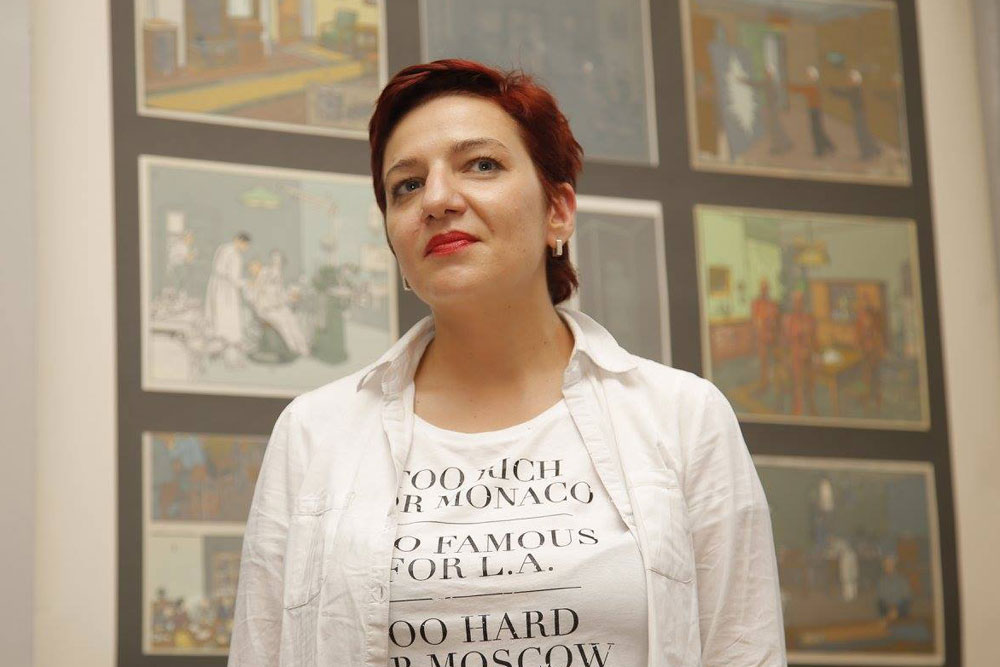 Courtesy of Pushkin House
Curator Liza Savina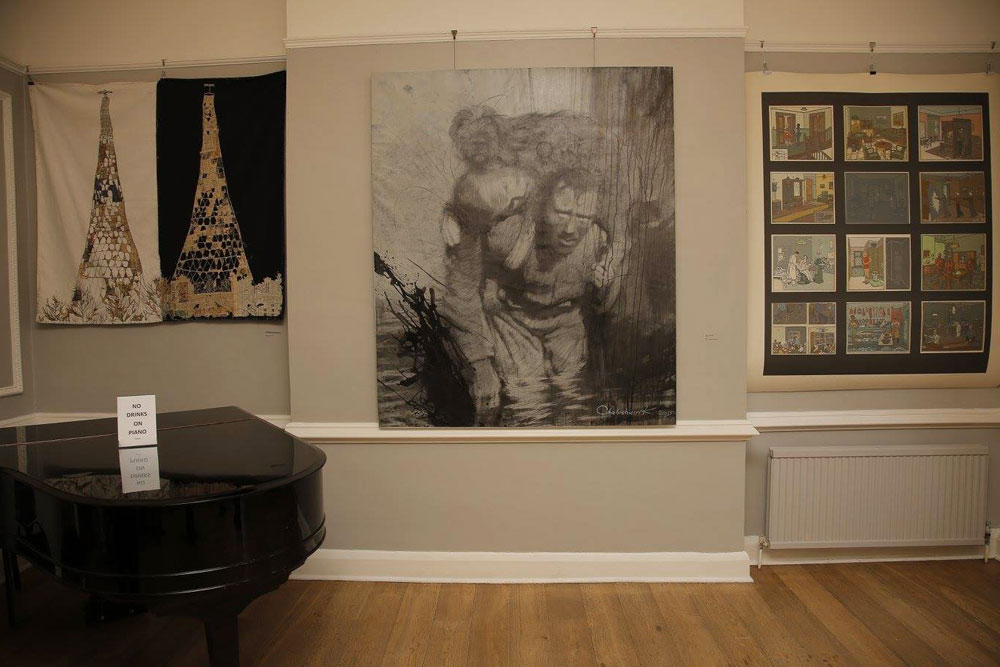 Courtesy of Pushkin House
Maria Arendt. Web Lines (L); Kirill Chelushkin. From the Iron Project (C); Vladimir Grieg. 13 rooms (R)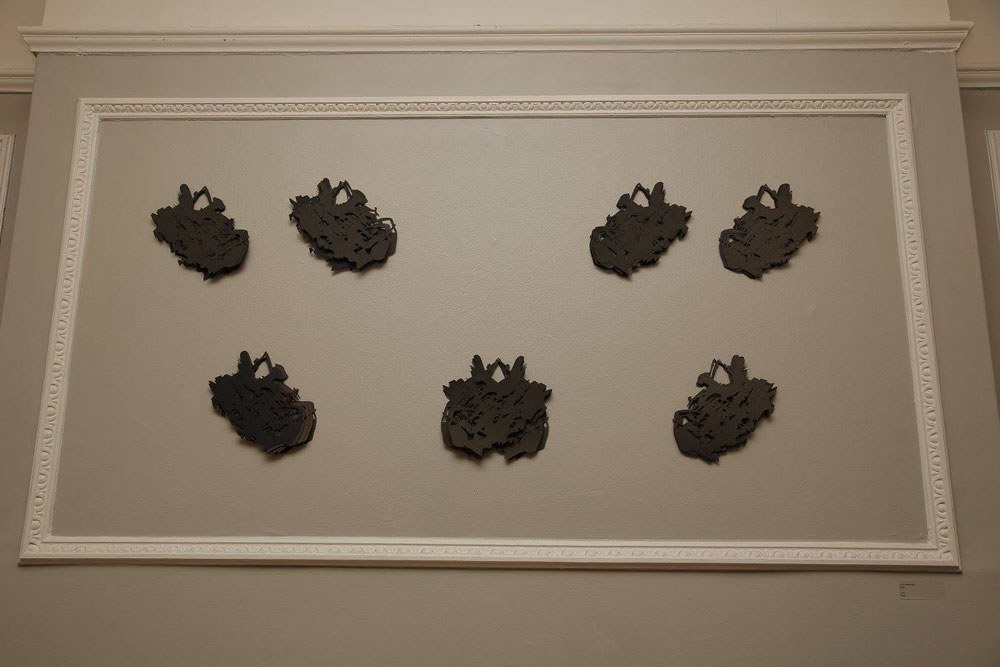 Courtesy of Pushkin House
Ilya Grishaev. Sum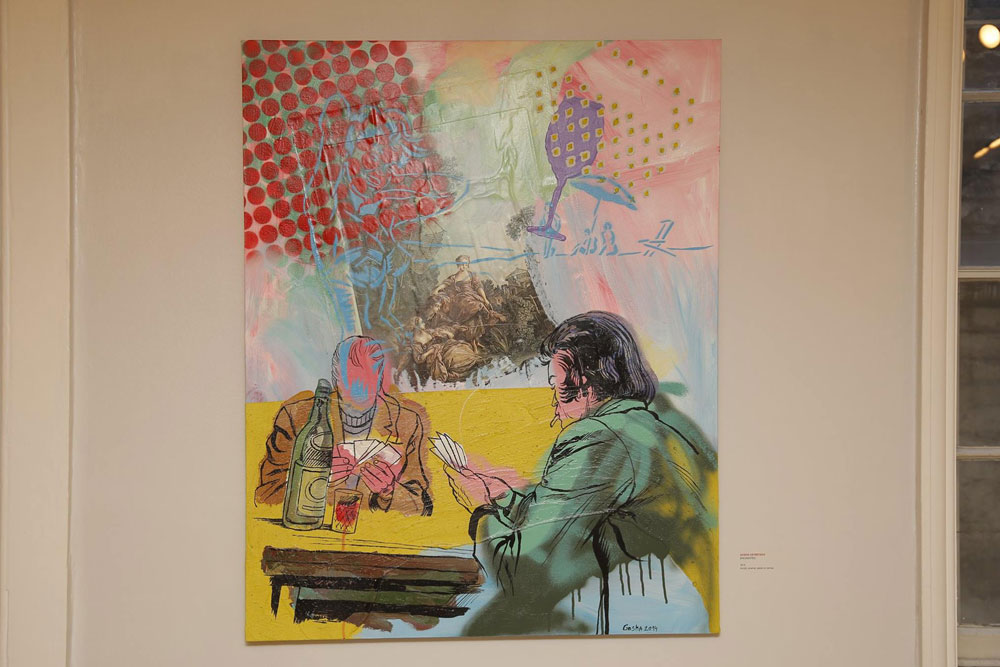 Courtesy of Pushkin House
Gosha Ostretsov. Enchanted
"We can't show all [contemporary Russian art], but we can do a sort of a digest, an extract of main trends," Savina told RBTH. "We wanted to show drawing, although some works are a combination of trends, for example, between drawing and photography. The next time we will try to show avant-garde painting."
Originally, there were 18 artists in the project, but in London an additional five joined the show.
"They didn't create works specially for this project," Savina said. "I just wanted to collect and show what already existed in Russia, to promote our contemporary art. Also, I decided to focus on drawing because it is easier to transport."
The curator sees her main goal as showing that cultural life in Russia exists.
"Unfortunately, many people think Russia is all about balalaikas, vodka and matryoshka [dolls]," Savina said. "This is not true. In the current political situation, when Russia is being demonized, cross-cultural communication helps us to stay human."
All rights reserved by Rossiyskaya Gazeta.