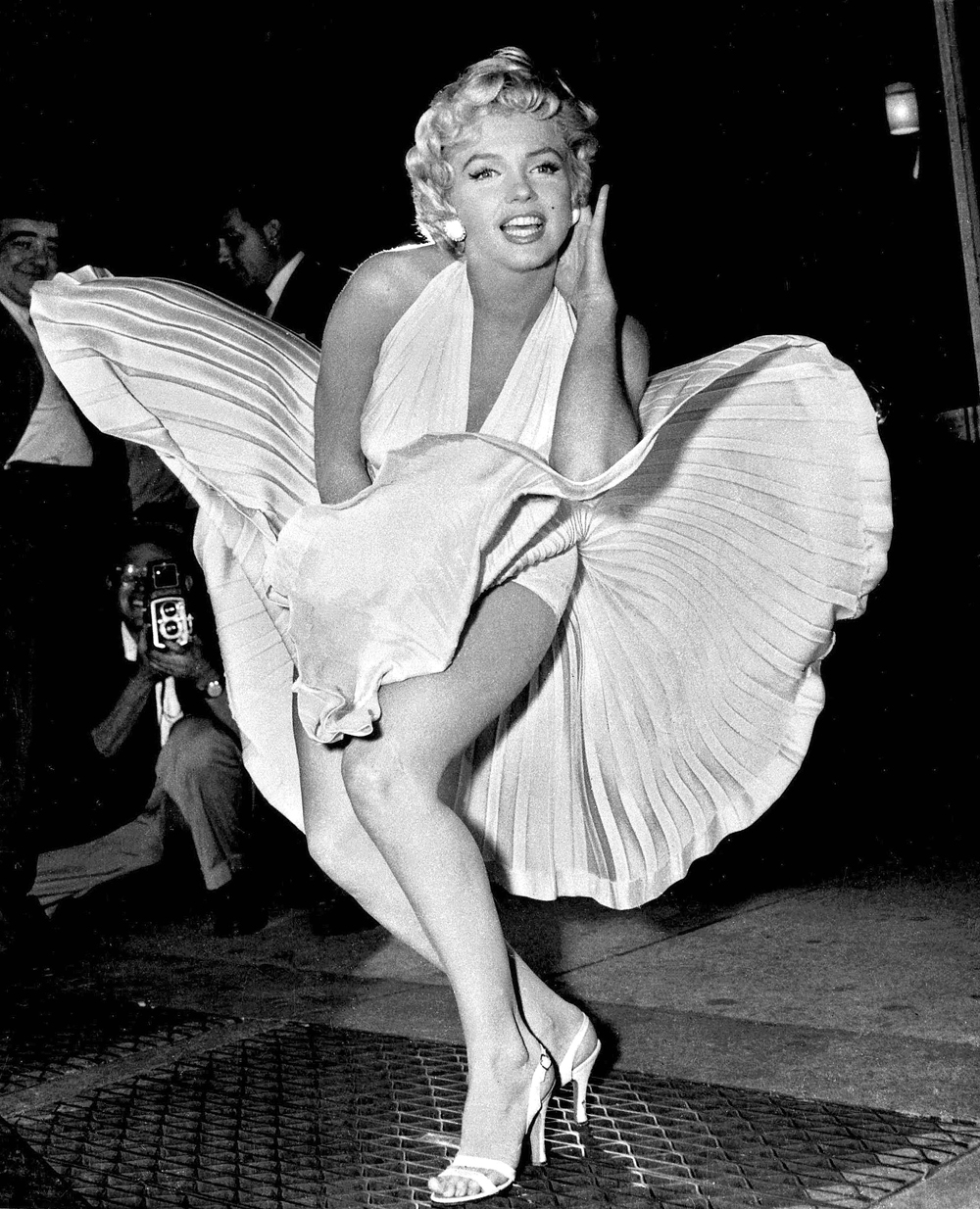 Marilyn Monroe poses over the updraft of New York subway grating while in character for the filming of "The Seven Year Itch" in Manhattan on September 15, 1954. Source: AP
The closest I ever got to touching the legendary Marilyn Monroe was on a stuffy summer evening somewhere at the beginning of the 1990s. I found myself in the home of Arthur Miller in Connecticut: A sturdy house, full of the owner's favorite objects, brought from all over the world.
It was a get-together with his friends, and one couple had brought me there as an overseas guest. Back then Russia was in vogue in the U.S. and when I entered I was assailed by questions from the cream of America's intellectuals.
Questions were fired one after the other. It was as if I was taking an exam on world cultural values. It lasted about 20 minutes and then I was left in peace. I understood that I had been accepted into their circle (or at least I hadn't been kicked out). I was sat down opposite Edgar Doctorow, the author of Ragtime and other gifted books, with whom for the entire evening I whispered about the fear of death being the reason for writing literature.
Despite the unattractive power of this subject and Doctorow's marvelous mind – he died in 2015 – I was somehow able to look around. I met Miller's wife Inge, an Austrian photographer, who was gracefully ageing under the shadow of her delightful intellect.
I talked with her and Miller about their photo album of Russia, which they then gave me. Miller appeared to me as an influential master of the American intellectual world. Baldish, wearing large eyeglasses, he was pleasant, restrained, far from all the fuss in life and well aware of his greatness.
The roof of the skyscraper
Speaking to him I realized that he had been married to Marilyn Monroe for more than four years. She belonged to him not only as a wife, not only as that flying dress, but also as an adorer of his genius, which enabled her, a girl with an unhappy childhood, to walk into an express elevator and reach the roof of the skyscraper. And Miller for her was that roof.
Then I looked at Inge and realized that it was for this woman with an intelligent look that Miller had refused to be the skyscraper roof for Monroe, after which the star flew downward. Although in her flight, possibly, she remained the most popular actress in America.
But America, at first glance, is not about actresses, singers or writers. It is about the absolute success of an individual, who was nothing and then became everything (as our revolutionary song goes).
And it is not important whether this person had a poor or rich childhood, whether he lived in an orphanage or he quietly went to school. Because this, from the national audience's view, is routine, but what is important is that the chosen one reached the sky and turned into the Himalayas.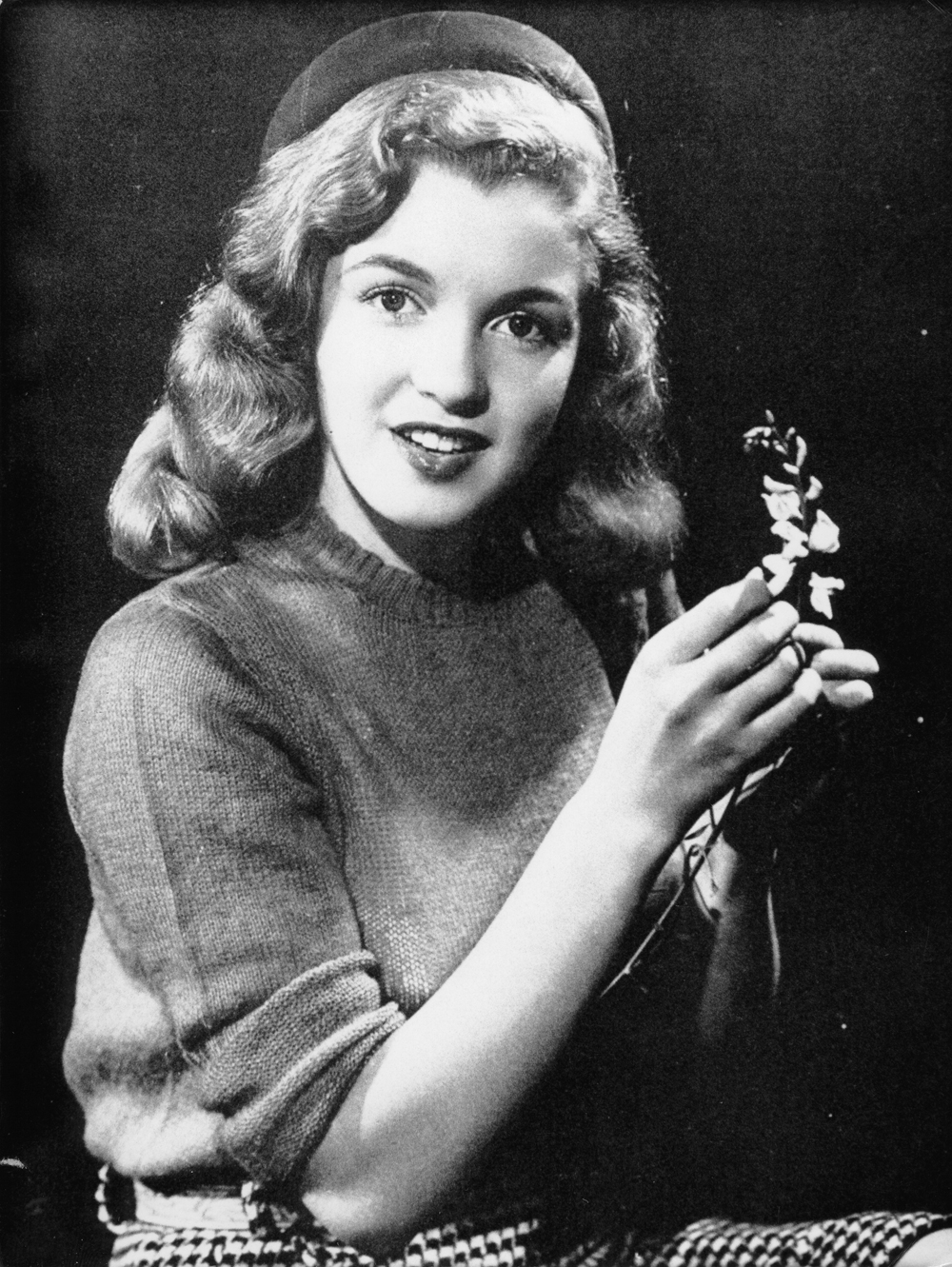 Source: Ullstein Bild / Vostock-photo
In such a system happiness is only a substitute for powerful success and in this system Monroe and Miller were like twins. And they appeared equal on the cover of a popular magazine that announced their union to the whole country.
Why equal? Because Miller's high-altitude flight was stronger than Death of a Salesman, which held up a mirror to America. And Monroe's high-altitude flight was stronger than all of her roles and all of her money. Two high-flying planes.
The one who could never belong
However, America is actually a country with a double cultural circulatory system. While the larger circle of cultural circulation is destined for the mass public, which creates the broth of national success, the smaller circle is the one in which I found myself in Connecticut, and where a lot opposes the larger circle.
Properly speaking, where the Millers live, happiness (almost like in Russia!) is valued more than success and talent is more important than money. And in this small circle Edgar Doctorow's problem with the fear of death is more important than old family money.
This circle is small but it exists for real. It is a magnet but it is closed for the broad public. It is reflected in the snobby The New Yorker magazine, but in a distorted manner. As an old editor from the magazine told me, the publication exists for the reader who thinks that he is smart, but if he stops understanding the magazine, he will be upset and will no longer read it.
In Arthur Miller's circle no one was upset if he did not understand something. The participants were snobs but as I have just said, they were the cream of the crop. And in this circle Monroe and Miller were opposites. She was no one and he was everything. But she was burning with desire to be included in this world.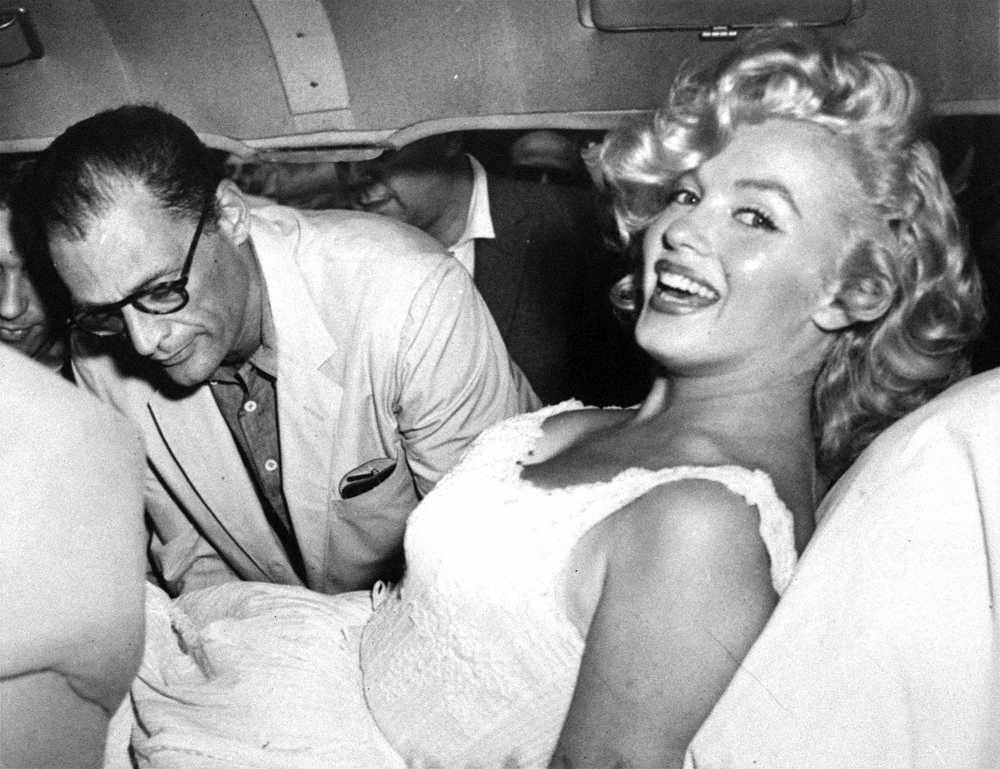 Marilyn Monroe and Arthur Miller, New York City, August 10, 1957. Source: AP
It was here that a great catastrophe awaited Marilyn. She was unfit for this small world. Miller could take her aboard his flight as an all-American erotic dream or just as a beauty, but she lacked something that would make her a full-fledged member of this circle. What? Everything and nothing.
Two incompatible cultures
It's not important that like an idiot she was always late for the shoots or that she was unpleasant or that her Some Like It Hot co-star said that kissing her was like kissing Hitler (what did he mean?)! And it's not important that she continued sleeping with someone while married to Miller, or at least those were the rumors.
It is important that Miller could not accept her as a wholesome human being but only as a big child and nothing else. And when she found out about it (she read it in his diary), she was unsettled. She started falling while still in the climax of her marriage. She was falling with a happy smile, but it was impossible to prevent the fall.
She was born perhaps to interpret the world as an iconic figure. But in reality she just had some charisma, fortune and that's it. Or was Miller mistaken in his diary?
But then we would have to doubt the entire established system of American mass culture, which is stronger than Russia's grand style, with its splashes of social realism as the embodiment of the Russian dream.
But how can this be doubted if this culture is the milk of a beloved woman? There is no other. It's just that one culture did not fuse with the other. And will never do so. There will be defectors from the small culture to the big one, but this is not Miller's case. And when Marilyn died, Miller did not even come to her funeral because Inge was about to give birth to their daughter.
If we look at Inge and Marilyn it would be ridiculous to compare them. Monroe is a world icon, Inge is just a photographer. But with an intelligent look. I am writing about Marilyn – she entices, allures me… But if we were to judge severely, with her roles and songs Monroe drags culture into the rubbish, and an increasing number of popular idols – yesterday's, today's, tomorrow's – are helping her.
This contradiction cannot be resolved. We must try not to get tangled up in this double cultural vortex but Russia, I think, is now seriously tangled up.
Goodbye Norma Jean
Marilyn really did not want to shatter as she was falling from the skyscraper. And she reached out for help: Yves Montand, the U.S. president. John Kennedy and later his brother – were they not her last parachutes? But these parachutes were not so reliable and what was left after them was just heaps of rumors. But grasping presidents is the final act. They have their own idea of small and big culture…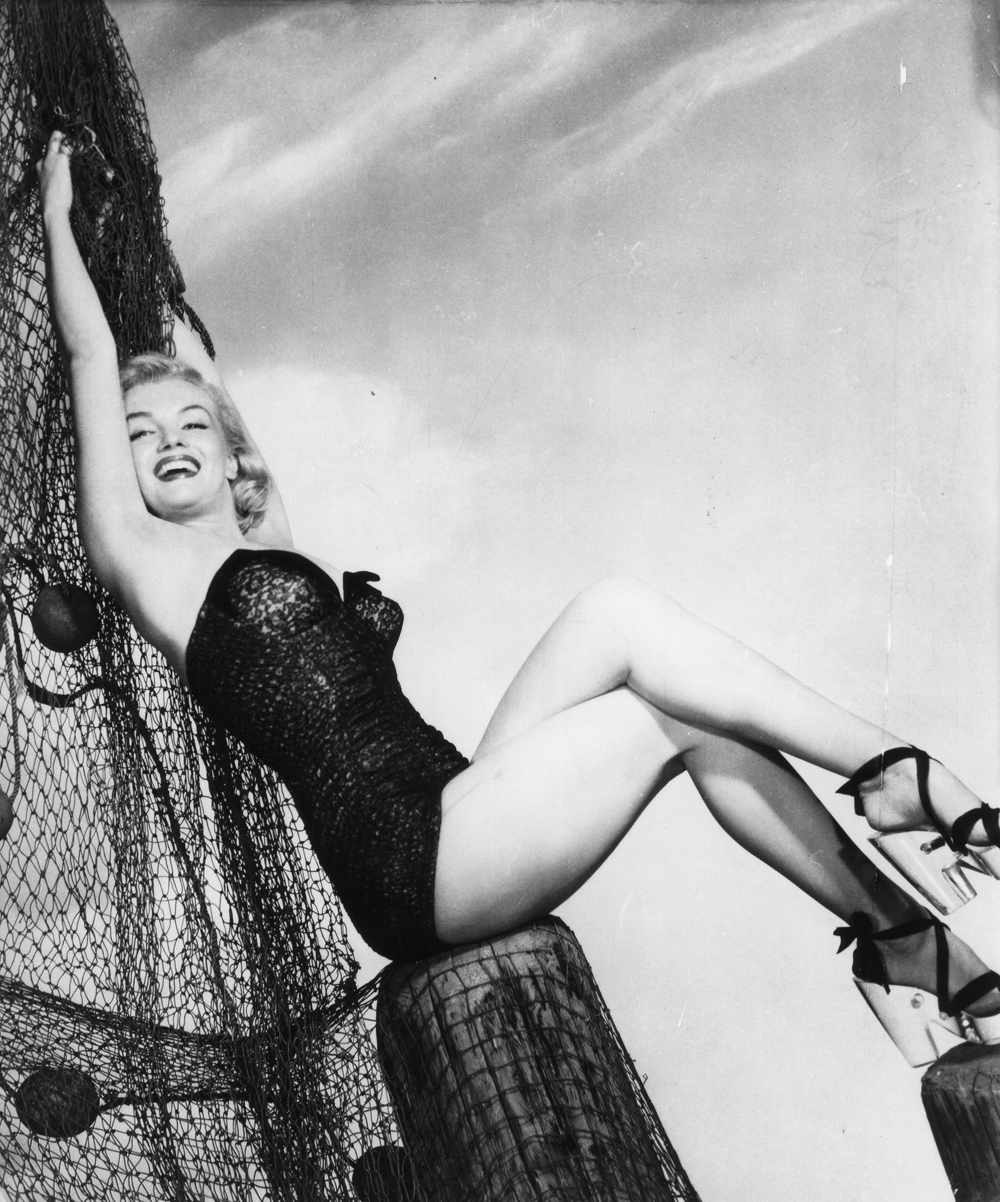 Source: Ullstein Bild / Vostock-photo
I really do not believe that the Kennedy brothers killed Monroe because she knew their secrets. I think she just hit the ground.
With her life and death she demonstrated something really important: In reality culture is hierarchical. Even with all the fame in the world you won't make it to the top without a ticket. And this makes me happy.
As for stars, they shatter in free fall.
First published in Russian in Kommersant
Subscribe to get the hand picked best stories every week
All rights reserved by Rossiyskaya Gazeta.