5 British and American street artists use St. Petersburg as their canvas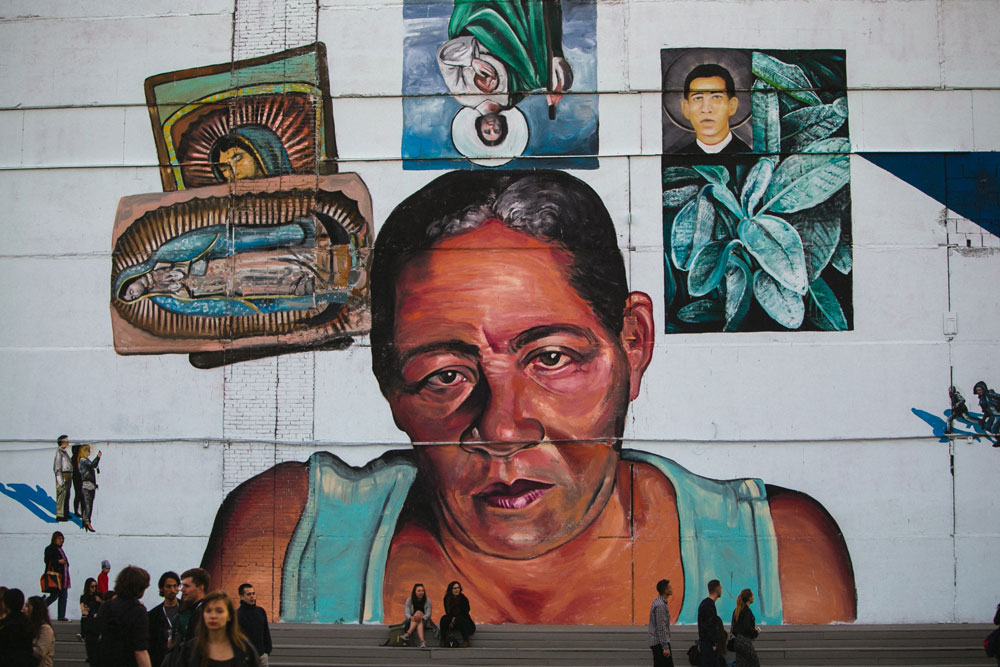 Museum of street art opens new season with fresh graffiti.
The Street Art Museum of St. Petersburg, situated in a working factory in the city's eastern industrial district, is holding a new exhibition "Crossing Borders/Crossing Boundaries" involving 17 international artists. Until September 24 there is a chance to see graffiti and street installations focusing on one key topic – migration.
RBTH picked five U.S. and UK artists to see what they are painting on St. Petersburg's walls.
Gaia & Mata Ruda (U.S.). If capital can move so easily, why can't bodies?
Press photo
Press photo
Press photo
Press photo
Gaia and Mata Ruda have created a monumental work in the classical tradition of political murals (a large-scale painting on walls or buildings) that reflects issues of migration. Besides faces from the borders of the U.S., Latin America, Africa and Europe, the artists have drawn a group portrait of three Uzbek migrants that work not far from the museum. This is a story of unfairness but also about the hopes of people who fight inequality on a daily basis.
Gaia lives in Baltimore, traveling all the time, painting murals. He was included in a book, "Beyond the Streets: The 100 Leading Figures in Urban Art" published in Berlin in 2010/ and Forbes 30 under 30 list. Mata Ruda is an artist and activist originally from Costa Rica, who is now based in the U.S. The two artists have the biggest wall in the Street Art Museum project.
James Bridle (UK). Satellite shadow
Press photo
Press photo
Press photo
"Satellite shadow" continues the artist's anti-war action series "Drone Shadow" that he painted in London and Istanbul. Through his work he strives to make the invisible visible. The satellite drawn according to the real proportions of a Russian Cosmos2648 satellite, symbolizes the huge net of data that snares people around the world. This is an image of endless space and of secret technologies that entangle us literally and metaphysically.
Bridle is a British artist, activist and columnist for The Observer, The Guardian, Icon and other outlets. His works have been displayed at The Barbican and Victoria & Albert Museum in London, Tokyo's National Art Center and ZKM in Karlsruhe, Germany. He is also famous for his exhibition "Glomar Response" in Berlin, devoted to the concept of 'Neither confirm nor deny' formulated by the U.S. national security services. The show refers to the shadow cast by information wars that use modern technology to further their aims.
Brad Downey (U.S.) & Igor Ponosov (Russia). Double Yippie Hollow Super Power
Press photo
Press photo
This collaborative project is actually a cadavre exquis - an image made from a collage of other works of art. They gathered together archetypical images of their countries: flags, coins, national anthems. The U.S. and Russia are seen as opposing countries, but they also have common enemies and they create their identity within the dialog between each other. Downey and Ponosov both criticize and laugh at their own national stereotypes.
Downey became recognized after working with street artist Leon Reid IV also known as Verbs. Together they made 'switcharoo' – fine art pieces displayed in the places they would not normally be found. Now Downey ruins urban stereotypes: Making a house of cards from paving slabs or bending road signs. In 2011 he published a book "Spontaneous Sculptures" where he collected the best examples of street art.
Igor Ponosov is a Russian artist and street art researcher. His works have been shown in several galleries in Russia and abroad. He has also filmed a documentary "Street Art — The Ephemeral Rebellion" in 2010 in Berlin.
"Crossing Borders/Crossing Boundaries" is on display till Sept. 24. For more information visit streetartmuseum.ru.
All rights reserved by Rossiyskaya Gazeta.