Legendary Aurora cruiser once again open to visitors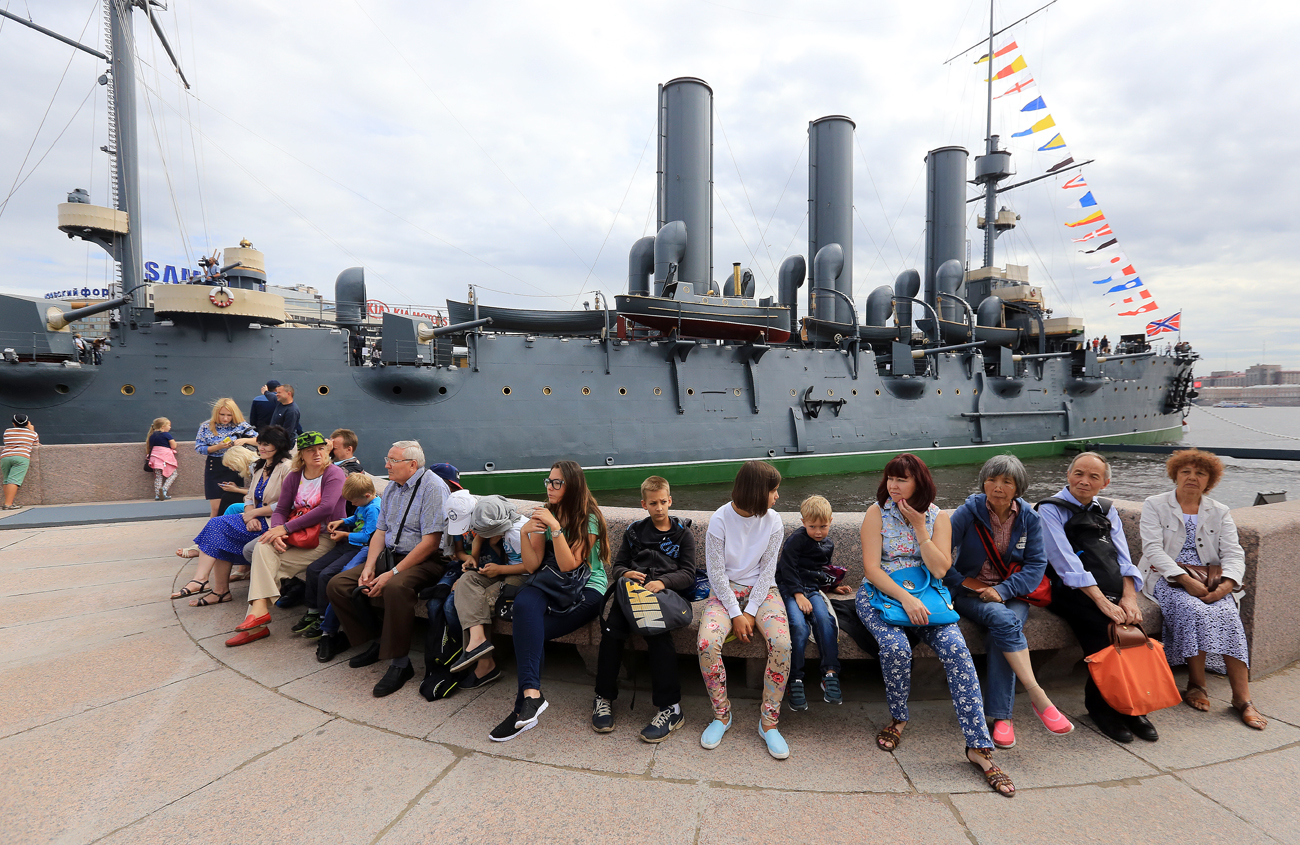 People sit in front of the Russian Aurora cruiser, Aug. 3, 2016. Its new exhibition has been renewed during scheduled maintenance of the cruiser and is now dedicated not only to the October Revolution of 1917, but to the history of the Russian Navy.
Sergei Konkov / TASS
St. Petersburg's most famous ship is now interactive.
The world-famous Aurora cruiser, a symbol of the 1917 October Revolution reopened on August 3, 2016 after nearly two years of repairs. The newly restored ship, which supposedly gave the signal to revolutionaries to storm the residence of the Russia's tsars, now also boasts an interactive exhibition. The cruiser currently has the status of being the number one ship in the Russian Navy.
"If once upon a time the cruiser was generally only seen as a historical witness of the 1917 October Revolution, then now it is considered to be the most experienced veteran of the Russian naval fleet. With good reason – the Aurora has lived through the Battle of Tsushima, (the central encounter of the 1904-5 Russo-Japanese War - RBTH), two revolutions and two world wars," said a statement by the press service of the St. Petersburg Central Naval Museum.
Aurora cruiser which has reopened to the public following restoration is moored near Petrogradskaya Embankment, Aug. 3, 2016. Source: Alexei Danichev / RIA Novosti
The museum on board the cruiser, anchored on the banks of the Neva River, has grown in size from six to 10 exhibition rooms. In addition to the conning tower, the engine room and the boiler room, visitors can now examine the ship's medical facility, where the Russian Naval Fleet used X-ray equipment for the first time.
The exhibition's main attractions include interactive exhibitions providing information on various aspects of the cruiser, including the ship's design and steering system, its commanding officers and the daily life of the crew, which at one time numbered 570 men. Visitors can also learn about the general history of the Russian fleet and the Nakhimov Naval Academy, where the cruiser was used for many years as a training ship.
A man takes a picture during a new exhibition on the Aurora cruiser, Aug. 3, 2016. Srgei Konkov / TASS
The Aurora has served in the Russian fleet since 1903. It saw action in the Russo-Japanese War (1904-1905), the Russian Civil War (1918-1922) and in both world wars. After World War II, the cruiser became a training base for the Nakhimov Naval Academy, and in 1956 it was converted into a branch of the Central Naval Museum. The Andreyevsky Flag, Russia's traditional emblem, was once again raised over the Aurora in 1992.
Subscribe to get the hand picked best stories every week
All rights reserved by Rossiyskaya Gazeta.