Making David decent: Russia's penchant for dressing statues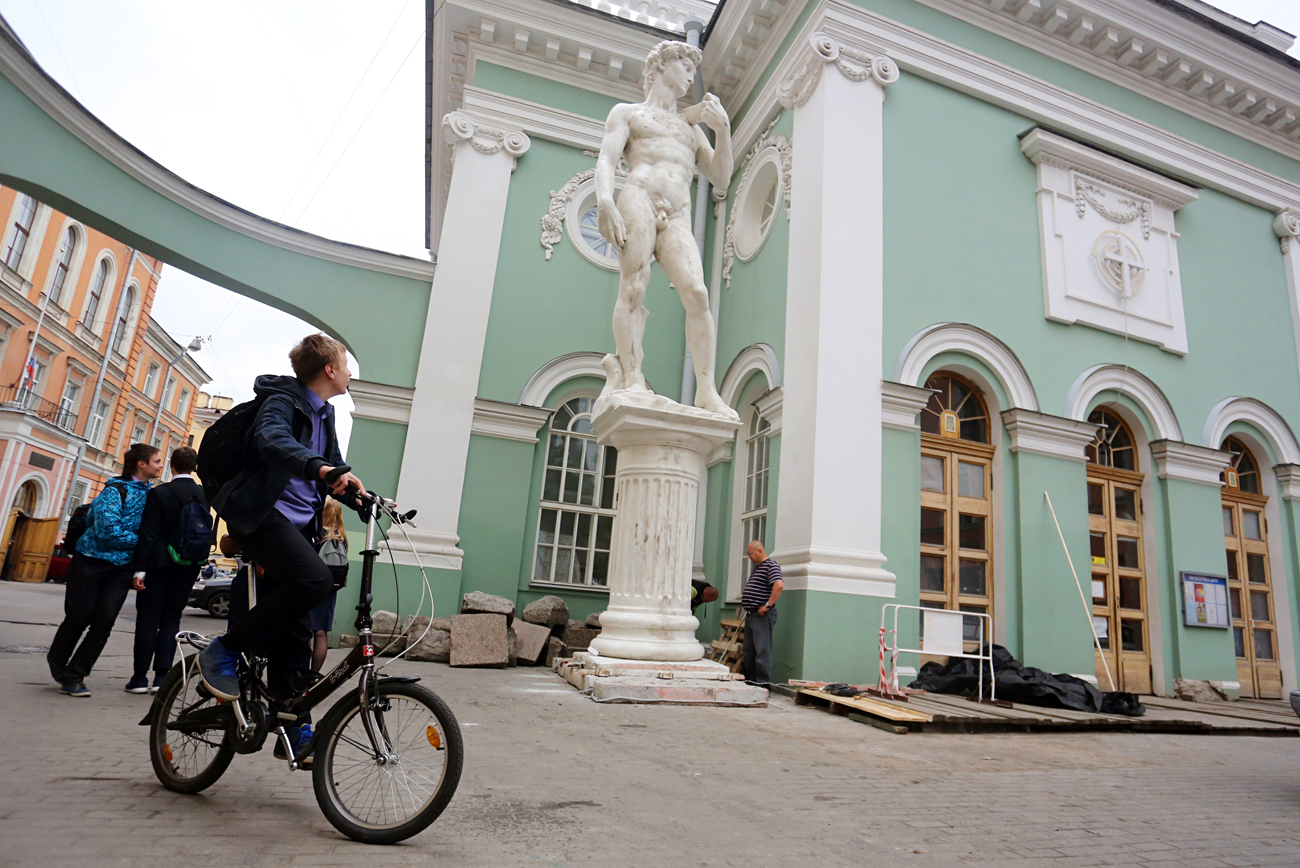 A full-size copy of Michelangelo's David sculpture installed near St. Ann's Church in St. Petersburg.
Peter Kovalev/TASS
In July 2016 a copy of Michelangelo's "David" statue that organizers of an exhibition had placed in St. Petersburg was "dressed" after people complained that it was indecent. However, this bizarre prudishness is not the only reason sculptures and monuments in Russia are dressed: Old Bolsheviks or literary classics have been seen sporting a student mantle, while a mammoth can don a festive fur.
Dressing monuments is something of a long-standing tradition in Russia. In 2011 the Apollo statue in the Bolshoi Theater in Moscow came into possession of a fig leaf, while in 2012 the monument to great Russian poet Alexander Pushkin on Old Arbat in Moscow stood in a balaclava for several hours. Sometimes sculptures are clothed as a joke, sometimes as part of political protests. And sometimes just out of bigotry.
Simferopol, Crimea. Celebrating Airborne Force Day near a monument to young people. Source: Maks Vetrov/RIA Novosti
Usually the clothes are removed from monuments very quickly – the police denude the sculptures immediately after being called out. The only exception is when the initiative to cover the monuments comes from "above," as in the case of Apollo mentioned above.
Victorian morality in the 21st century
When after renovation in 2011 Apollo reappeared with his groin now covered with a fig leaf, the internet was flooded with derisive remarks recalling the statue of David in a London museum to which a special fig leaf was attached in the Victorian age when notable ladies attended the museum. The remarks also mentioned that the same statue of Apollo appears on the Russian 100-ruble note without any kind of covering.
In July 2016 people realized that David had not been remembered in vain. During the "Michelangelo: Creation of the World" exhibition in St. Petersburg an exact copy of Michelangelo's David was placed at the entrance to a church on Kirochnaya Street. But unfortunately, the beauty of Renaissance sculpture was too explicit for some conservative-minded Russians, with some arguing that the "naked giant deforms children's souls."
One indignant resident complained to the Commissioner for Children's Rights. "How could you put this man without underwear in the center of St. Petersburg, near a school and a church?" And the school and the church's support for the exhibition did not dissuade this guardian of virtue. Consequently, the statue has – for now – been dressed.
Now Petersburgers are to decide the fate of the wretched statue themselves: A "Dress David" protest has already been organized. Residents can send ideas on how to dress the sculpture in the most original way. "I think a paranja [a Central Asian robe for women and girls – RBTH] will be perfect!" someone joked in a letter. "I suggest dressing the statue as a buffoon, with ringing bells for sublime kitsch," another suggested.
Cover the groin with the printed complaint; use a tunic; put underwear, embroidery, a Jedi costume on the statue; even have him look like Peter I – 200 people have already sent in their proposals. Most, however, ask the authorities not to "be influenced by cretinism" and let the Goliath of bigotry defeat David.
This is exactly what exhibition organizer Maxim Volkov hopes. "But if not," he said, "we will cover David artistically, so that it gives the artwork new meanings."
Jokes and protests
However, in most cases monuments in Russia are dressed for fun. After graduation, college students from Yekaterinburg (880 miles east of Moscow) usually throw a mantle and a graduation cap on the monuments of communists Kirov and Sverdlov. Paradoxically, these revolutionaries did not have a university diploma: Kirov studied at a technical school and Sverdlov was self-educated.
A 10-meter mammoth statue, which stands at the entrance to the Siberian city of Salekhard, has been dressed up in a Father Frost costume. Source: Andrei Tkachev/TASS
Although Peter the Great created the Russian fleet, the tsar did not wear a sailor's vest. However, unknown pranksters decided to put one on his statue in Petrozavodsk (430 miles north of Moscow) anyway. Meanwhile, in Irkutsk (2,600 miles east of Moscow) residents thought it necessary to wrap the paws of the legendary half-tiger-half-beaver, the city's symbol, in mittens. And in the Arctic Circle city of Salekhard in northwest Siberia the local authorities joined in the merriment and dressed the city's mammoth monument as Old Man Frost, the Russian Santa Claus.
Clothes as protest
But sometimes monuments are dressed in order to get the authorities' attention. "Such acts create resonance and in our case it is necessary," said Vladislav Gultyaev, a protest artist from Krasnoyarsk (2,080 miles east of Moscow). In June 2016 he put gas masks on dozens of sculptures all around town, hoping to bring the city's ecological situation to public attention.
Balaclavas put on the monument to Alexander Pushkin and Natalya Goncharova in Moscow's central Arbat Street by supporters of the Pussy Riot punk band. Source: Tatyana Romanova/RIA Novosti
And when in 2012 the anti-establishment group Pussy Riot organized a "punk prayer" (sang a song criticizing the government in a cathedral while wearing balaclavas) and were arrested, Muscovites held a flash mob called "Let's turn Moscow into Balaclavagrad" and as support for the convicted musicians put masks on the monuments of Pushkin and his wife.
Subscribe to get the hand picked best stories every week
All rights reserved by Rossiyskaya Gazeta.