Kolomna Aerograd: Why are foreigners coming to Russia to parachute?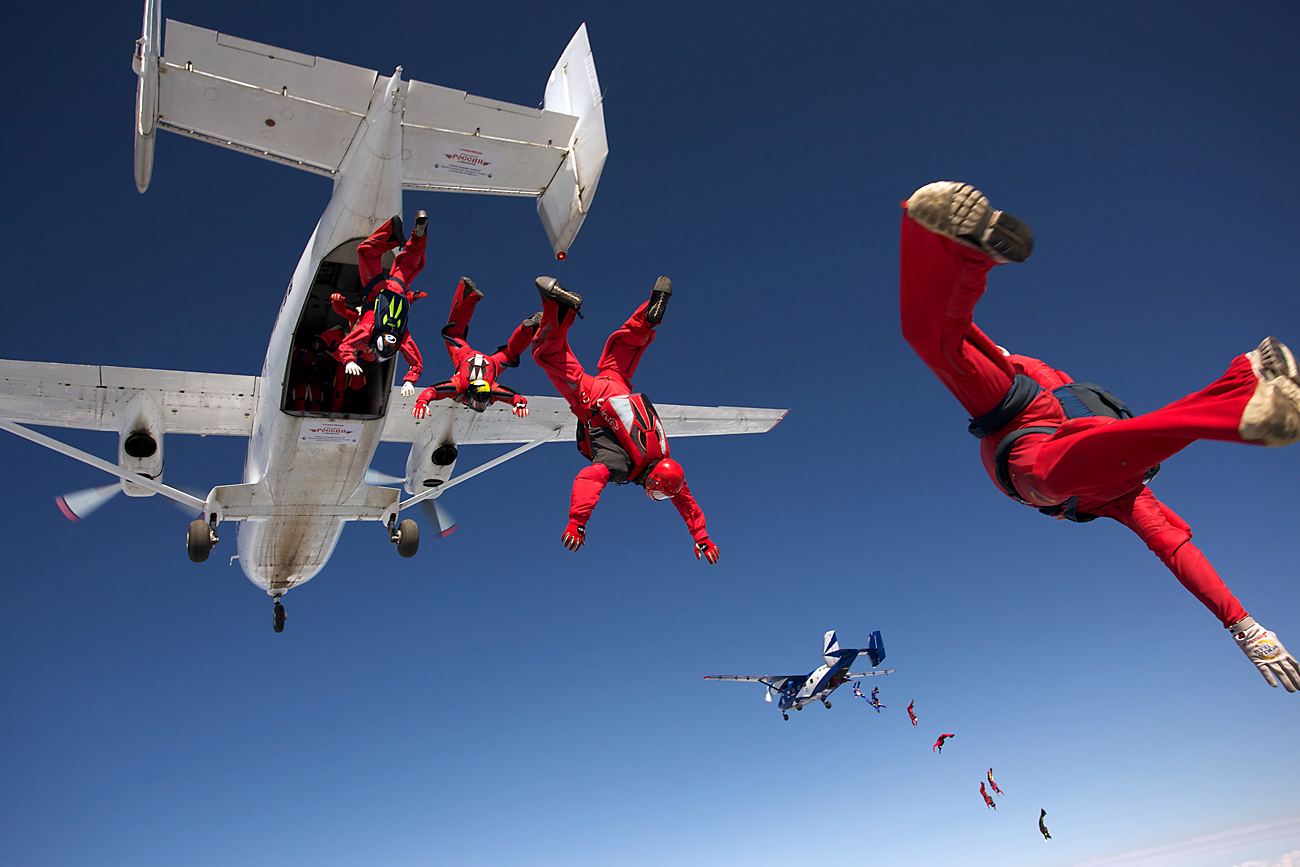 160 people make up a formation during the Russian Record 2009 skydiving championship in Kolomna.
Igor Kalinin/RIA Novosti
Each year more and more foreigners are coming to Russia in order to learn how to parachute, with classes at Kolomna Aerograd especially popular. RBTH found out more.
There are many small and cozy towns in the Moscow Region, but one is holds a particular charm for foreigners: Kolomna (about 75 miles southeast of Moscow). The town, one of the oldest and most beautiful towns surrounding Moscow, attracts tourists with its kremlin and historical center. It is also appreciated for its wonderful pretzels, marsh mellows, kvas and typically Russian landscape.
However, Kolomna has another, more surprising claim to fame – a flying club called Aerograd. The club, where you can learn to jump with a parachute and fly a plane, has existed for more than 15 years and is only a 20-minute ride from the city. In professional circles it is believed that Aerograd is one of the best parachuting schools in Europe. But why do some foreigners prefer to jump in Russian rather than in Europe?
Kolomna Aerograd. Source: Aerograd Kolomna/YouTube
Why Kolomna?
The club first began to attract foreign clients in 2003. That was when the necessary infrastructure for the drop zone was created: hotels, restaurants, an aviation school, summer and winter hangars for storing and stacking parachutes and rest areas. It was around this time that the flight club's director, Roman Valerievich Lednev, began advertising Aerograd in various foreign extreme sports magazines.
"People flooded the place immediately," says parachute instructor Daniil Boroveyev. "The main reason for success is that it costs less to parachute with us in comparison to places in Europe or America. Even with the flight over and the room and board. Also, the summer temperatures are milder here. Climatic factors play an important role, especially when you are learning to parachute."
World Championship 2015 at Kolomna Aerograd. Source: Aerograd Kolomna/Youtube
Most foreigners come to Aerograd from the Middle East, though Boroveyev notes that there are also many Italians, French and Chinese. "Even people from New Zealand and Australia come here," he says.
There are 40 instructors at Aerograd, three of whom work with foreigners: Two teach and one explains the accelerated freefall method in English. Boroveyev is one of them and is currently teaching Funda, a woman from Turkey.
Boroveyev believes that the most difficult element in working with foreign students is the language barrier.
"Sometimes it leads to psychological problems. Each nation has its own cultural code, its own mentality. That which is funny or serious for Russians can be perceived in a completely different way by an Egyptian, a Frenchman or a Chinese," he says.
"Usually we relax the students with jokes. But far from all foreigners understand Russian humor and this can create even more tension. That is why with some people we must work more on the psychological level."
Setting a world record at Kolomna Aerograd. Source: Aerograd Kolomna/Youtube
Entering an international dimension
Besides the Russian instructors, there are also foreign teachers. The flight club has always invited specialists from all over the world for the summer period. For a separate fee anyone can learn the tactics, techniques and entire methods such as freefly, swoop, freestyle or group acrobatics with a foreign instructor. You can even meet freefly inventor Olav Zipser or internationally renowned swoop pilot Cornelia Mihai.
Meanwhile, more and more international competitions are being held at Aerograd.
"This year we organized the Friend's Meet 2016 competition for friendly large formation competitions," explains Boroveyev. "Four teams with 17 people each participated: Kolomna Drive (the flight club's combined team), the Tanai and Puschino drop zones combined team, International 16-way (a mixed team) and a French team. Each team's objective is to build as many figures as possible. We have even hosted stages of the Swoop World Cup several times."
Daniil Boroveyev's students speak about their lessons at Aerograd:
Meltem Funda Sakik, Turkey"I heard from my friends Kolomna is a very good place for skydivers and the prices are OK. The second reason – I heard Daniil is a really good trainer.""It is my second trip to Russia. I have many friends in Russia, and Daniil is one of them. He is a very professional coach. He made me a high-level parashutistka [skydiver]. I even learned the Russian language!"Mostafa Mamoun, UAE"I have been to two drop zones in the Netherlands (Texel Island and Teuge), but there are more advantages in Aerograd. It is bigger and has more facilities. The instructors in Aerograd are all good, very helpful and always willing to give information even if I'm not their student. Also, some drop zones in Europe work only on the weekends, but Aerograd is open every day.""I don't have really negative points against Aerograd, but I think that a famous and big international drop zone like Aerograd should have more English speakers on the team."Matan Raveh, Israel"I came to Aerograd because I had received recommendations from my friends that also skydive. Skydiving in Israel is extremely expensive and the professional level is not that good. For example, the AFF course in Israel costs about $2,500. To compare, my whole vacation in Russia, including flights, AFF course, re-jumps, taxis, hotel, food, A-license and more cost me about $4,300.""In general, Aerograd was a very nice place to be, the atmosphere is very good. The only disadvantage is that it's far away from everywhere."
Subscribe to get the hand picked best stories every week
All rights reserved by Rossiyskaya Gazeta.