12 Russian songs from the NASA wake-up playlist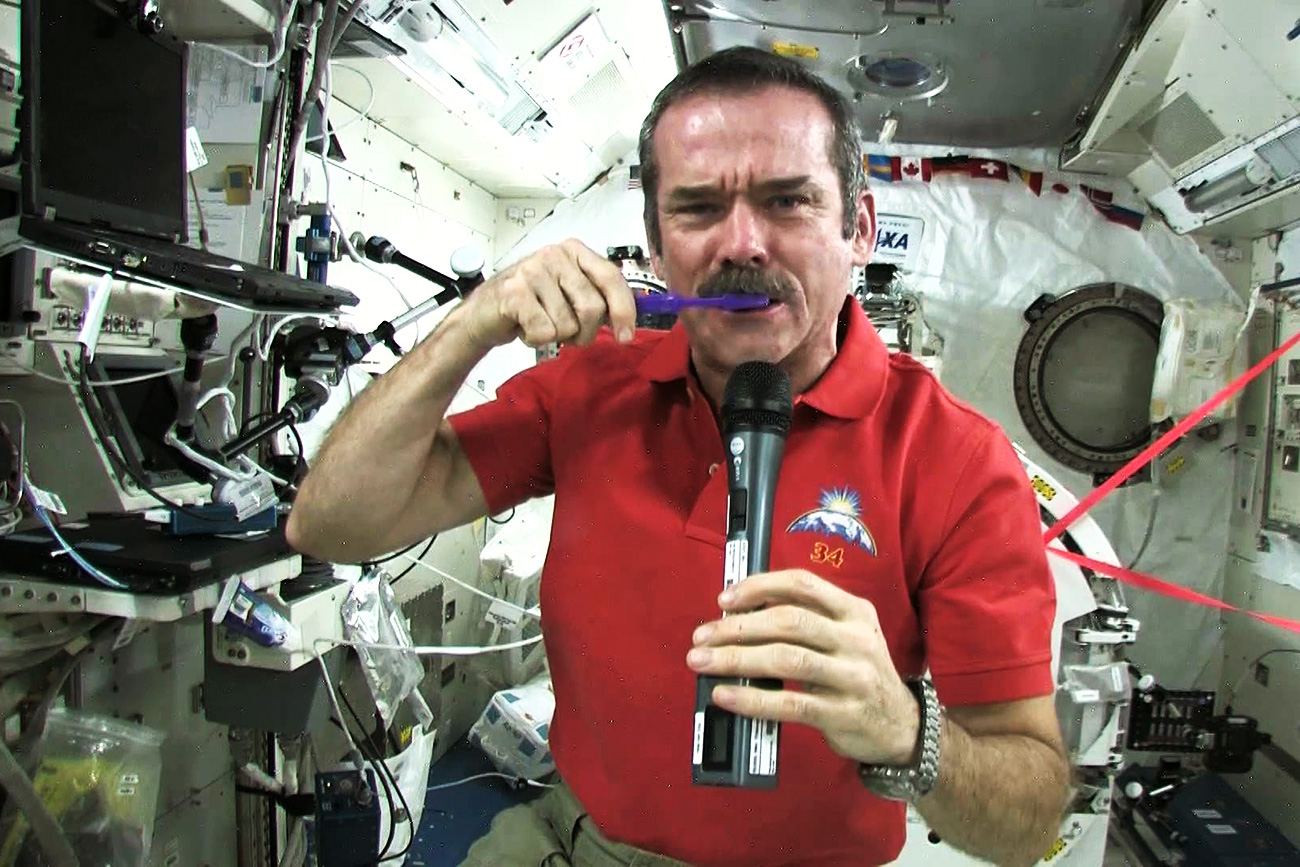 Chris Hadfield brushes his teeth in space.
Canadian Space Agency and NASA
The NASA History Division has compiled a list of all the songs that have been used as wakeup calls for astronauts during their missions to space. We have selected the Russian tracks from the list. Download these songs on your phone to feel like an astronaut in the morning. Enjoy!
Colin Fries from the NASA History Division writes in his Chronology of Wakeup Calls that during the first missions, such as Gemini and Mercury, there were no formal wakeup calls sent to the crews since these were rather short expeditions. Beginning with Gemini 7, the endurance of the astronauts began to be tested because this mission lasted almost two weeks, and the tradition of the wakeup song was born. This tradition has been a regular occurrence since Apollo 10.
1. Russian Overture and Ludmilla Overture by Glinka
This melody by the classical Russian composer Mikhail Glinka was sent on one of the earliest space missions, Gemini 9, which lasted for three days in June 1966. According to mission notes, this selection was played on the spacecraft on June 6 – what a great wakeup call!
2. Tenderness– Maya Kristalinskaya
This song by popular Soviet singer Maya Kristalinskaya was the morning tune for the crew of the Apollo-Soyuz Test Project for two days in a row on July 19 and 20, 1975. On the first day, this soft and calm composition failed to awaken the crew, but on the second day, the song successfully roused the astronauts from their slumber.
3. 1812 Overture by Tchaikovsky
An excerpt from Pyotr Ilyich Tchaikovsky's 1812 Overture, which was written to commemorate Russia's defense against Napoleon's army, was broadcast on Nov. 13, 1984. This was followed by an aria from the opera Carmen by Hector Berlioz broadcast to the Space Transportation System (STS) 51-A. However, the crew did not hear either wakeup call.
4. Dance of the Flowers from The Nutcracker by Tchaikovsky
For the next 10 years, Russian compositions were not used as wakeup calls. However, in 1994, some Russian folk tunes were played in honor of Mission Specialist Sergei Krikalev, the first Russian cosmonaut to fly aboard a U.S. STS spacecraft. On Nov. 13, 1995, a Russian wakeup call was once again used. This time Tchaikovsky's Dance of the Flowers from The Nutcracker was broadcast to this mission into Earth's orbit, "referring to the orbital ballet Atlantis will perform to dock with Mir," Fries writes in the chronology.
5. Friends, We Are Migrating Birds – Vasily Soloviov Sedoi
This cheerful song from the 1945 Soviet comedy film, Heavenly Slug, is a tune sung by pilots, so it is also fitting for astronauts. It was played on Jan. 15, 1998, for the STS-99 crew.
6. Trepak from The Nutcracker by Tchaikovsky
Yet another great composition from Tchaikovsky's ballet The Nutcracker(after Dance of the Flowers) is Trepak, a traditional Russian dance. This loud, lively melody woke up the crew of the STS-88 on Dec. 11, 1998. It was played in honor of cosmonaut Sergei Krikalev.
7. Haze Has Melted Away–Konstantin Nikolsky
NASA's selections from Russian repertoire are quite diverse and sometimes unpredictable. It was this song by Konstantin Nikolsky that was played for the STS-106 mission on Sept. 14, 2000.
8. Moscow Windows – Russian folk song
On March 18, 2001, the STS-102 crew was woken up by this cozy folk song. We are not sure which rendition NASA chose, but we recommend this one, by the legendary Russian actress of Soviet times, Lyudmila Gurchenko.
9. Behind the Fog– Russian folk song
This song was played on the STS-100 space craft for Endeavour crew member and Russian cosmonaut Yuri Lonchakov on April 21, 2001. NASA lists this as a Russian folk song, but it was actually written by the almost-forgotten musician Yuri Kukin. After his original performance, many people covered this song including the bard Yuri Vizbor and the popular reggae band Boombox
10. My Sweetheart– Traditional Russian song
This folk song was played for three Russian pilots Onufrienko, Dezhurov and Tyurin on Dec. 14, 2001 on the STS-108. We suggest you to listen the version of this song performed by renowned tenor, Dmitri Hvorostovsky.
11. Clear Ponds – Igor Talkov
Known in Russian as "Chistye prudy," this translates to Clear Ponds in English. This song by Igor Talkov was played on Dec. 2, 2002.
12. Plot– Yuri Loza
The very next day, following the wakeup call of Clear Ponds, NASA woke astronauts with yet another Russian song. This time they played "Plot" by Yuri Loza, which translates to Raft. This song is rather popular in Russia and has very uplifting lyrics: "But my raft. A retinue of songs and words. All my troubles out of spite. It is not so bad!"
If using any of Russia Beyond's content, partly or in full, always provide an active hyperlink to the original material.