Russian theater goers lap up Queen Elizabeth II play 'The Audience'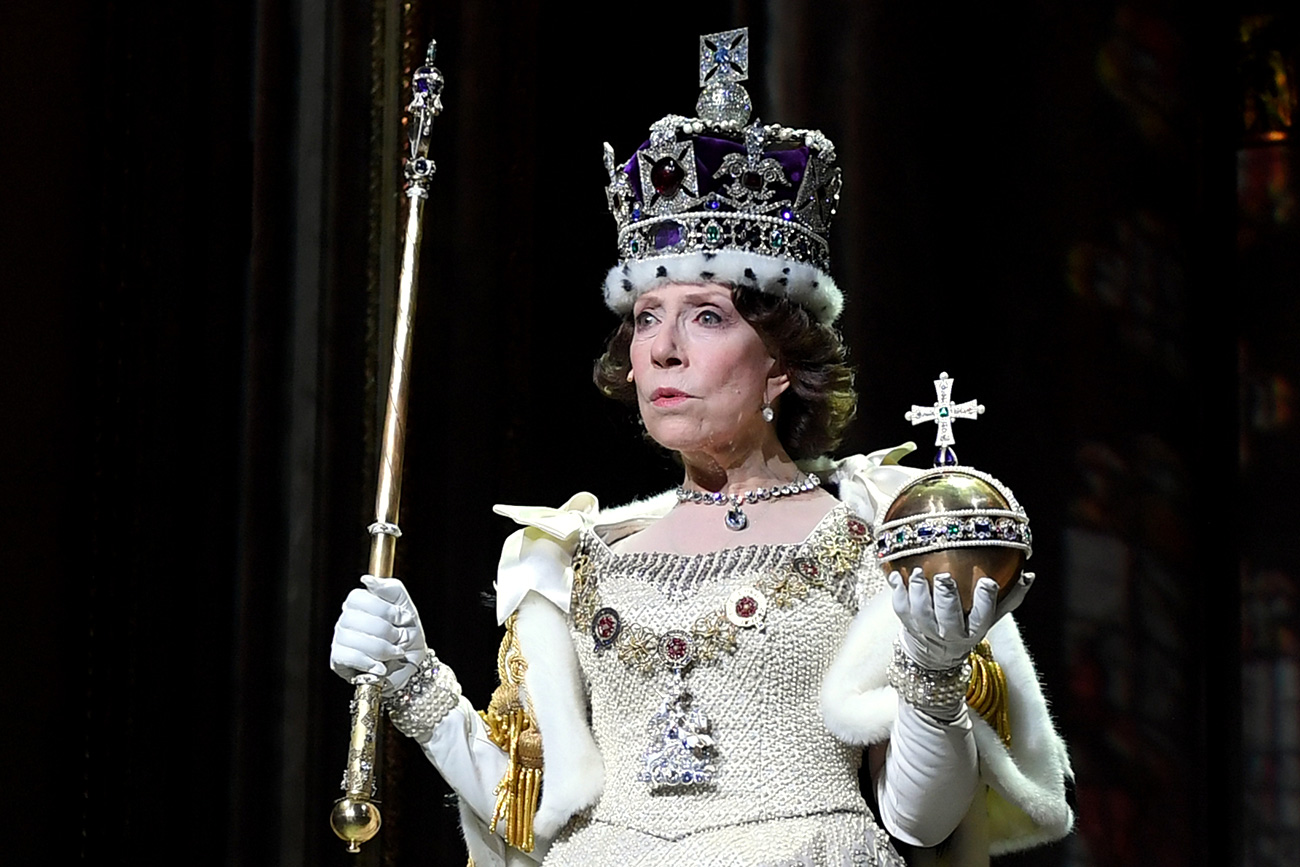 Actress Inna Churikova as Queen Elizabeth II in an episode from the play 'The Audience' at the Theater of Nations.
Ekaterina Chesnokova/RIA Novosti
British playwright's piece on British monarch proves a raging success at Moscow's Theater of Nations.
On April 25, Moscow-based Theater of Nations premiered the Russian version of Peter Morgan's play The Audience. Staged by director Gleb Panfilov, the performance features legendary Soviet actress Inna Churikova ("Russia's Helen Mirren") in the main female role. Churikova, who holds a Berlinale award for best actress in the Soviet film "Wartime Romance," is Panfilov's wife.
"The idea to stage the play was suggested by our son Ivan," Panfilov told Gazeta.ru. "He had watched The Audience in London, was mesmerized by it, returned to Russia and enthused us. So what we have here is, in a way, a family business."
The play tells the story of the weekly 20-minute audiences granted by Elizabeth II to prime ministers throughout her reign. Since the content of these meetings is never made public, Morgan based his piece on memoirs by retired premiers and media reports.
The Lioness of Aquitaine
(based on James Goldman's play
The Lion in Winter
) at Moscow's Lencom Theater. Media reports suggest that Churikova's exclusive right to play Morgan's Elizabeth II was enshrined in the contract at the playwright's insistence.
Russian media and social networks are full of positive comments on Churikova's performance.
"One cannot get used to the great Inna Churikova's masterful ability to switch ages within seconds," Rita Ehrman writes on Facebook. "The actress does not grant herself any luxury. One cannot but think of how some people are gifted with the ability to merely hint at a movement of their lips in order to convey (or, better put, live through) an emotion that would be visible from the farthest seats in the audience!"
Elena Posuvalyuk comments: "When staged in London in 2013, Morgan's play featured Helen Mirren, who had already played Elizabeth II and who was replaced by younger actresses on stage as required by the plot. [Churikova] swaps dresses and hairdos instantaneously (I counted nine separate images) to match the Queen's changing image in the 60 years of her reign."
The play runs until July.
If using any of Russia Beyond's content, partly or in full, always provide an active hyperlink to the original material.