Slave to the rhythm: Kremlin crooners aim to top the charts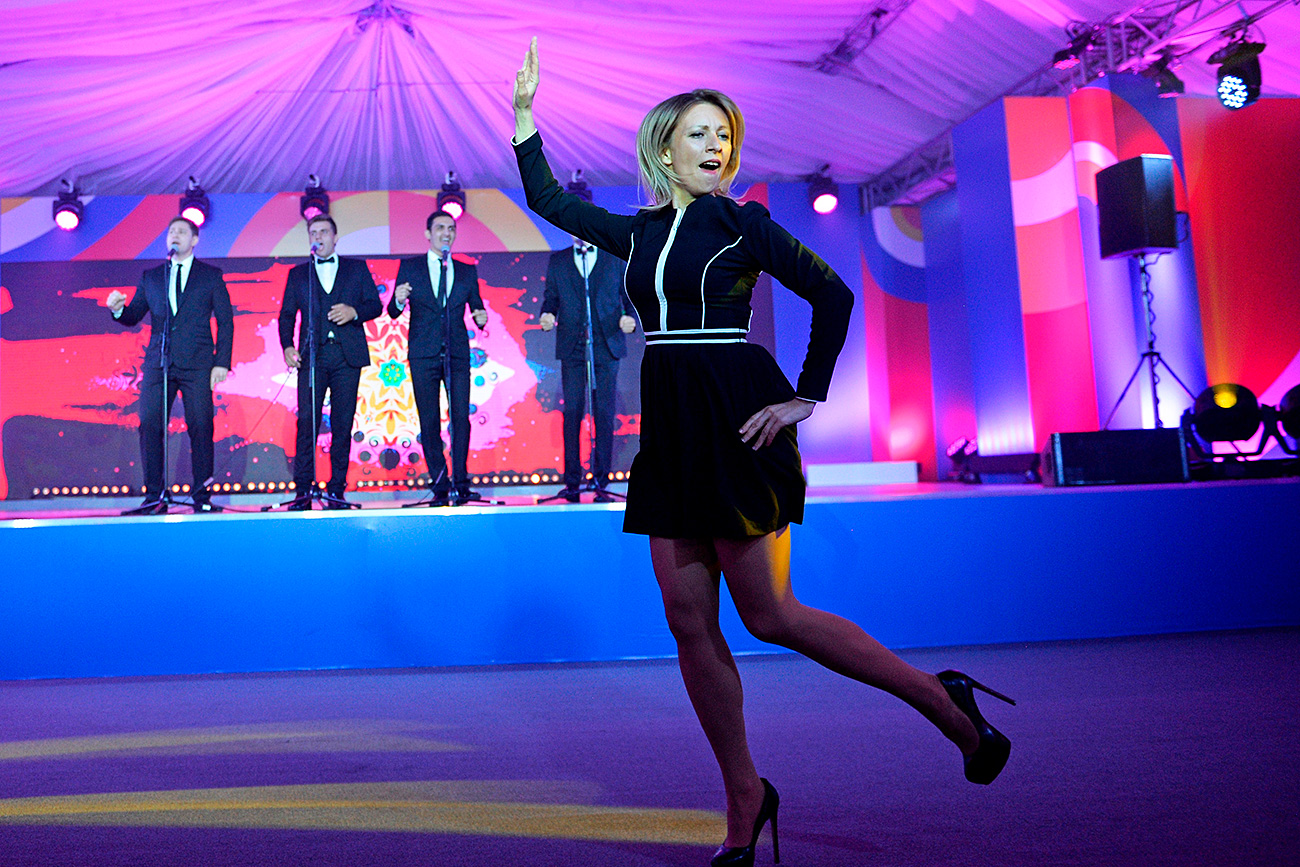 Russian Foreign Ministry spokeswoman Maria Zakharova dances 'Kalinka'.
AP
Everyone knows that President Vladimir Putin is a piano virtuoso; but other state officials are breathing down the president's neck on the country's semi-artistic hit parade. They are writing and performing songs everywhere, even after arrest.
Maria Zakharova, spokesperson of Russia's Ministry of Foreign Affairs, is often in the headlines, but few know that she writes songs that are then performed by popular singers.
Zakharova's song, which is dedicated to Russian servicemen dispatched to Syria, was recently performed at the 2017 Moscow International Film Festival where viewers listened to it standing while the author could not hold back tears.
In fact, Zakharova is rather an exception. The muse of song often visits Russian bureaucrats while they are under arrest or investigation.
State property, $6 billon, and red slippers
In 2012, a corruption scandal rocked the Ministry of Defense, and chief among the accused was Evgenia Vasilyeva, head of the ministry's department of property relations. She was held under house arrest for the duration of the investigation, from 2012 to 2015. But unexpectedly, after two years of house arrest, Vasilyeva's video clip, "Red slippers," appeared and became a YouTube hit.
Despite its rather simplistic lyrics, the music video has had 2.7 million views.
"Little rose, pink sunset / Red slippers are looking at me / Ah, what slippers! Oh, what an outfit! / Oh, what a sweetheart you are! Oh, what a sunset!" sang the defendant who later received a 5-year jail term [for corruption, not the song].
This, however, has not stopped other Russian state officials from trying to hit a beat.
Fallen minister and blatnyak bard
Verses by Alexei Ulyukaev, the first ever federal minister arrested [for allegedly taking $2 million in bribes], got him 15 minutes of fame after the Investigative Committee went public about his case. Oleg Simonov, the lead singer of a Russian chanson band that is known for lyrics romanticizing the criminal underworld, announced that he was ready to put Ulyukaev's verses to music and produce a song based on his poetry.
Smirnov didn't doubt the quality of the minister's verses even though he still hadn't earned his stripes with a real prison term.
"If a person is sent to jail, it doesn't mean his poems are good. There are those who did not serve [a jail term – RBTH], but they still write good poetry. Those who served their term, however, do not have to invent anything, they know it all from experience," said Smirnov.
While the former minister remains under investigation, the band hasn't yet delivered on its promise, and continues to please fans with only its old repertoire.
At liberty to create
Another striking example of a creative personality in high office is Dzhokhan Pollyeva, who has worked as a speechwriter to three Russian presidents, including Vladimir Putin. In this video, the famous singer and composer Alexander Buynov performs Pollyeva's lyrics to the melody of Adriano Celentano's, Confessa.
If using any of Russia Beyond's content, partly or in full, always provide an active hyperlink to the original material.