Don't miss the opportunity to see St. Petersburg's rooftops risk free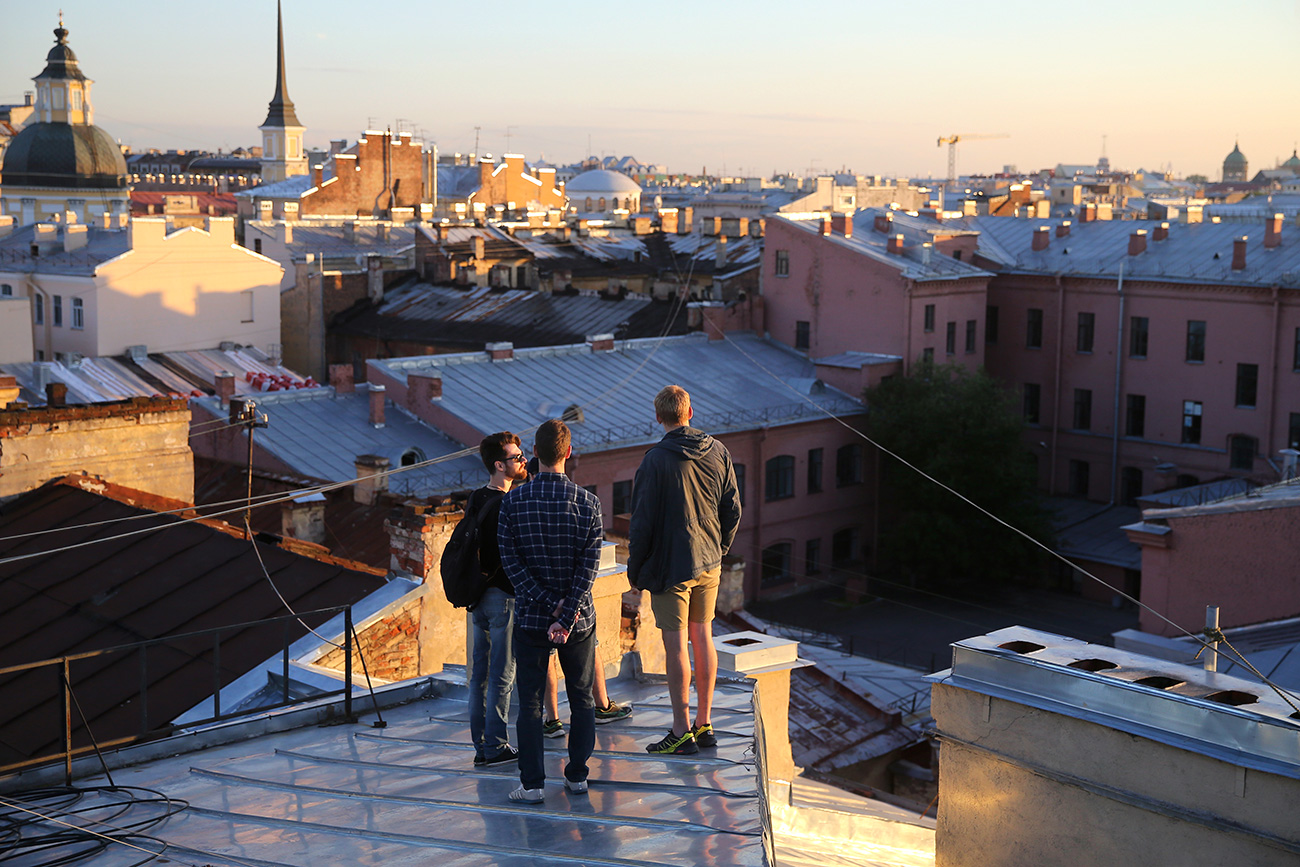 ST PETERSBURG, RUSSIA - JULY 27, 2017: People on a guided tour around the rooftops in Liteyny Avenue.
Peter Kovalev/TASS
Visitors and locals of Russia's second largest city will soon be able to look down from high above after thanks to a new initiative, but the "roofing" community is angry.
Wannabe "roofers" can now scale St. Petersburg's buildings in safety after the authorities green-lighted the installation of handrails and footpaths on three building tops in the Russian city. People will even be able to get guided tours.
"Roofers"- daredevils who climb knee-jerkingly high buildings and hang off sheer drops without safety gear - have gained massive followings on social media in recent years. They take selfies and panoramic shots over incredible cityscapes from the world's most iconic structures, before uploading on Instagram and Facebook. The new initiative in St. Petersburg has been frowned upon by real adrenaline junkies, who say it will ruin the "romanticism" of the activity by eliminating the risk factor.
"It's best to climb rooftops that are not adapted for scaling: It gets the blood pumping and you need to take certain risks which make the experience so exciting," a Russian roofer, who prefers to remain anonymous, told RBTH.
Climbing on a rooftop certainly involves risks, death being one of them. But it also involves a lot of creativity, intuition, and craftiness. Roofers have to plan their ascents meticulously, study entrances to buildings, plan quick exit routes in case the police arrive (it's illegal after all), and sometimes find/steal keys to unlock doors.
But the rogue city climbers don't think they are harming anyone by doing what they love. "It's simply not possible for the police or local residents to cause us any trouble: We are very quiet when climbing roofs and try not to bother people. Besides, they will never know the paths we know about," the unidentified man added.
Despite the roofers disapproval, the public can now scale St. Petersburg's buildings safe in the knowledge they aren't breaking the law - or putting their lives in serious peril.
If using any of Russia Beyond's content, partly or in full, always provide an active hyperlink to the original material.