How a mysterious monk fused Russian folk with drum'n'bass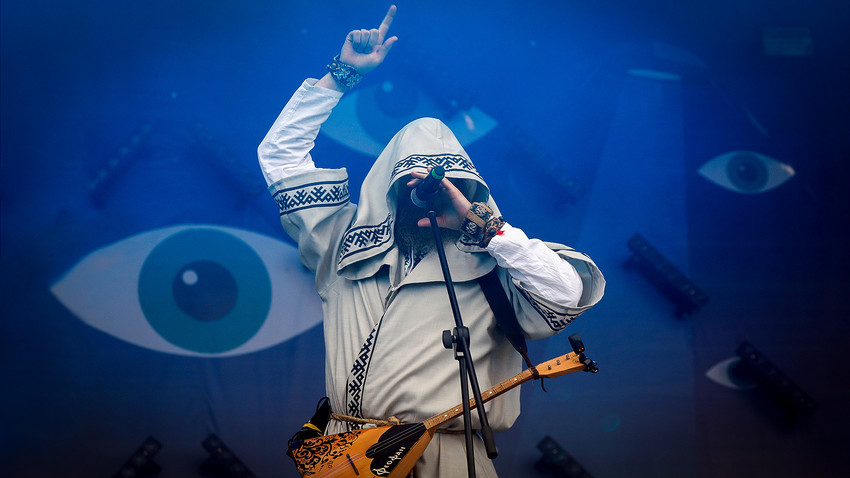 Old Slavic vibes, dancing with a bear, and a shadowy personality – this is what it takes to be Neuromonakh Feofan.
What do you get when you mix Drum and Bass ("DnB"), traditional Russian clothing, and folk music? A band of Russian musicians dressed as monks taking Russia by storm. Paired with a dose of mystery and outstanding live-performances, Neuromonakh Feofan (monakh means monk in Russian) went from playing beats in his bedroom to touring around the world, all in three years. But who is Neuromonakh Feofan? Well, it's kind of hard to say.
The first thing you notice when you see Neuromonakh is the long, baggy hood covering his face. His anonymity is a recurring act, both when performing live and in music videos. It might seem like a gimmick at first, but in reality, the man (we know this much) behind the artist, has never officially revealed his identity, preferring the mysterious image of his artistic alter-ego.
In an interview with Yury Dud (famous Russian interviewer), Neuromonakh admitted that he first started mixing genres as a late-night, after-work hobby. As his music gradually took off from reaching the relatively small number of niche listeners to the mainstream, he did what any up and coming folk drum and bass musician would do - he started a band and ventured into the uncharted territory of drum and bass folk music.
The band was quick to adopt an image to match the music, adding authenticity to an otherwise bizarre combination of genres. Sarafans, kosovorotkas, and bast shoes (traditional Russian clothing) became a permanent component of their on-stage attire. They took it even further by touring with a bear - the ultimate Russian stereotype. Well, it's a band member in a bear suit, but still, it's hard to imagine anything more symbolically Russian… except for a bear dancing to songs performed with a balalaika, which, as you may have guessed, just happens to be the band's main instrument.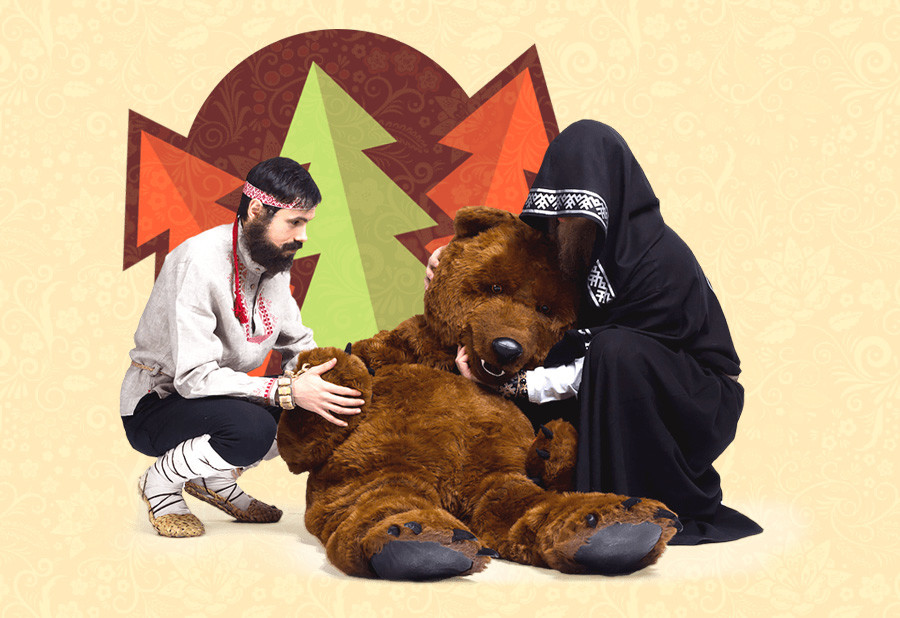 Their lyrics are also neatly blended into the old-slavic vibe of the band. In one of their most famous songs, "I want to dance" ("Хочу в пляс"), a song which in many ways resembles a Russian version of the early 2000's hit "Because I got high" by Afroman, Neuromonakh reflects upon his unwillingness to do the traditional everyday tasks of a Russian peasant:
I'd go and cut the grass,
I'd go and warm up the bathhouse,
I'd go and feed the chicken,
I'd go and wash the floor in the hut,
But afterwards, not now
Because now I want to dance!
It's catchy, and even though most of the band's songs are set in a historic context far from the urban lifestyle of most modern Russians, they're surprisingly relatable. It might be the average Russian relation to the "dacha" (country house), where many Russians still grow fruit and veg. It might be the light hearted portrayal of traditional life in a new context. Whatever it is, Neuromonakh undoubtedly brings a fresh take on both traditional and dance music.
In an interview with Meduza, famous Russian musician Sergey Shnurov (from the band Leningrad) described the band as "a combination of the incompatible, they are Orthodox atheists, they are believing communists". Three years and millions of views on YouTube, the release of an album, and countless tours later, one thing is clear; Neuromonakh has gone far and beyond just being a musical parody.
With their last album reaching the Russian iTunes top 10, and their concerts across the country winning them the Yandex "Russian independent Performer of the Year" award, these monks are definitely worth looking out for.
(As a side note, if you've ever felt it's hard to get into folk music, this might just be your best bet.)
Read more: Meet Monetochka, the popstar fast becoming the face of young Russia
If using any of Russia Beyond's content, partly or in full, always provide an active hyperlink to the original material.