Address: Kotelnicheskaya Embankment 1/15. Nearest metro stations: Taganskaya, Kitay-gorod
Years of construction: 1937-1952
What's inside: apartments, shops, restaurants, a bank, household services and a cinema.
After the victory in World War II, Stalin's Moscow reconstruction program was supposed to turn the city into an exemplary capital. Seven skyscrapers, dubbed the 'Seven Sisters', embodied its greatness and triumph. The famous Stalinist skyscraper just 900 meters away from the Kremlin was initially built as a residential building. However, it has never been just residential.
How did it appear
The skyscraper was founded on the site of flour warehouses – before, traditionally, there were a lot of windmills at the confluence of the Moskva and Yauza rivers. Four alleys of old Moscow were also demolished for the construction.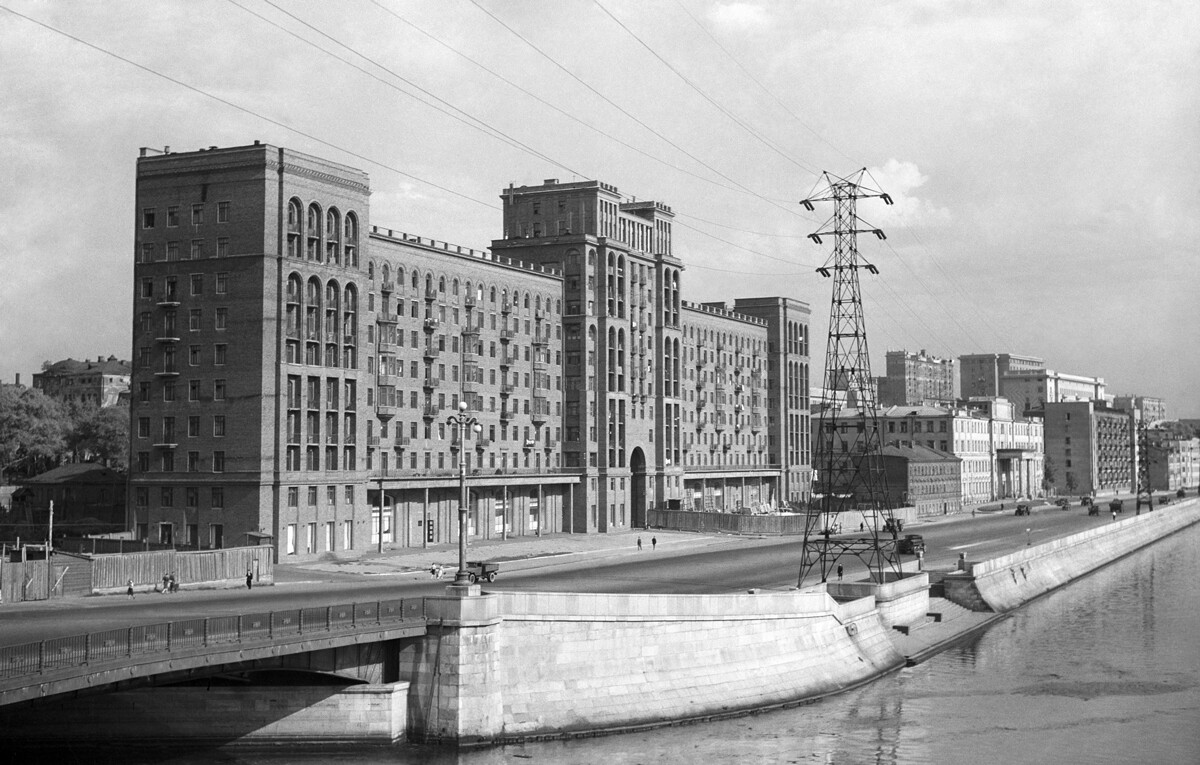 The choice of the district was not coincidental. At the time, this embankment, as well as the part of Balchug Island opposite it, was actively being built up with pompous buildings in the Stalinist Empire style. Initially, according to the general plan of Stalin, it was planned to build not seven, but eight skyscrapers: a skyscraper in Zaryadye was supposed to become the eighth (today, you can find the 'Zaryadye Park' there), but it was not finished; so this one on the embankment ended up being the closest to the Kremlin. It was built by architects Dmitry Chechulin and Andrei Rostkovsky – both recipients of Stalin Prizes.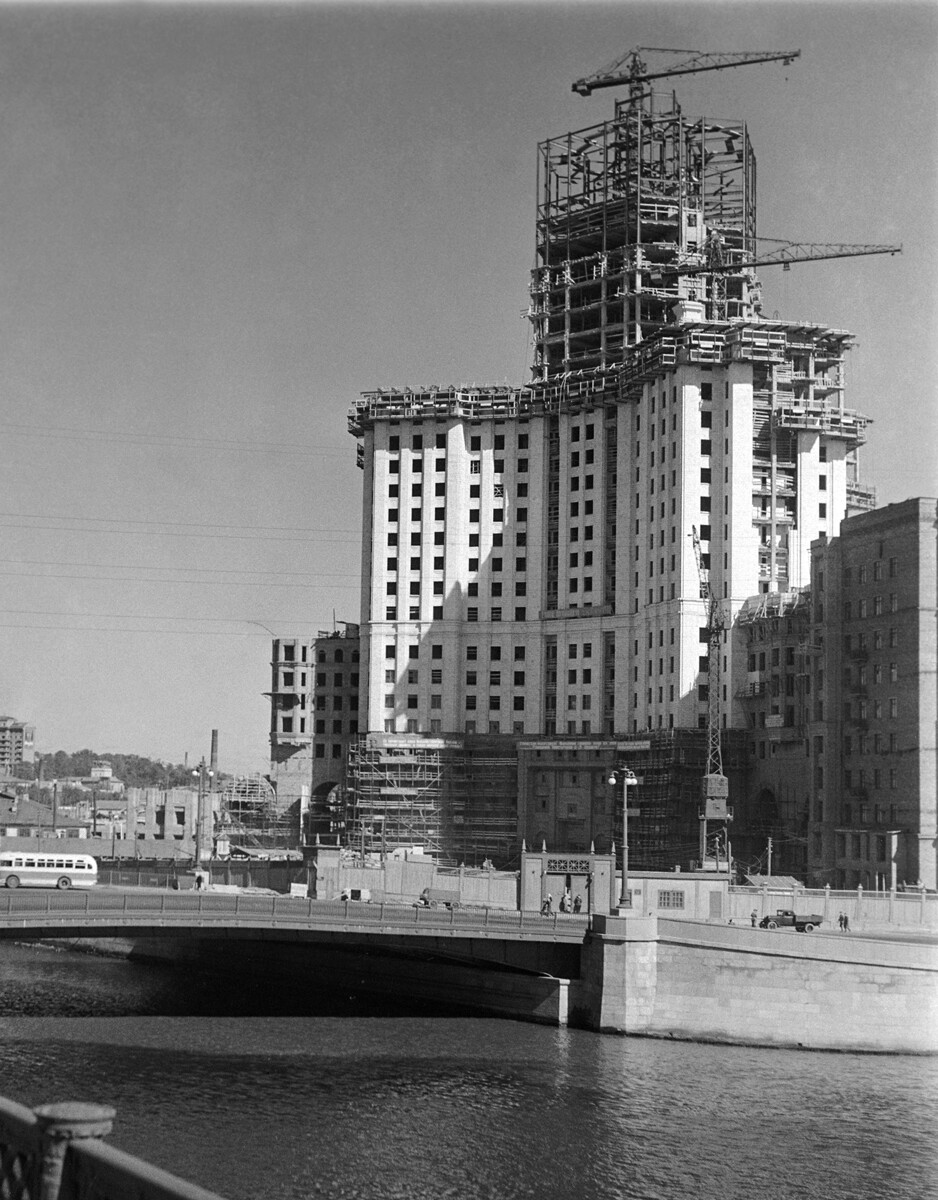 Vasily Egorov/TASS
Just like during the construction of the main building of Moscow State University, GULAG prisoners were involved. Right until 1953, their prison camp was located right on the construction site; in order to not let anyone escape, the entire territory was walled off by a three-meter-tall fence with five lines of barbed wire and a half-meter warning zone – no one was allowed to enter it. Until Summer 1951, prisoners of war, along with regular prisoners, also participated in the construction; they were called the "special contingent".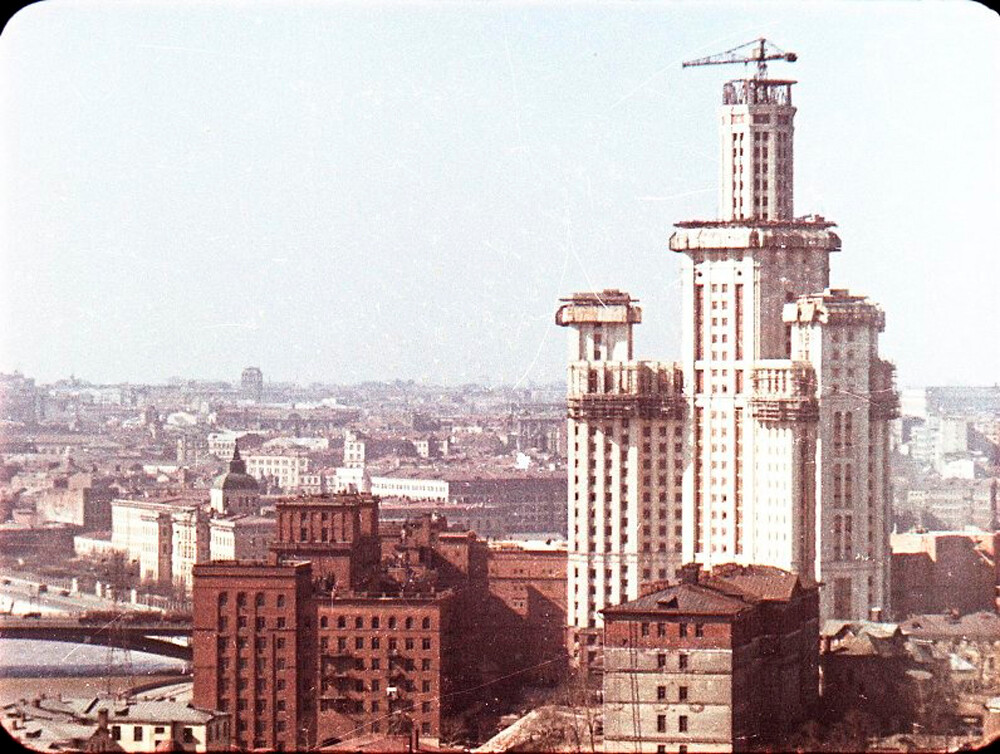 The fact that the building was built by prisoners was well-known among all of its inhabitants. So, today, one of the most popular stories of the local old-timers goes as follows: "When you hammer a nail into a wall or drill a hole, don't get spooked if you hit a skeleton. The prisoners who built this building bricked up a foreman they hated."
Why does it look like this
Architects claim that the style of Moscow architecture of the end of the 17th century – like the Church of the Intercession at Fili – served as reference for this building. The central building has 32 floors; with the spire, it's 176 meters tall. Earlier, the building had 540 apartments, now – about 700. Because of its narrowed-on-top composition, many apartments in the top part of the building are small and inconvenient in their layout; however, that bothered few. Because everything in the building highlighted the status of its inhabitants.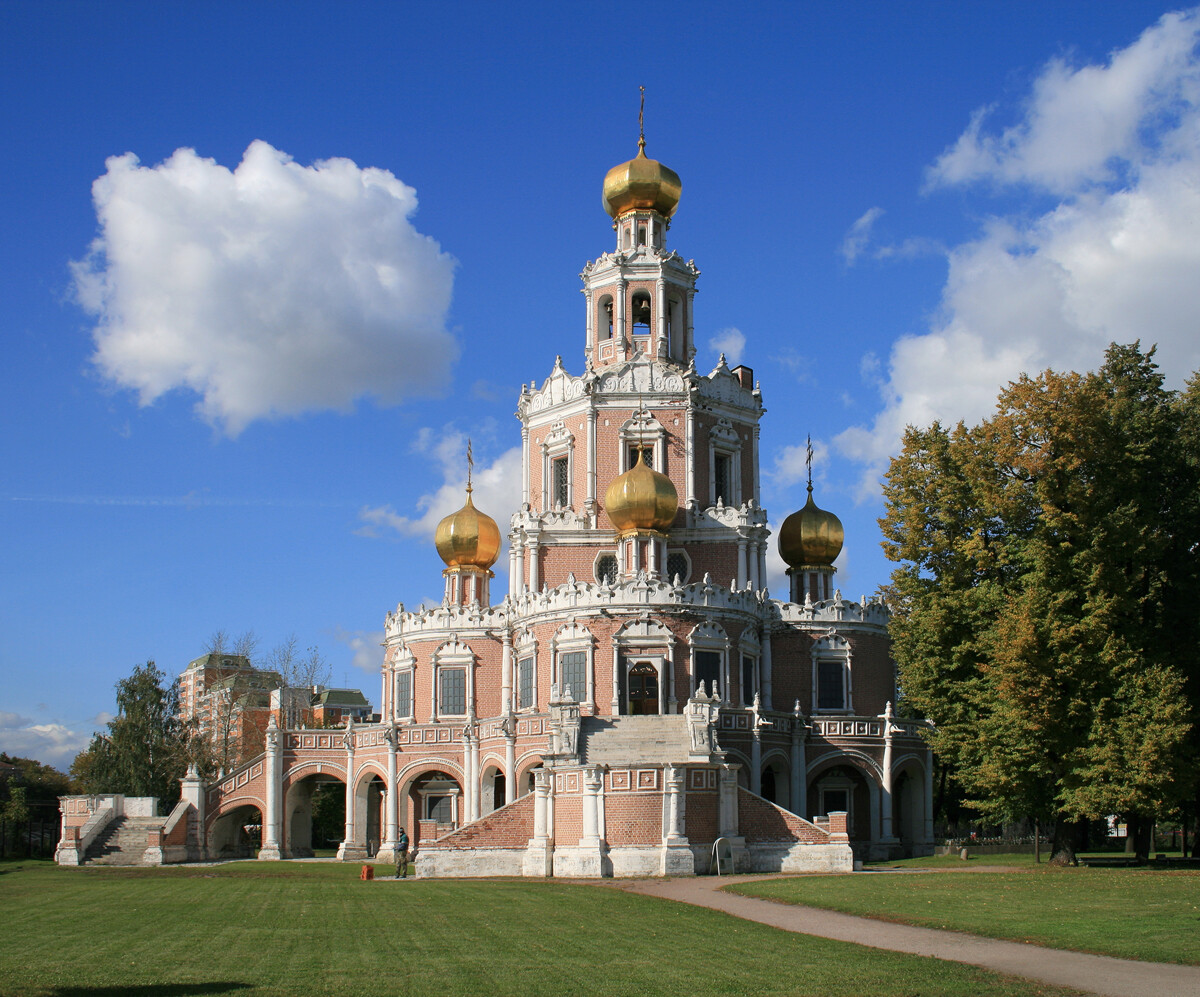 Church of the Intercession at Fili
Ludvig14 (CC BY-SA 4.0)
The central stairwell in its decoration is reminiscent of a luxurious palace: a grand marble staircase with columns, porcelain ivory-colored bas-reliefs, walls lined with granite, sculptures, stacked crystal chandeliers. The building's yard has an underground garage, the roof of which once featured tennis courts.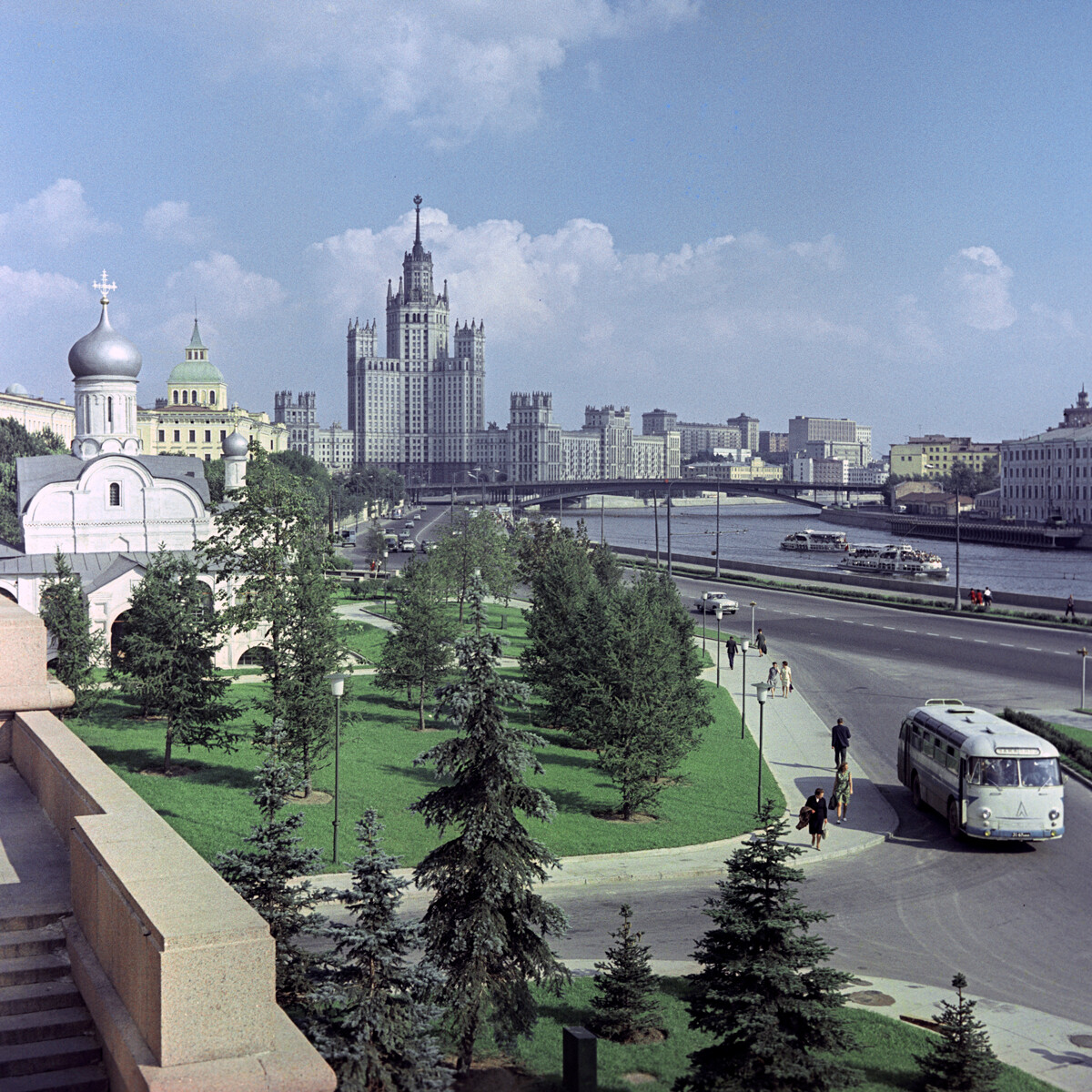 Jacob Berliner/Sputnik
It was assumed that, if they so wished, the denizens of the building would not need to go outside. The building was constructed keeping in mind communal buildings, as a social and domestic complex – with the first floor reserved for trading and household functions (an absolute novelty for the time). The building complex had grocery stores, a post office, cafes, a beauty salon, a laundromat, an art studio, a chess school and a cinema, where movies from 'Gosfilmofond' were shown – the largest movie archive in the country.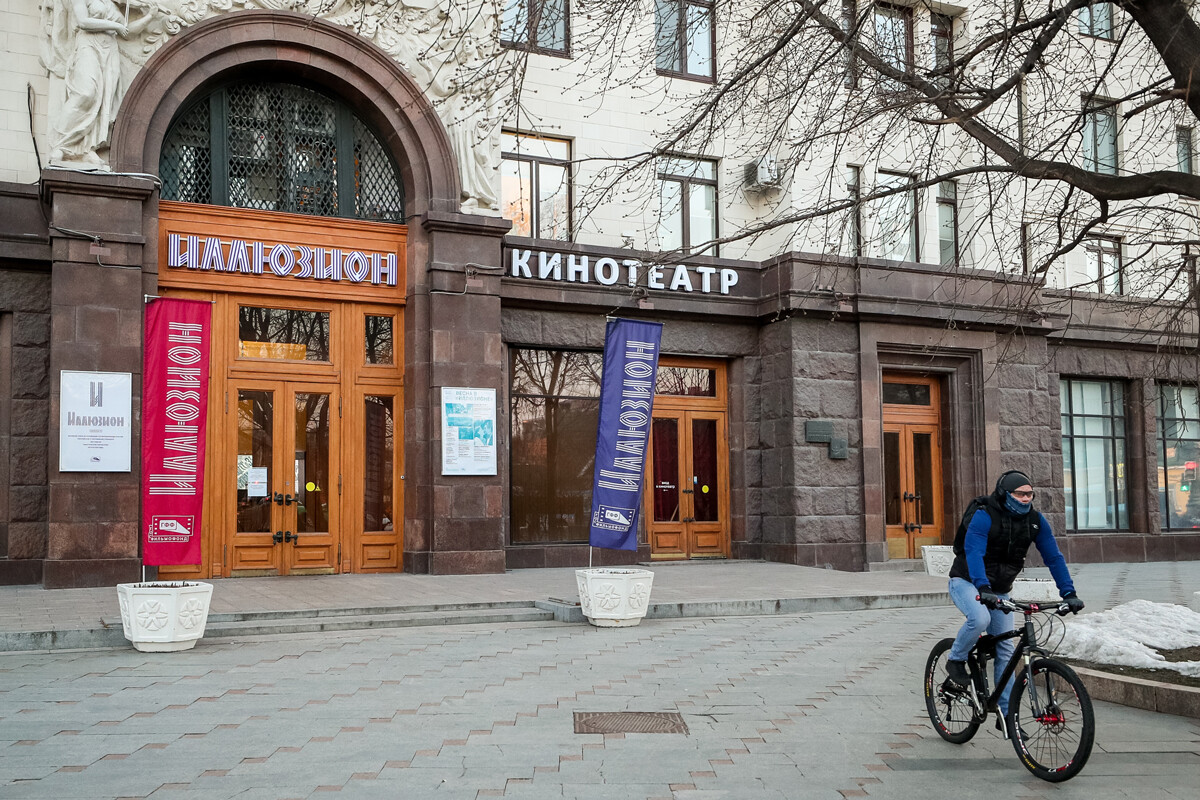 Mikhail Tereshchenko/TASS
This building also featured the legendary sewing studio that made uniforms and civilian clothes – Marshals Zhukov, Budyonny and Konev all had their uniforms made there. Interestingly, the sewing studio's chandeliers participated in the filming of 'War and Peace' by director Fyodor Bondarchuk.
What is remarkable about it
The Kotelnicheskaya Embankment building has long been one of the main symbols of Moscow. It's appeared in iconic movies and TV series – from 'Moscow Does Not Believe in Tears' (1979) to 'Brother 2' (2000) and 'Hardcore Henry' (2015). But, there were more art workers living in it than there were movies filmed featuring it.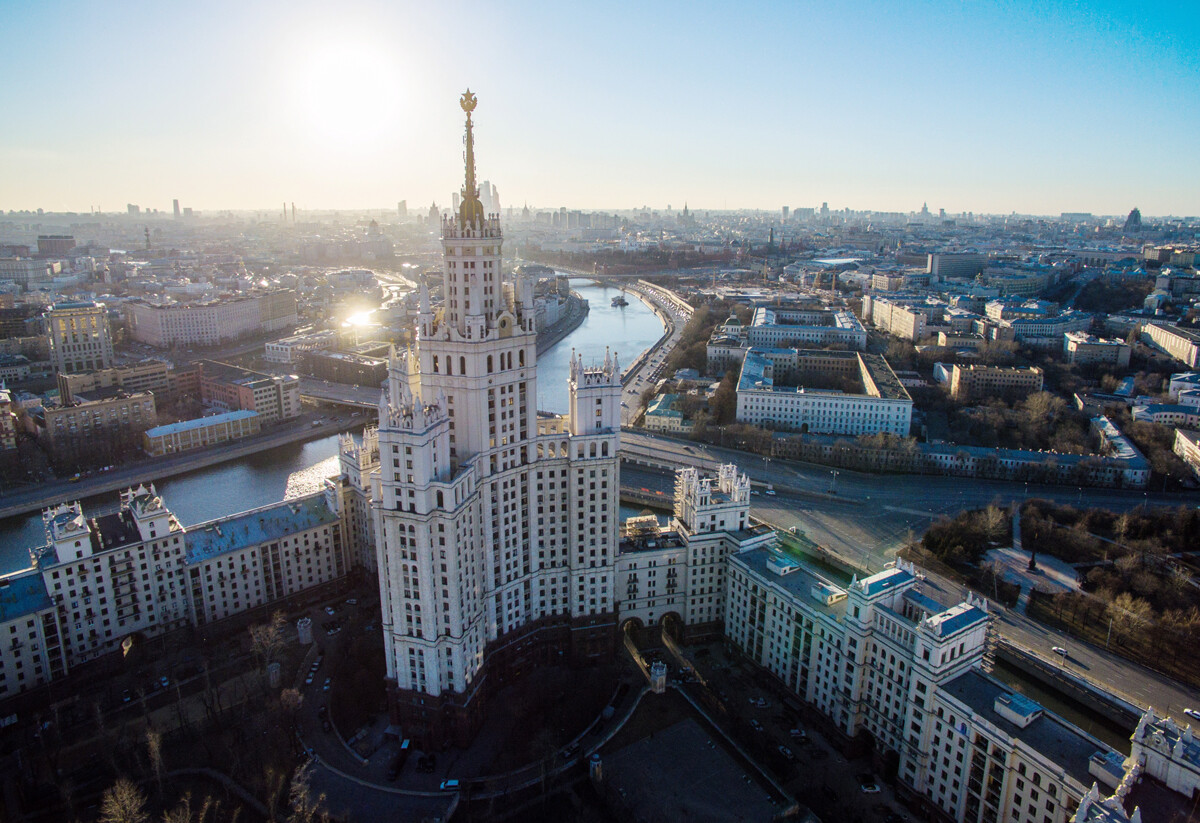 Sergei Bobylev/TASS
Initially, the building was populated by NKVD and MVD officials. The construction was curated by Lavrentiy Beria, Stalin's closest ally, so they decided to give the apartments to "their guys only". Nuclear physicists also made it onto this list – the ones who worked under Beria and researched nuclear weaponry. To further highlight the elite status of the building, creative intelligentsia also settled there.
At different times, poet Yevgeny Yevtushenko, actresses Faina Ranevskaya and Nonna Mordyukova, ballerina Galina Ulanova, actors Aleksandr Shirvindt and Mikhail Zharov, writers Konstantin Paustovsky and Vasily Aksyonov, as well as other art workers lived in the building. Although architect Chechulin fell into disgrace after Stalin's death as the creator of pretentious pro-Stalin architecture, he also received the coveted keys.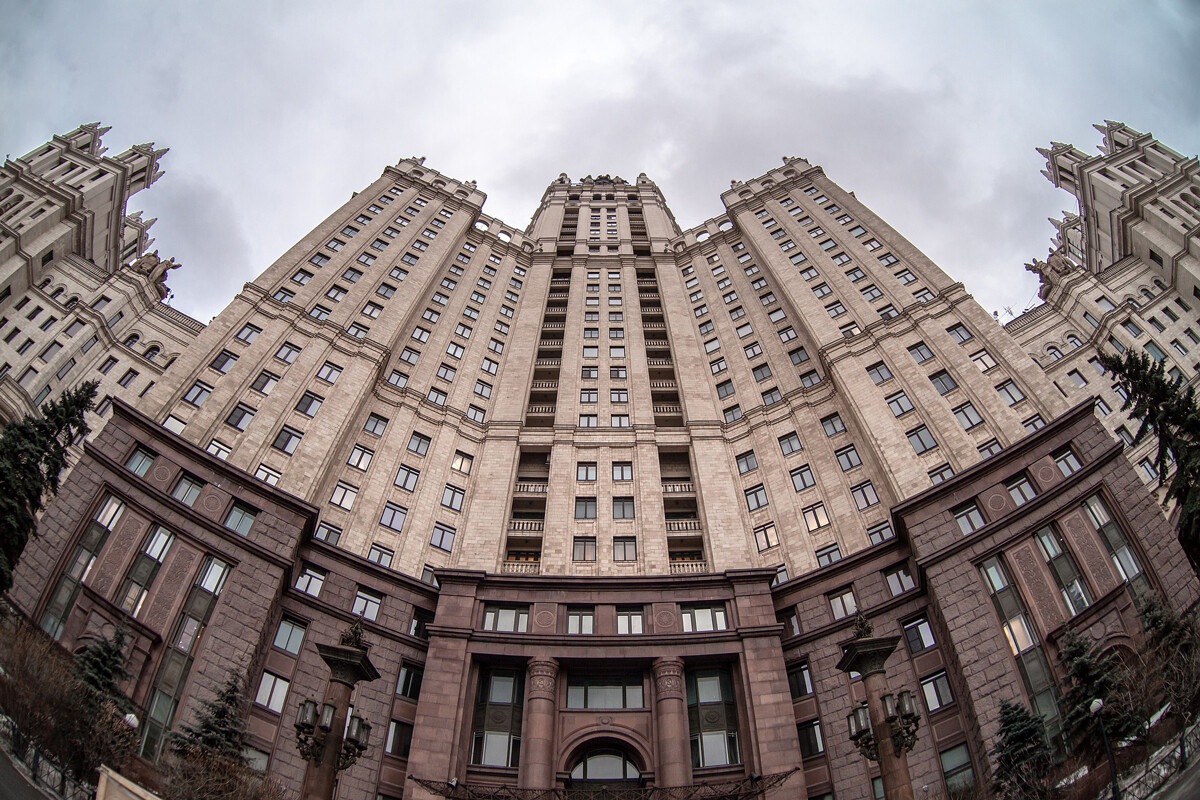 Sergey Norin (CC BY 2.0)
The apartments in the skyscraper were rented out on a "turnkey" basis, luxuriously and fully furnished: with expensive parquet, ceiling stucco, crystal chandeliers, bronze lamps, imported plumbing and modern furniture. Regular Soviet citizens could save up money their entire lives just to afford a crystal chandelier alone.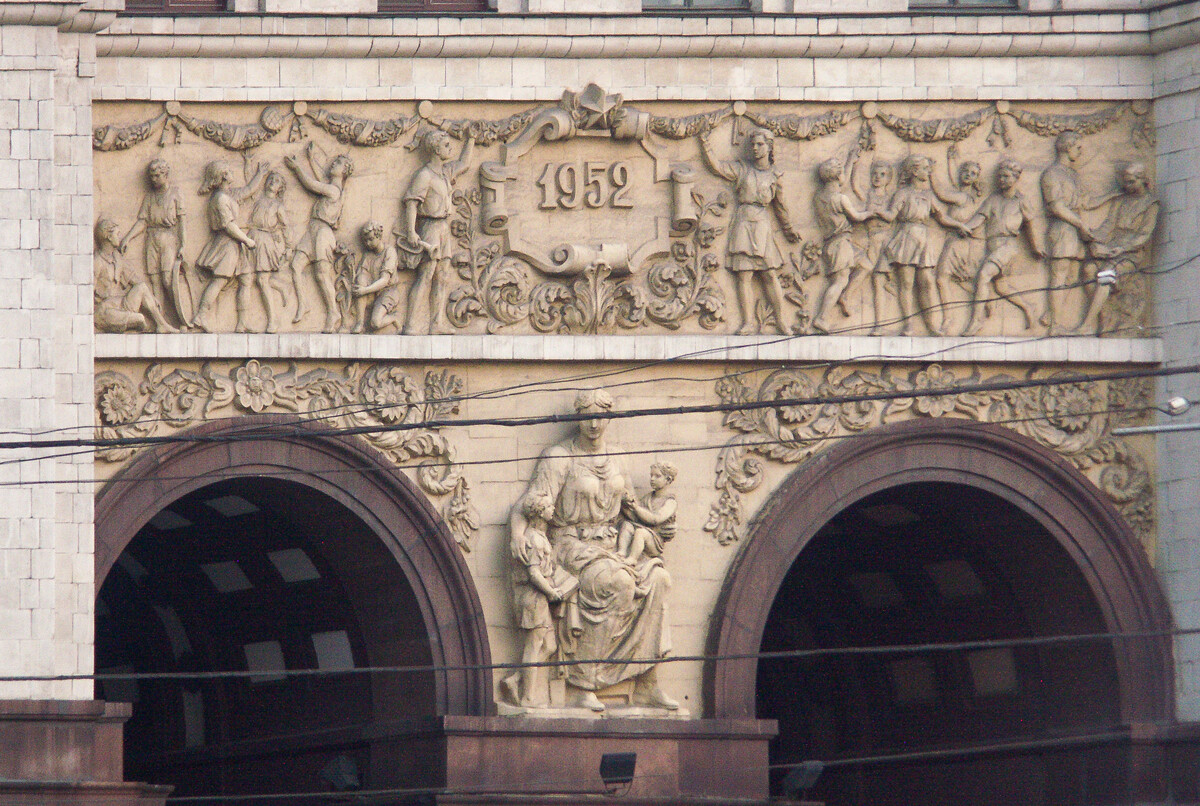 Shesmax (CC BY-SA 4.0)
However, people were prohibited from moving furniture in their apartments, not even mentioning redevelopment – commandants kept a watchful eye on that, performing regular checks. It was so, because of the fact that the "Chekists' house" had surveillance microphones everywhere; by moving your cabinet or a bureau, you could accidentally snap some wires.
Who lives there now
Today, the Kotelnicheskaya Embankment skyscraper is not such a pompous location. Mainly the descendants of those who received the apartments back in Soviet times still live there. And many of them are elderly. Other apartments in the building are actively being sold and rented out.
The current average price for a two-room apartment is around 50 million rubles (approx. $617,000); you can also rent such an apartment for roughly 100,000-170,000 rubles ($1,250-$2,100) per month. Young people often split it with co-renters.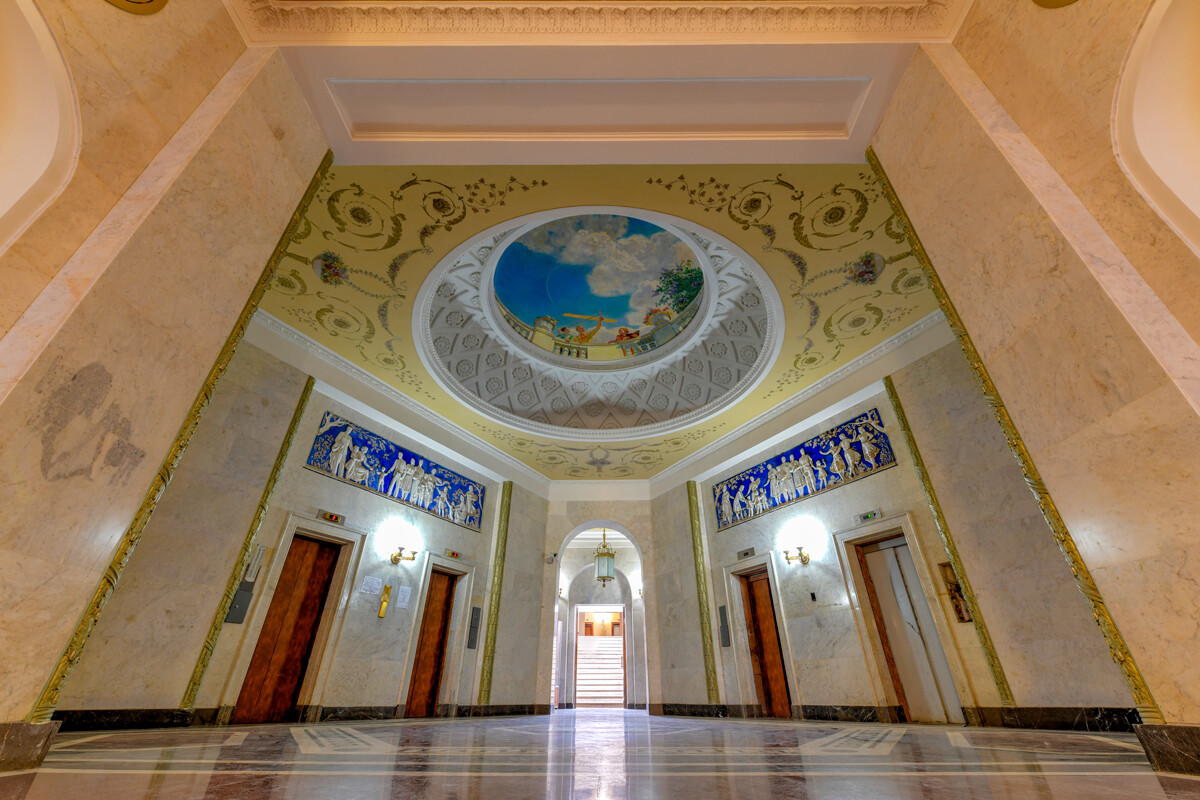 Legion Media
Not much is left from its former glory. The central foyer has a surviving mosaic ceiling and marble lining. However, the original furnishing of the apartments didn't survive (although, some elements of it, like an original chandelier or a mirror, still remain in some of them). Besides, many facilities are obsolete, which creates constant inconvenience for the inhabitants. Everything that's going on in neighboring apartments is clearly audible, due to old ventilation and wooden floors and ceilings.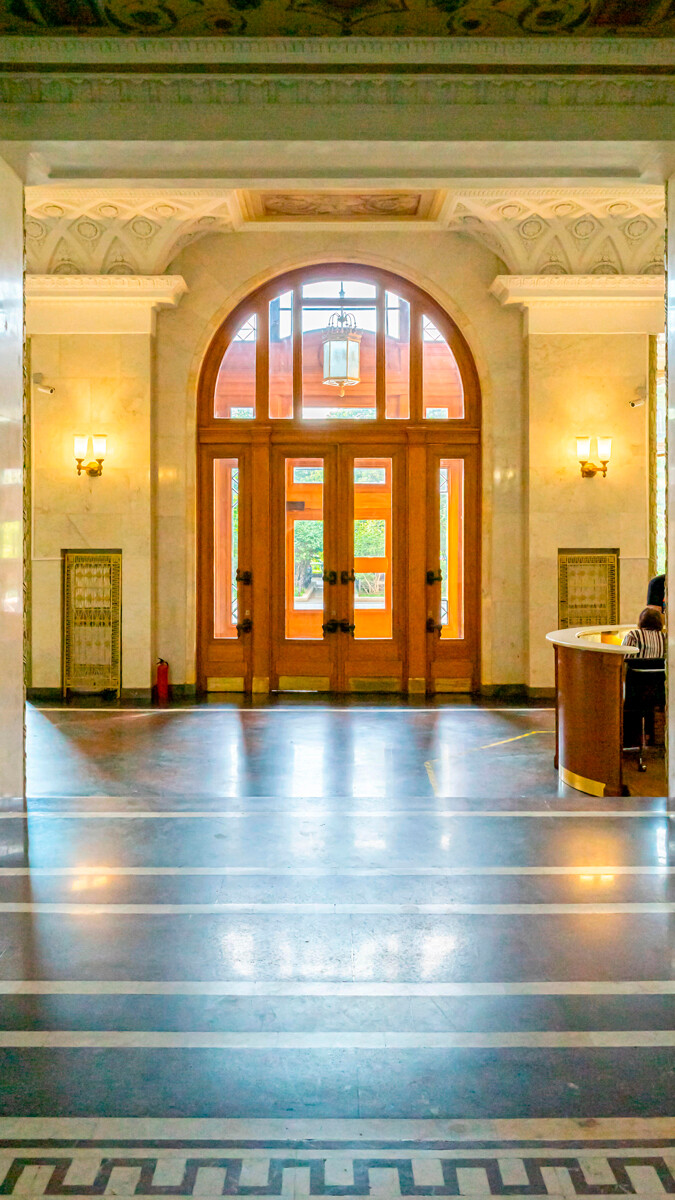 Legion Media
"Something constantly burns out or breaks in the apartment – after two months after moving here, I realized that the building was created for beauty, not for living. Yes, it's in the center of the city, but it's still far from the closest metro station. And you need no less than 20 minutes to circle the building," Ksenia Vechtomova said, who rented an apartment there.
How to get in
Strict concierges make sure that no trespassers enter the building even today.
Before, you could get in by purchasing a ticket to the museum-apartment of ballerina Galina Ulanova, but it has been closed for reconstruction for several years now. The only way is to buy a ticket from the 'Kryshi I Vyshe' ('Roofs And Higher') agency, which will give you a tour of the stairwell for 2,000 rubles and will offer you tea in an apartment with a panoramic view.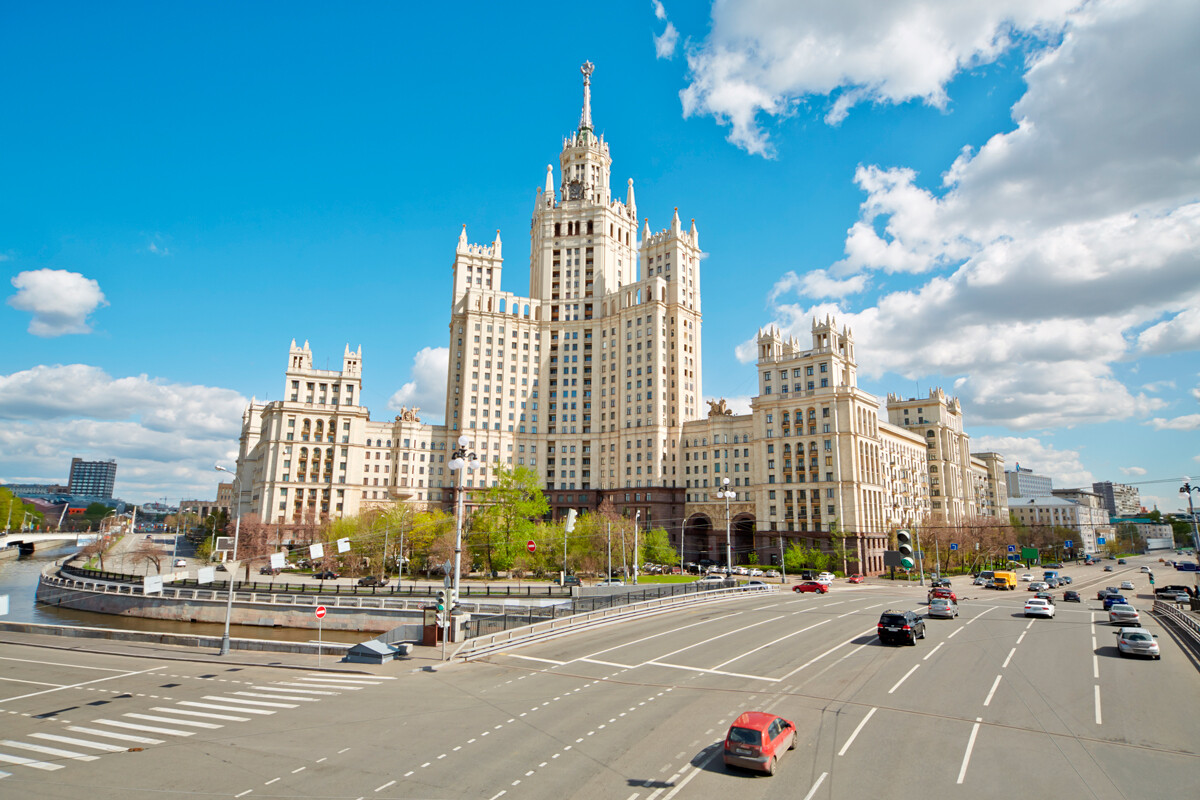 Legion Media
For those who want to visit the interior of the legendary building, at least formally, there is a safe way – by visiting the 'Illusion' cinema. It is Moscow's oldest cinema located on the first floor of the skyscraper – and is the very same cinema that showed movies from the Gosfilmofond archives (they still do that, by the way). Recently, it went through reconstruction and was turned into a modern cinema with a unique repertoire.
Dear readers,
Our website and social media accounts are under threat of being restricted or banned, due to the current circumstances. So, to keep up with our latest content, simply do the following:
Subscribe to our Telegram channel
Subscribe to our weekly email newsletter
Enable push notifications on our website
Install a VPN service on your computer and/or phone to have access to our website, even if it is blocked in your country
If using any of Russia Beyond's content, partly or in full, always provide an active hyperlink to the original material.