Melons for the taste of summer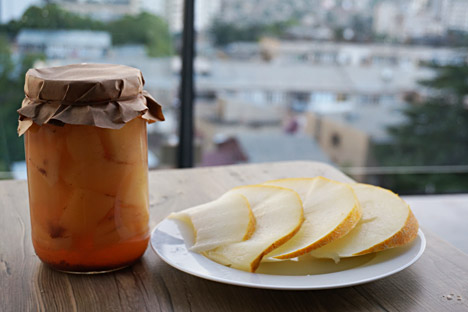 Around the end of August, kiosks begin to sprout on Moscow street corners, replete with all kinds of melons, the real taste of the summer in Russia.
Moscow in summer is full of miracles. While the season is short, as a child you can run around the house without wearing slippers and you can eat ice cream in the streets. Even more delightful, a lot of tiny, cage-like, temporary kiosks appear on street corners, selling colourful and delicious melons and watermelons, which seem to reflect the very taste of summer itself. For a few weeks, the whole country goes crazy over melons.
The right melon or watermelon is carefully selected, using various methods to pick the right one (knocking on it to hear a dull sound is one comes highly recommended in the Book), taken home in a trolley and then savoured either in the kitchen or on a picnic.
It is possible now to buy pre-cut smaller pieces of melon or watermelon in shops, but when I was a kid, and certainly before that, there was no such nonsense; you got it all or none at all.
My Granny recalls: "When I was working as a 'senior science employee,' I would get the privilege of being sent to a fruit and vegetable warehouse where, along with others, I would unload carriages full of melons and watermelons. We would form a 'production line' to pass them along, and I was considered to be the quality specialist. I would check and make sure the melon was ripe and sweet and put all the good ones aside. We would later eat them after the work was done. The thing is we were allowed to eat as much as we wanted while on the job, but weren't allowed to take anything home."
Despite, or perhaps because of, that experience, Granny has certainly kept her affection for the "giant berries." Every year she takes my brother to go on a melon and watermelon expedition: Granny goes as the quality expert, and my brother is trusted with the responsible job of carrying the purchase home. Special gear (a backpack) is used. My grandmother's birthday is on Sept. 20, and cutting the watermelon (or melon, or both) is always a big part of the celebrations. Granny tastes the first piece as though it is a fine wine in a restaurant, and then approves; "the watermelon is sweet, all is good, we may proceed." Then we all breathe a sigh of relief and go to lunch.
Although I wasn't in Moscow this summer, I didn't want to miss out on the delicacies, so I found what seemed to be an appropriate and delightfully weird recipe; marinated melon! I got tips from Granny on how to choose one, and then went through a very strange hour, during which I couldn't but think of the fact that I have a glass jar with paper underneath it and melon with marinade in it – boiling! It took some courage convincing myself to taste it (yes, I'm sure courage is the right word), but it turned out I needn't have feared — it tasted very light and pleasant.
Granny says there used to be marinated, or salted, watermelons delivered from the southern republics during Soviet times; although in Moscow and the other more northern regions, Soviet citizens would not leave any to marinate; it would all be eaten there and then, with only memories left to savour.
Marinated melon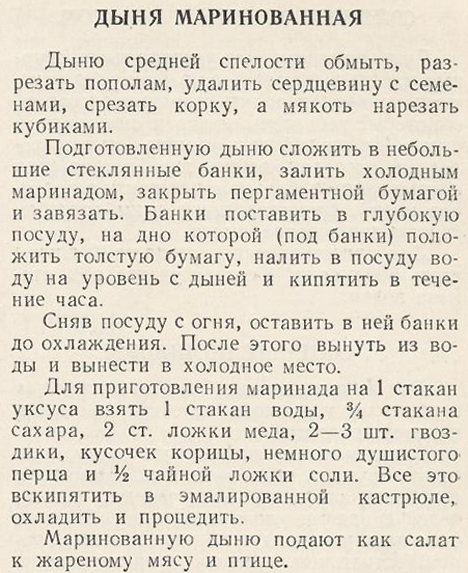 The recipe from the Soviet Cook Book, page 375
Prepare the marinade: 1 cup of vinegar, 1 cup of water, ¾ cup sugar, 2 Tbsp honey, 2-3 cloves, a piece of cinnamon, a little allspice and ½ tsp salt. Combine all the ingredients in a saucepan, boil, cool and strain.
Wash the melon, cut in half, remove core and seeds and cut the flesh into cubes.
Put the cubes of melon into small jars, cover with marinade, close and tie with parchment paper. Put parchment paper in the bottom of a deep bowl. Put the jars in the bowl. Pour water into the bowl to mid-level of the jars and simmer for one hour.
Remove the bowl from the heat and allow it to cool. Remove the jars from the water and store in a cold place.
Serve the pickled melon as a salad with grilled meat and poultry.
All rights reserved by Rossiyskaya Gazeta.