For birthdays, the Soviet way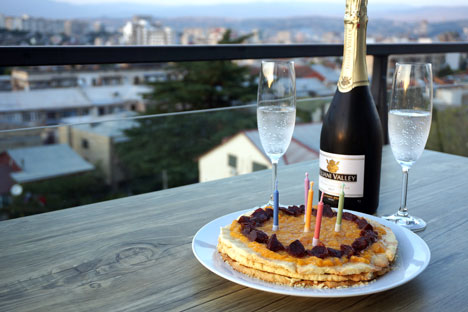 Birthdays are celebrated differently in Russia, with different traditions than those in the West. Two rules to observe: never celebrate before the actual day, and make sure to provide all the food yourself.
My birthday was last week, so I think it's a good enough reason to substitute dinner for a cake recipe this week. I'll make a three-layer 'pesochny' cake with jam and fruit on top; should be fun!
For now I won't have to cook much more than that, but before the house party, I will have to spend the whole day in the kitchen, and possibly some more time, to make the ridiculous amounts of food needed to celebrate my birthday with guests.
"Is it going to be one of those parties where you cook too much and then go crazy from all the cooking?" asked my husband, who has clearly seen it all before.
The thing is, in Russia, when it's your birthday, you do all the work. Having people over? Prepare to put a selection of mayonnaise-y salads, roast meat in a pot and cake on the table, and then do the washing up, too. Don't want to cook and are taking your friends out? You'll be paying for everyone. Want to celebrate with your colleagues? Bring your own pizzas, cakes and champagne.
Birthdays are no cheap deal in Russia, and people start saving up in advance to celebrate. There are no regrets later, though – guests arrive and give you hugs, kisses and gifts and partying 'til they drop.
I didn't realize this custom was odd until I found out how it's done in many other countries – where guests will all chip in to pay the birthday girl or boy's dinner – and you can celebrate before the actual day!
In such situations, I have to explain that in Russia, birthdays are always, always celebrated after the actual date. I think there is a superstition – if you celebrate in advance, you might not live to see the actual birthday. My theory is people don't want to spend all that time making mayonnaise-y salads unless there's 100 percent guarantee they'll be seeing their birthday – why waste all that effort?
Granny tells me that back in the day all parties were done at home. "The birthday person would cook a lot of food to stack the table, and guests would bring wine, flowers and cake. Sometimes a few people would bring cake, so there would be a competition!"
Weddings would also almost exclusively be celebrated in apartments – no matter how small. There's a scene in a famous Soviet movie "Moscow Doesn't Believe in Tears" in which a table filled with food for a wedding stretches from one room to another through a passage in the wall, with guests sitting at the same table, but practically in different rooms.
Granny says she can't understand the need for people to spend so much money and effort on elaborate weddings – "what's wrong with having people over to your place to celebrate? It's just a wedding!"
Honestly, I couldn't agree more. In theory. In reality there is no way I would spend two days in the kitchen cooking for my own wedding, and then try to fit 70 people into a tiny apartment!
Unlike with weddings, you get more than one (or two) birthdays to celebrate, and this time I'm keeping the delicious three-layered cake for myself. A guest has promised to bring cake to the party, so that will be a nice Soviet touch.
Mix flour and sugar, add butter, vanilla, one egg, and the yolk of the other egg (reserve the egg white for preparing a glaze). Knead the dough.
"Pesochny" cake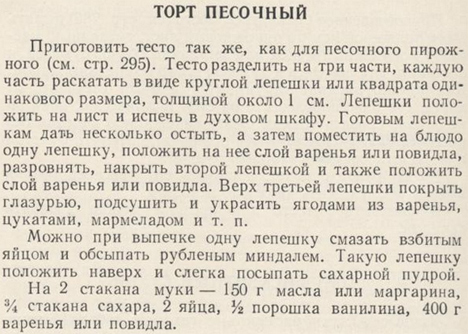 The recipe from the Soviet Cook Book, page 298
Ingredients:
2 cups flour; 150 grams butter; ¾ cup sugar; 2 eggs; ½ teaspoon vanilla; 400 grams jam
Roll the dough into a ball, cover and let it rest in a cool place for 30 minutes to 1 hour. Divide the dough into three portions and roll it into rounds 1 cm thick. Put the dough segments in the oven and bake. When the cakes are baked, let cool completely.
Put one segment on a plate. Spread jam on the top and place the second segment on top. Spread jam, and top with the final layer. Glaze the cake and top with fresh fruit or berries.
All rights reserved by Rossiyskaya Gazeta.