6 Russian culinary world records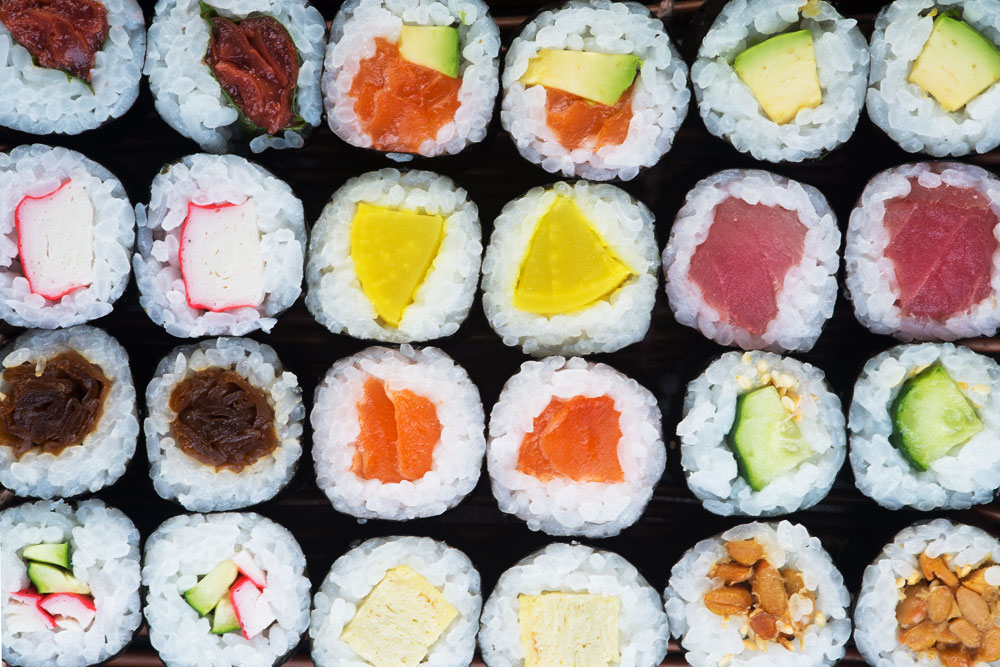 The longest sushi roll — the Russian world record of Japanese origin.
Shutterstock / Legion-Media
Russians definitely like eating delicious food — but they love cooking it even more. Russia's culinary exploits have led to a number of feats recognized by the Guinness Book of World Records, some of which have remained unbroken for years.
The longest sushi roll
The city of Yekaterinburg (1,114 miles to the east of Moscow) set a culinary record that has nothing at all to do with traditional Russian cuisine. On Dec. 12, 2011 the staff of the Sushkof restaurant created the world's longest sushi roll. The cucumber roll was 8,273 feet, 4.92 inches long — more than 1.5 miles long. By some estimates, it could be cut up into 60,000 pieces of sushi. Although sushi isn't as Russian as, say, borsch, the Japanese staple has become so popular in recent years that sushi shops can be found in practically every Russian city.
The largest popcorn mosaic
"Bathing of a Red Horse" by Kuzma Petrov-Vodkin (fragment). Source: State Tretyakov Gallery.
This record for the world's largest popcorn mosaic combines both artistic and culinary talents.
Nine Moscow artists created a popcorn mosaic of Kuzma Petrov-Vodkin's iconic painting "Bathing of a Red Horse" on Dec. 16, 2001 on behalf of a group of companies that imports equipment used in food production — including popcorn makers. The edible masterpiece, which measured 1,076 square feet, was made to commemorate 10 years of the production of popcorn in Russia. Although the mosaic can only be seen in photographs, visitors to the State Tretyakov Gallery can see the actual painting, which was completed in 1912 and given to the Tretyakov in 1961.
The longest and largest ravioli
Russians' love for Japanese cuisine is rivaled only by their love for Italian food. On Aug. 3, 2013, Amway Russia created the world's longest ravioli in St. Petersburg. It measured 96 feet, 1 inch in length and was 2 ⅓ inches wide.
The ravioli was stuffed with chicken and onion.
Just over a year later, the Mario Cafe in the southern Russian city of Volgograd (602 miles from Moscow) created the world's largest ravioli. It was 3.5 feet in diameter and filled with spinach and ricotta.
The largest serving of chicken — smoked and grilled
The "Ptitsefabrika Akashevskaya" (Akashevskaya poultry factory) in Yoshkar-Ola, the capital of the Mari El Republic (467 miles from Moscow) has set two world records for servings of chicken.
The largest serving of grilled chicken was created on Aug. 8, 2014. It weighed 3,806.06 lbs and was prepared to celebrate the company's 10th anniversary. A year later the farm set a record for the largest serving of smoked chicken. It was heavier than the grilled variety, weighing in at 4,196.72 lbs. No word on which was tastier.
All rights reserved by Rossiyskaya Gazeta.